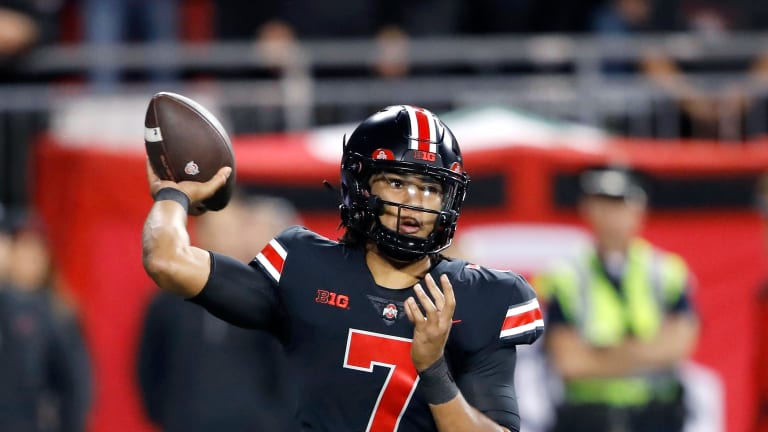 Rapid Reaction: Ohio State Blitzes Wisconsin 52-21
Buckeys Bludgeon Badgers at The Shoe
Part of what Ryan Day is looking to achieve this season is to establish dominance and start fast against the competition. His Buckeyes responded well to that request tonight opening up to a 28-0 lead and wasn't threatened the rest of the way, defeating Wisconsin 52-21 at Ohio Stadium Saturday night.
The 52 points that the Buckeyes scored is the first time an opponent got over 50 points against Jim Leonhard coordinated defense in Madison, and the last time Wisconsin gave up more than 50 points was also against Ohio State in the 2014 Big Ten Championship Game losing 59-0.
The Buckeyes were balanced offensively tonight and ran with a solid tempo with Ryan Day commenting after the game, "I thought the tempo and the mix of run and pass today is what we're looking for." 
Turning Point in the Game
When Wisconsin kicked off to open the game.
The demolition that ensued was worthy of the Ohio State "Black Out" as the Buckeyes were complete in all facets of the game. Despite being without Jaxon Smith-Njigba and two starting corners in Denzel Burke and Cam Brown, the Buckeyes had this game put away at halftime.
---
Ohio State Game Ball
TreVeyon Henderson and Miyan Williams
For the first time since 2019, the Buckeyes had two running backs go over the century mark. Henderson led the way with 121 yards, with Williams finishing with 101 yards and two touchdowns.
Day said after the game, "I think it's just the mentality of we know how long this season is going to be and when you have two guys that you can go back and forth and who are unselfish who understand what it means to be a team that's the key."

Wisconsin Game Ball
Braelon Allen
Allen ran hard all night long and was finally rewarded with a big 75-yard run in the fourth quarter. He had been averaging only 4 yards per carry up until that point but took advantage of a seam and took it to the house. He was sprung by RT Trey Wedig, who was making his first career start, and pinned two buckeyes to give him a cutback lane.
---
Game Thoughts & Notes
You know a game went completely south when you have ESPN profiling a hit from an inflatable ball to Brutus the Buckeye with Holly Rowe interviewing Brutus after the hit during the third quarter.
Ohio State has an embarrassment of riches at wide receiver and cornerback. Most teams lose a player like Jaxon Smith-Njigba and there is a noticeable dropoff between WR1 and WR2. Ohio State demonstrated tonight, against a defense that last season was Top 10 in most categories was impressive. Emeka Egbuka and Cade Stover each had two touchdown receptions. Julian Fleming caught the other touchdown and finished with 67 yards on four receptions. Marvin Harrison Jr. finished with 45 yards on three receptions.
In regards to cornerbacks, for most teams losing two starters in Denzel Burke and Cam Brown would negatively impact a majority of teams nationally. When you replace them with two freshmen, that makes things a lot dicier, but Jyaire Brown and JK Johnson filled in really nicely.
Buckeyes linebacker Tommy Eichenberg has flourished in Jim Knowles' new defense with the Buckeyes. After having a monster game in Week 1 against Notre Dame, Eichenberg had another one Saturday night against the Badgers finishing with 14 tackles (7 solo) and two tackles for loss.
Another Buckeye starting to realize his five-star potential in Knowles system is Jack Sawyer. He had a big sack tonight, look from his game to continue to grow.
If anything Knowles is going to emphasize to his defense during film study was the Buckeyes' inability to get to the quarterback finishing with one sack and one hurry. Also giving up 192 yards rushing tonight is another red flag. 
Wisconsin just keeps churning out running backs and Braelon Allen is another one. After 165 yards rushing including the 75-yard highlight run, he is the centerpiece of this year's Badgers offense as Graham Mertz continues to be inconsistent.
---
What it Means for Ohio State
Youth gained experience on both sides of the ball. The team was extremely balanced tonight at The Shoe. While playing brands like Notre Dame and Wisconsin, the question will be when will the Buckeyes be tested this season. Most point to their visit to Happy Valley against Penn State on October 29 as their only test before their annual rivalry game with Michigan to close out the season.
What it Means for Wisconsin
Wisconsin's dream to Indianapolis wasn't dashed tonight in Columbus, but even in a more competitive Big Ten West the margin for error got a lot smaller. The Badgers' schedule softens over the next month. Illinois and Northwestern should be tune-ups before playing Michigan State and Purdue where the Spartans cannot stop anybody and Purdue can just throw on anybody.