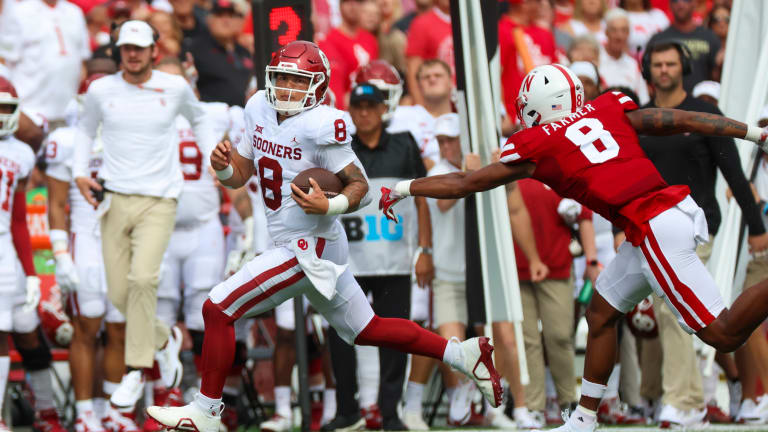 Rapid Reaction: Oklahoma decimates Nebraska 49-14
Sooners shuck the Cornhuskers in first game post-Frost era
In an attempt at a fresh start following the firing of former Nebraska head coach Scott Frost, the Huskers looked like they had promise and energy to start the game scoring on their first drive to go up 7-0. However, the Sooners, who look incredible early under their new head coach Brett Venables, scored 49 unanswered points and completely dashed at turning the season around by halftime. 
The Sooners looked balanced offensively as QB Dillon Gabriel went 16-27 for 230 yards and two touchdowns. RB Eric Gray had a huge day rushing for 113 yards and two touchdowns on 11 carries. QB Casey Thompson had an average day for Nebraska going 14-20 for 129 yards passing and one touchdown.
---
Turning Point in the Game
The quick response here by Dillon Gabriel following the Nebraska touchdown on 3rd and 7 broke Nebraska from the get go. Nebraska's D to that point looked ready to limit OU all day, then Gabriel broke free up the middle for 61 yards to tie things up at 7. From then on, Nebraska had absolutely no answers for the Sooner offense.
---
Oklahoma Game Ball: Sooners Defense
Safe to say defense is officially back in Norman, Oklahoma. 30 points given up in 3 games and 14 of them given up to Nebraska. Caused two turnovers against the Huskers and tallied four sacks. Plays like this key 4th down stop are what this unit is made of under Venables. Great defense mixed with a solid offense could help the Sooners stroll into another College Football Playoff in a few months.
Nebraska Game Ball: Mickey Joseph
Why would I give a game ball to a guy who just lead his team to a huge blowout loss? Two reasons.
This was inevitable no matter who was coach. He got handed a huge mess and had a week to prepare for one of the best teams Nebraska will face all year. Not sure even the close game choke artist Frost would have had this game close today.
No Nebraska player in my eyes played well enough to warrant a game ball. Total mess all around.
---
Game Thoughts & Notes
Oklahoma is officially back as a playoff contender and may even be better than any team Lincoln Riley fielded. It's early still and they haven't played great teams, but this team has a different feel to them.
Nebraska has a chance yet to make bowl eligibility, but it will be a daunting task starting 1-3. They essentially have to win their next four games before they play Minnesota, Michigan, and Wisconsin in consecutive weeks before finishing the season against an offensively inept Iowa team. It's still doable, but almost impossible.
In the Big Noon Kickoff, the Nebraska crowd chanted "We Want Urban!" Nebraska has allegedly contacted Urban about the position. Does he take it?
---
What This Means for Oklahoma
Business as usual for the Sooners in this rivalry. Now they focus on Big 12 play and reclaiming their throne in the conference before moving to the SEC.
What This Means for Nebraska
Put this on the back burner and focus on what's ahead. Winnable games against Indiana and Rutgers are next. Take it one game at a time, get to 3-3, and try to salvage something from this abysmal season.