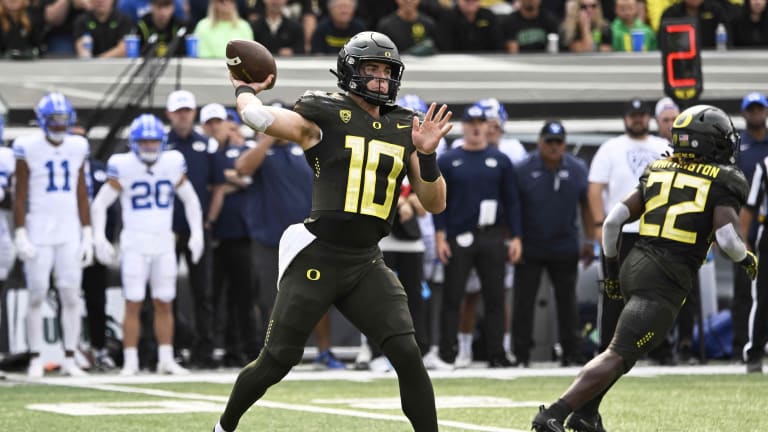 Rapid Reaction: Oregon defeats BYU
Nix has second consecutive five touchdown game in 41-20 win
Maybe a change of scenery is what the doctor ordered.
Oregon quarterback Bo Nix is making the most of his opportunity in Eugene, as he finished the game today with five total touchdowns in a 41-20 win over No. 12 BYU. Nix finished the day with two passing touchdowns and three rushing touchdowns, his third career multi-touchdown on the ground.
The Ducks' offense maintained momentum overall this week, when the Ducks got up 38-7, the Ducks had scored on 16 of their previous 18 possessions. While the Ducks' offense cooled after that score, Oregon was balanced on offense with 439 total yards (227 passing and 212 rushing).
No. 12 BYU couldn't maintain the momentum they had after an emotional win over a top-10 Baylor team at LaVell Edwards Stadium last week. Today the Cougars missed star wide receivers Gunner Romney and Puka Nacua, who many BYU coaches felt they were just a clearance away from playing.
Even without the star wide receivers, Cougar quarterback Jaren Hall was effective going 29 for 41 passing for 305 yards with two touchdowns. Hall's efforts couldn't overcome a power Ducks offense that seemingly owned the line of scrimmage today against a very good Cougars team.
---
Turning Point in the Game
In the second quarter, BYU kicker Jake Oldroyd missed a 38-yard field goal wide to the right, with the Cougars down 17-7. That miss was the beginning of the momentum taken out of the Cougars' sails, which could have drawn the game to a one-possession game. That added pressure to a Cougar defense that really had no answers for an efficient Ducks offense that was automatic scoring on their first six possessions.
The turning point occurred with the Ducks up 17-7 with 2:41 in the second quarter, the Cougars' defense had stopped Ducks running back Sean Dollars after a modest three-yard gain on third and five.
The Cougars faced a critical fourth and two with the Ducks on the Cougar 39-yard line. Freshman Oregon running back Jordan James was able to get through a very physical Cougar front seven to gain eight yards.
It was the theme of the day where the Ducks' offense had all the answers and the Cougar defense did not have any.
---
Oregon Game Ball
Oregon Offensive Line
It would be very easy to give it to Nix who was spectacular again today for the Ducks, but one of the major keys today was for their offensive line headlined by Alex Forsyth and T.J. Bass had their hands full with a BYU defense, who, against Baylor, wreaked absolute havoc getting four sacks, five QB hurries, and six tackles for losses and entered the game allowing 2.5 yards per rush.
All the Oregon offensive success was predicated on a dominant offensive line, did not allow a QB Hurry while Nix was under center, Nix stayed clean and upright allowed no sacks, and the Ducks running game had 212 rushing yards, three rushing touchdowns, and nearly five yards per carry.
BYU Game Ball
Jaren Hall
Hall is an absolute leader and a dynamic player that will be playing on Sundays. Even without Romney and Nacua, and breakout freshman Chase Roberts given special attention after a breakout game against Baylor, Hall was still finding receivers and making plays to keep BYU in this game.
Down 38-7, he attempted a comeback and inched it back to 38-20 with 10 minutes to go in the fourth quarter, completing over 70% of his passes and 300 yards and a couple of touchdowns he is an absolute gamer.
---
Game thoughts & Notes
While Oregon defensive backs keyed on Chase Roberts all game, Roberts had five touches (4 receptions and a rush attempt) for 62 total yards, he reminds me a lot of Cooper Kupp. I get it might be very premature to give a freshman that kind of laurels but his ceiling is unlimited and I feel as he develops he might be a name to remember and keep an eye on from afar.
It makes you wonder if the Georgia game was just a day the Ducks were completely off. After being humiliated in Atlanta 49-3, they have rallied back with two wins outscoring opponents 111-34. If one thing I vastly underestimated in my game preview and prediction is the upside on the physical play on both sides of the ball. While I mentioned the laurels for the offensive line, the defensive line had the Cougars' ground game to under 100 yards and limited the Cougars to 2.5 yards a rush. If the Ducks had a tune-up game before Georgia, I am wondering how different that game goes.
Nix was incredibly efficient today but what will make Oregon dangerous in the Pac-12 race is if they continue to distribute the ball the way they did against BYU today. While Nix was in the game eight different players made a reception. With that kind of distribution, it is going to be hard for defenses to scheme against.
What it Means for Oregon
With a win against a Top 15 opponent, it is a key signature win early in the Lanning era in Eugene. This is a game that coaches in Utah and Southern Cal will raise eyebrows.
With no complete team in the Pac-12, this race might be what fans of the league have come to know in the last few years as whoever can survive will win the league.
What it Means for BYU
I know it is early to talk playoffs, but this loss makes a giant dent in the Cougars' cause. While they have another opportunity against Arkansas at home and an unknown Notre Dame game in the Shamrock Series, with a season-ender against Stanford, the Cougars have no margin for error.
This marks the second consecutive week the Cougars' ground game failed to hit the century mark, while Hall is special, he needs a ground game that can complement him for BYU to make it to the next level.