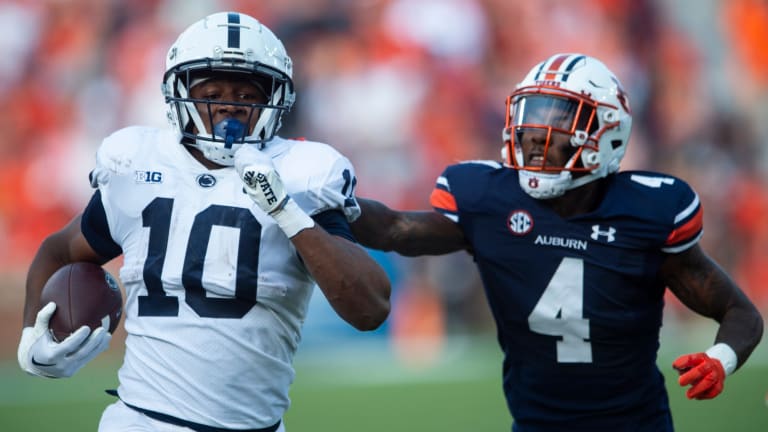 Rapid Reaction: Penn State Easily Dispatches Auburn
Rapid Reaction: Penn State Easily Dispatches Auburn
The old adage is imitation is the sincerest form of flattery. Auburn faithful attempted to imitate the While Out in Jordan-Hare Stadium, with an "Orange Out," hosting a Big Ten team for the first time in stadium history.
The Nittany Lions came in, acknowledged the Tigers' imitation, and proceeded to dominate on both sides of the ball, forcing four Auburn turnovers, and outgaining the Tigers on the ground 245 to 119, limiting one of the SEC's best running backs Tank Bigsby to 39 yards.
Penn State's 41-12 rout of Auburn is the Tigers' worst out of conference loss in Jordan-Hare since Nebraska's 41-7 victory in 1982.
Sean Clifford was efficient and effective today, passing 14 for 19 for 178 yards, had a rushing touchdown, and made his first career reception on a double pass throwback screen from receiver KeAndre Lambert-Smith for 25 yards in a second-quarter drive that put the Nittany Lions into the red zone.
---
Turning Point in the Game
With Penn State leading 14-6 to start the second half, Auburn got the opening possession. Up to this point, Auburn had fought pretty valiantly, and the damage to Auburn may have occurred at the end of the first half. Auburn coach Bryan Harsin managed his timeouts to squeak another possession in the first half with 40 seconds to go. Penn State's front four was winning the battle of the line of scrimmage against the Auburn offensive line.
On a 2nd and 9, Auburn quarterback T.J. Finley rushed 13 yards for an Auburn first down. Penn State made the stop, and Tigers offensive lineman Brandon Council took the tackle wrong and was flagged for unsportsmanlike conduct.
Finley was looking hurt, before the game he was using a sphere ball to help strengthen his rotator cuff, but that hit on the run began to impact Finley. Two plays later, Nittany Lion defensive lineman Demeioun "Chop" Robinson sacked Finley and forced a fumble that Finley recovered effectively ending the half, but watching Finley walk to the locker room he looked hurt.
Finley tried to make a go of it on the first possession of the third quarter, and after Nittany Lion Adisa Isaac made a key third down sack, it was evident Finley was done for the day. Penn State's Nicholas Singleton followed up the next drive accounting for all of Penn State's offense rushing for 58 yards, including a 53-yard burst putting Penn State up 21-6 and not looking back.
---
Penn State Game Ball
Nicholas Singleton & Kaytron Allen
The dynamic freshman duo combined for 176 yards rushing and four touchdowns. This is the impact Penn State needed after finishing near the bottom in rushing offense a season ago.
Penn State's multiple 40+ yard touchdown runs are the first for Penn State since Larry Johnson did it in 2002.
Losing Team Game Ball
T.J. Finley
It is easy to pick on Finley, before he began to really experience shoulder discomfort he was making key throws and runs. Finley was able to keep a play alive in a third and 20 situation to make a key pass, and when Penn State vacated the zone in third and 14, he was able to make a key run.
He was the main reason it was a 1-point game before his shoulder issues most likely aided in poor play and leaving the game in the third quarter.
---
Game thoughts & Notes
Penn State's defense was absolutely dominant today against what in reality was an inferior opponent. The defense forced four turnovers, ended Auburn's 8 for 8 red zone streak this season for touchdowns (Auburn went 0 for 3 with 6 points today), six sacks, nine hurries, 11 tackles for losses, and added three more passes defended today, they entered today's action leading the nation in that category with 25.
Equaling the freshman impact on offense with Singleton and Allen, is linebacker Abdul Carter on defense. Penn State defensive coordinator Manny Diaz was amazed and excited after taking the job to coach Carter, and after a questionable targeting call against Purdue people were wondering if he was really worthy of the #11 that has been famously worn by LaVar Arrington, NaVarro Bowman, and Micah Parsons. Carter absolutely had a breakout party with six tackles including one for loss, a monster sack where he jetted past the offensive line giving them no chance, and had a highlight pass defense where he spiked the ball back at Finley. He is going to be fun to watch.
It seemed Auburn abandoned their bread and butter early, Bigsby was running effectively and Jerquez Hunter was making plays and getting the Tigers' only touchdown. They aren't vertically better than their running game and as their schedule gets tougher, abandoning the run and not using their backs only hurts them more in the long run.
What it Means for the Penn State
A season ago and something that has plagued the Nittany Lions since 2020, is they found two backs that can impact the game. The Nittany Lions have found a worthy successor to Journey Brown, the backs who can be electric.
With how the Nittany Lions dominated the line of scrimmage, it is a win that can propel them moving forward. They may not be Ohio State ready yet, but if you can run the ball, and play defense like the Lions have, anything is possible.
What it Means for the Auburn
Outside of a few plays by TJ Finley, Jerquez Hunter's touchdown, and linebacker Owen Pappoe's big hit on Sean Clifford, there isn't much to feel good about for Auburn.
This is a team that will struggle with bowl eligibility, but it looks like Robby Ashford might be in at quarterback and if he cannot keep defenses honest with his arm, it doesn't do Bigsby and Hunter any favors.