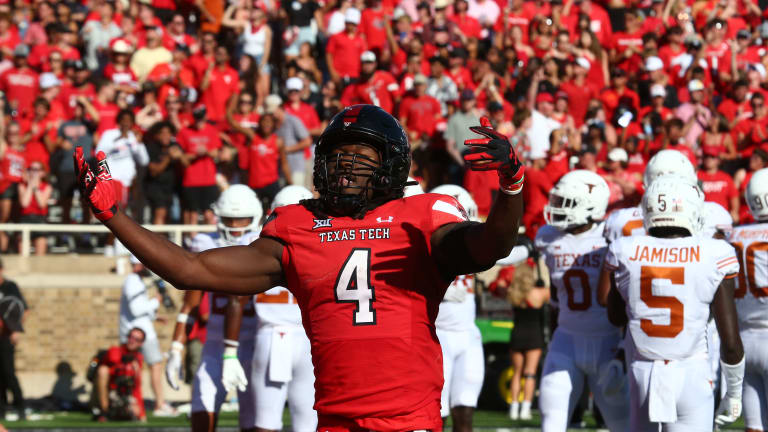 Rapid Reaction: Red Raiders Stun Longhorns in Overtime 37-34
Texas Tech snaps 4 game losing streak to Texas in the second OT matchup in 3 years
Texas Tech gets it done in overtime against in-state and conference foe Texas for a 37-34 victory. The Longhorns made it interesting late, finding a way to march down the field in 21 seconds to tie the game with a field goal as time ran out. Their overtime experience was short-lived, however, as their star running back Bijan Robinson fumbled on the first play of the drive.
The Red Raiders can attribute their win to their lack of mistakes in the exciting back-and-forth matchup, not turning the ball over, and only having 31 yards in penalties. They primarily got it done through the air but the ground game was a nice complement, as RBs SaRodorick Thompson, Tahj Brooks, and QB Donovan Smith combined for 148 yards in 2 TDs. 
---
Turning Point in the Game
The obvious turning point is when Robinson coughed up the ball in overtime. This gave Texas Tech the opportunity to win the game, which they ended up capitalizing on.
---
Texas Tech Game Ball
QB Donovan Smith
Throwing the ball a total of 56 times without an interception deserves a gameball on its own but Smith got it done on the ground as well. Smith threw for 331 yards and 2 TDs while rushing for 52 yards with another score. 
---
Texas Game Ball
RB Bijan Robinson
It's hard to give the game ball to the player who cost the game in crunch time, but Robinson did all he could in an effort to win, finishing with 16 carries for 101 yards and 2 TDs. It's not a surprise the Heisman hopeful was the bright spot today, as he is the centerpiece of Texas' offense, especially while Hudson Card is at the helm. 
---
Game thoughts & Notes
Time of Possession: This was an essential factor in this matchup, as the Red Raiders had the edge with 35 minutes.
Special Teams Showed Up: Texas K Bert Auburn and Texas Tech K Trey Wolff combined for 23 points, not missing a single field goal or extra point.
Nip-and-Tuck: I am amazed at how even this game was. Both teams had over 400 yards and only a 54-yard difference (in favor of TTU). Nearly all of the difference was through the air, as there was only a 1-yard difference in rushing yards (in favor of Texas). Penalties were also almost identical, as both teams had 5 penalties, with Texas having 41 yards to TTU's 31.
What it Means for Texas Tech
Texas Tech starts off Big 12 play 1-0 and will look to add to that on the road against a decent Kansas State team next week.
What it Means for Texas
This Texas team won't reach its potential until Quinn Ewers gets fully healthy. Hudson Card is an excellent fallback option, but he won't be an X-factor in helping the Longhorns be a threat in the Big 12. If Ewers misses next week's matchup against West Virginia, Texas could very well drop another game.