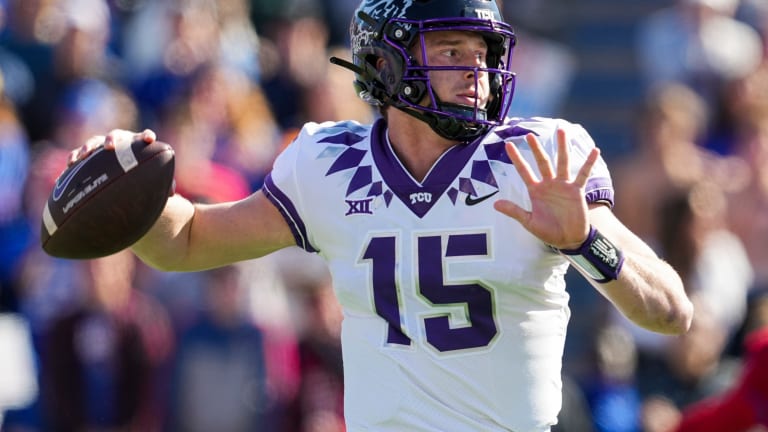 Rapid Reaction: TCU Downs Kansas 38-31
Horned Frogs prevail in great battle between surprise 5-0 teams
No one could have imagined before this season that Kansas TCU would be a College Gameday matchup, but here we are, and boy did it live up to the hype. This game was back and forth the whole way, even after Kansas QB Jalon Daniels left the game near the end of the first half with a shoulder injury. Kansas's backup QB Jason Bean went 16 for 24 passing for 262 yards with four touchdowns and one interception. However, he was outdueled by TCU QB Max Duggan who went 23 for 33 passing for 308 yards with three touchdowns and one interception.
Turning Point in the Game
The turning point has to be when Jalon Daniels went out at the end of the first half. Even though Jason Bean played well for Kansas, Daniels has been special for this Jayhawk team and we are left to wonder if Kansas pulls this off with him in. 
TCU Game Ball: WR Quentin Johnston
Johnson came up huge today for the horned frogs going for 206 yards receiving on 14 receptions and one touchdown, which ended up being the game-winning score for the Horned Frogs.
Kansas Game Ball: QB Jason Bean and WR Quentin Skinner
Huge game for a backup QB in Bean to play at the level he did even in a narrow defeat. Also have to give a game ball to another WR named Quentin, who went for 98 yards on four receptions with two touchdowns.
Game Thoughts & Notes
1. TCU is well on its way to being a serious Big 12 threat. If Duggan can continue this level of play, the sky is the limit for them.
2. Kansas's season takes a hit, but they still have plenty to play for - they'll be a threat in every game they play going forward.
3. The Big 12 is incredibly wide open for the taking and I've never been so unsure who's going to win it. 
What This Means for TCU
Oklahoma State is next and that will show whether or not TCU is truly for real or not. If they win that game, they are probably a top-10 team and the new favorites to win the conference.
What This Means for Kansas
Still have everything to play for. Get Daniels back healthy and beat a reeling Oklahoma team and Baylor, both on the road, before the bye week and they can maybe play their way into a rematch with TCU for the conference crown, assuming they can also get past Oklahoma State following the bye week.