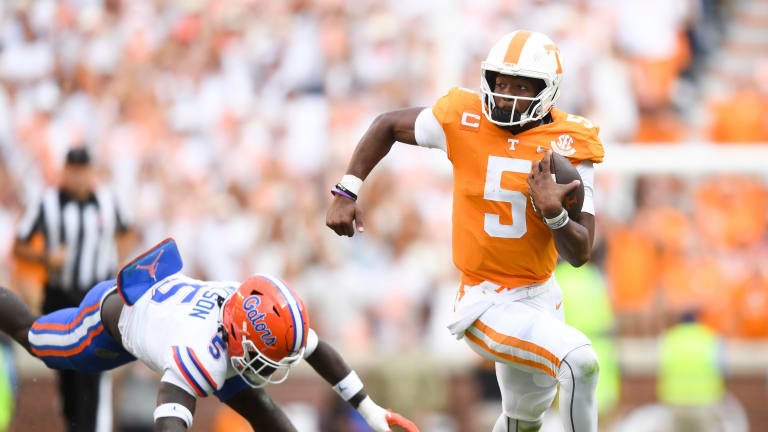 Rapid Reaction: Tennessee vs. Florida
Gator comeback comes up short in Knoxville
It was a quarterback duel in Rocky Top this afternoon as Hendon Hooker for the Volunteers topped Gator sophomore sensation Anthony Richardson for a 38-33 victory.
Hooker finished the day with 461 yards of total offense with three total touchdowns (2 pass and 1 rush). It was the most by a Volunteers quarterback since Peyton Manning's 470-yard performance in 1996.

Richardson finished with 515 yards of total offense with four total touchdowns (2 pass and 1 rush. He became the third Florida quarterback ever to eclipse 500 yards of total offense in a single game joining Emory Jones (550 vs. Georgia Southern in 2021) and Tim Tebow (533 in the 2010 Sugar Bowl vs. Cincinnati).
This was Tennessee's first win against Florida since a 38-28 win in 2016. 
---
Turning Point in the Game
In the third quarter, the Volunteers were threatening to extend the lead to a two-possession game up 24-21 in a second and goal from the Gator one-yard line with 4:30 to go. Volunteers running back Jabari Small appeared to cross the goal line, but was ruled short.
Volunteers head coach Josh Heupel called a time out to have the play reviewed, with the miscommunication of what was happening Gator head coach Billy Napier lost his cool with the officials and was flagged for the unsportsmanlike conduct penalty.
After the officials after the replay ruled Small short, and called Napier's infraction, it reset the downs from a third and goal from the Gator one-yard line to a first and goal. Small would go in for the score on the next possession and the Volunteers would maintain a two-possession lead until a minute to go late in the fourth quarter.
---
Tennessee Game Ball
Hendon Hooker
When you play at the level Peyton Manning did, you really did something special.
Hooker went 22 for 28 passing for 349 yards and two touchdowns, on the ground he gained 112 yards rushing and a touchdown that included a highlight 44-yard run in the third quarter. He accomplished all this minus top receiver Cedric Tillman who was out with an ankle injury.
Florida Game Ball
Anthony Richardson
Richardson continues to dazzle for the Gators his 453 yards passing is the ninth most in Gator history.
His ability to rally the troops on a late comeback and deliver the ball where it needed to be is a testament to his skill and allows the imagination to wonder what he can develop into.
---
Game Thoughts & Notes
Hendon Hooker continues to play himself into a potential Heisman situation. He established himself last year completing over 68% of his passes and had 31 touchdown passes with three interceptions. His continued outstanding play is in this season with an outstanding performance against a Florida team that has already played Utah and Kentucky.
When everyone was ready to give him the Heisman Trophy after Utah, Richardson continues to remind everyone he is the foundation for Billy Napier's program. He has to continue his development but his dual-threat ability is going to keep the Gators in games all year long. His chemistry with wide receivers Justin Shorter (7 receptions 155 yards) and Ricky Pearsall (5 receptions 103 yards 1 touchdown) is continuing to develop.
Billy Napier hurt his team losing his cool in the third quarter, it is a blunder he absolutely has to avoid in the future. He has to remember he sets the tone for his team. I would also advise Napier while he looks like a genius for all his successful fourth down calls going five for six, they were extremely aggressive especially the one late in the third quarter down 10 on their own 27-yard line. While Richardson was able to connect with Shorter on a 39-yard reception, if he doesn't get the first down, you put a potent Volunteers offense with a really short field with a whole quarter to go and knock your team out of contention earlier than you need to.
Bru McCoy is incredibly fun to watch and he stepped up big with Cedric Tillman out. McCoy finished with five receptions 103 yards receiving and a touchdown that included a 70-yard reception highlight that set up the Volunteers' first touchdown. 
---
What it Means for Tennessee
The Volunteers snapped a six home game losing streak versus ranked opponents, and got their third win versus Florida in 18 meetings. These are huge blocks for the foundation for Josh Heupel's program. He needs to continue to build on them. He has a very winnable game next week vs. LSU and then Alabama. These games will be telling where the Volunteer program is.
What it Means for Florida
2-2 isn't the death nail for Napier, he knows he has a quarterback in Richardson and his team has played as tough a schedule as anyone in the nation. They have a few tune up games over the next two weeks with Eastern Washington and Missouri, then a test hosting LSU before travelling to Jacksonville for The World's Largest Outdoor Cocktail Party against Georgia.