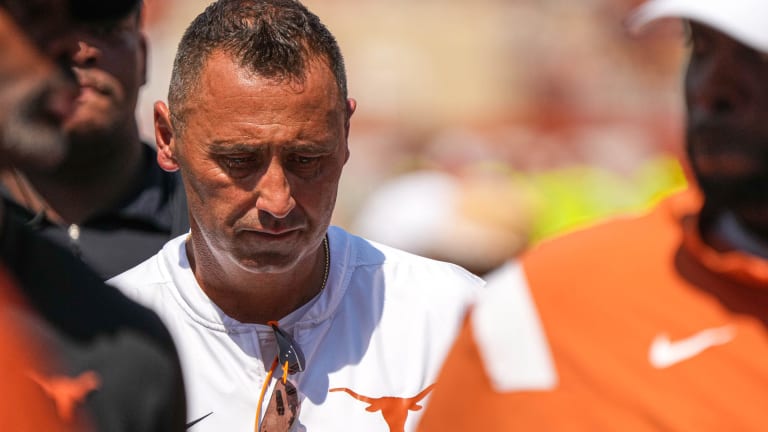 Rapid Reaction: Texas vs. Alabama
Alabama Turns Tide in Texas with Late Field Goal
More than a decade after their last meeting, Texas fans encountered a deja vu moment reminiscent from the 2010 BCS National Championship game. 
With 31 seconds remaining in the first quarter, Longhorns quarterback Quinn Ewers took an illegal hit from Alabama Crimson Tide safety Dallas Turner, who was penalized for roughing the passer. 
The deja vu moment was remembering when Longhorns quarterback Colt McCoy took a hit from Crimson Tide defensive lineman Marcel Dareus. 
It was a play brought up many times over the week and subject to many "What If" articles. 
After the game, Texas head coach Steve Sarkisian said that Ewers suffered a clavicle sprain.  An MRI is necessary to determine its severity. Depending on the results from the MRI to determine the grade of the sprain, Ewers could take between one and eight weeks to recover from the injury.
---
Turning Point of the Game
Without a doubt it has to be the Ewers injury. Leading up to the injury, Ewers arm strength and ability to place deep throws was on display. 
This was especially seen with Ewers connections to Longhorns wide receiver Xavier Worthy.
Worthy, who dropped a first quarter touchdown from Ewers and the play before Ewers injury, Worthy caught a 46-yard pass were prime examples of the explosive chemistry the two had. 
While Hudson Card performed better than Garrett Gilbert did in the 2010 BCS Championship Game, Card lacked that quick defensive play recognition and that explosive arm talent to stretch the field that Ewers possesses.
Card finished the day completing 14 for 22 for 158 yards. 
---
Alabama Game Ball 
Bryce Young
It might be cliche to give the Heisman Trophy quarterback the game ball. 
Young went 27 for 39 passing 213 yards and one touchdown with 38 yards yards rushing doesn't come off as eye popping, but it is when he performed is when he executed he earns the game ball. After Crimson Tide running back Jase McClellan scored on an 81-yard touchdown run, the Crimson Tide offense went into a significant power outage. 
The Tide offense punted on six consecutive possessions, including four consecutive three and outs. 
On the drive that put the Crimson Tide up 17-16, Young went 6 for 8 passing for 55 yards with a key 17-yard run on a third and seven with 12 minutes to go in the fourth quarter, and connected with running back Jahmyr Gibbs on a seven-yard touchdown pass to cap the drive with 8:29 to go in the game.
When the Longhorns retook the lead on an 49-yard Bert Auburn field goal to go over 19-17, it was Young that went 5 for 7 on the drive for 41 yards passing, including a key 20-yard run that helped Alabama kicker Will Reichard hit a 33-yard game winning field with ten seconds to go.
Young's ability to galvanize the Crimson Tide offense in key situations was recognized by Alabama head coach Nick Saban, "I think at the end of the day he (Young) did a great job, when his best was needed, he was really good. And that's what we needed."
Texas Game Ball 
Xavier Worthy
Longhorns running back Bijan Robinson has a legitimate claim for this game ball, he did have 130 yards from scrimmage (73 receiving & 57 rushing) and a rushing touchdown, including a key 42 yard reception on a wheel route from Hudson Card were outstanding play, but to me it was what Xavier Worthy was doing early in the game that left the bigger impression on me. 
In the first quarter, on the Longhorns opening drive, Ewers targeted Worthy and if Worthy turns around it is a splash play. The initial impression to me was Worthy would be able to beat his man on any route. 
After a Will Anderson Jr. defensive offside penalty that allowed the Longhorns to convert a fourth and short to a first down, Ewers dialed it up a deep play to Worthy in the end zone, and while Worthy dropped it, again another miscue it was showing me why many prognosticators put Worthy high in their wide receiver lists. 
Worthy did have a spectacular 46-yard reception from Ewers and got 68 of his 97 yards for the day from Ewers. 
---
Game Thoughts
1.) Alabama did everything to lose this ball game today and a very uncharacteristic 11 first half penalties. This was the most penalties the Crimson Tide committed in a half since 2010. 
2.) While Crimson Tide linebacker Dallas Turner was flagged for roughing the passer on the hit that ended Quinn Ewers day, I agree with FOX rules analyst Mike Periera about an infraction needed to be assessed for unnecessarily driving Ewers to the turf. These are the types of hits the game is legislating out of the game. The team really penalized here is Texas losing Ewers potentially the rest of the season. 
3.) While the Crimson Tide ground game benefitted from McClellan's 81 yard touchdown run, and Bryce Young's few bursts. If you subtract those efforts, the Crimson Tide ground game from Gibbs and McClellan was non-exist going 16 carries for 42 yards. 
The Longhorns rush defense a season ago was among the worst units being 114th ranked did a great job containing the Crimson Tide. This is why Gary Patterson was brought in to consult Steve Sarkisian and scheme for offenses like this. If Alabama is looking to win another national championship, they are going to need to find balance in their offense. 
4.) Early in the season, there seems to be a rash of special teams miscues a lot of teams are encountering. The Longhorns weren't immune to these symptoms as Bert Auburn missed a 20 yard chip shot at the end of the first half. 
5.) As confusing as the safety sequence was, the officials finally got it right. 
On a third and seven with 9:59 to go in the third quarter, it looked like Longhorn defensive lineman T'Vondre Sweat had gotten a safety on Bryce Young, when the officials tagged Longhorn linebacker DeMarvion Overshown for both roughing the passer and targeting. 

Upon the review, the officials said the Overshown did not commit the targeting foul.
With how the officials explained that they did not get a proper explanation, and that they used "and" in the penalty with it not being targeting, it wasn't roughing the passer.   

The officials also ruled that Young was not down, his arm moving forward was an incomplete pass and no safety allowing Alabama to punt.
6.) Will Anderson Jr. showed how valuable he was to the Crimson Tide, with 90 seconds to go, Texas has a third and short, Anderson was able to get to Card for a critical sack forcing the field goal and saving Alabama from a potential upset. 
7.) I really feel after watching this game, Sarkisian has the Texas program pointed in the right direction. The Ewers set back will be interesting to monitor, but watching guys like Robinson, Worthy, Jordan Whittington, and Ja'Tavion Sanders has me more a believer that the Longhorns are closer to being back.