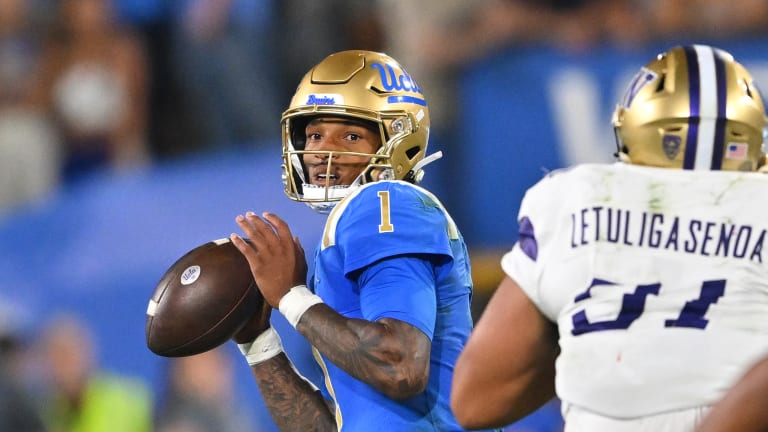 Rapid Reaction: UCLA Dispatches Washington 40-32
Bruins race out to early lead and hold on to give Huskies their first defeat of 2022
Don't let the final score of this game fool you - UCLA took control early behind a big game from quarterback Dorian Thompson-Robinson and timely defensive plays. The Bruins's offense was in sync most of the evening while the Huskies struggled to overcome their first real adversity of the season. 
Turning Point in the Game
The Huskies' defense had a fantastic goal-line stand on the Bruins' first drive after opening the game with a score of their own. It felt like it might be Washington's evening when UCLA was unable to capitalize, but a dropped pitch that turned into a safety ended up changing the entire complexion of the game. The Bruins then went on to score touchdowns on their next three possessions, putting the game out of reach early.
---
UCLA Game Ball
Dorian Thompson-Robinson
DTR's first half alone was one of his best career performances through the air, with 260 yards passing and two scores. The fifth-year senior has mastered Chip Kelly's offense, and put on a masterclass on Friday evening. Thompson-Robinson finished with 315 yards and three scores through the air, as well as 53 yards and a score on the ground, including this devastating juke to put the game out of reach early in the third quarter.
Washington Game Ball
Rome Odunze
The sophomore wideout was unguardable for the Huskies, and presented a matchup nightmare for anyone trying to cover him. He finished with a career-high in yards with 161 and two touchdowns while matching his top mark of eight catches in a game. It's clear that he's become Michael Penix Jr.'s top target.
---
Game Thoughts & Notes
The Bruins were the first team to get any real pressure on Penix all season. Standout transfer LB Laiatu Latu got to the him in the first quarter on a well-timed blitz, and the Bruins were able to rattle Penix to the point where he threw two interceptions in the first half.
Washington's defense had clearly focused on stopping the Bruins' prodigious rushing attack in practice this week because they made them work for every yard. Zach Charbonnet topped the century mark yet again for UCLA, but it took him 22 carries to get there.
Speaking of Charbonnet, he is getting used in the Bruins' passing attack more and more. That's a wrinkle that will serve them well moving ahead.
Penix looked better in the second half, but it was too late by then. 
Jake Bobo has turned into a true number one receiver for the Bruins. The Duke transfer made the most of his 6'5" frame and couldn't be stopped in the redzone. He's going to start shooting up draft boards with his smooth athleticism and ability to shield off defenders and high point the ball.
What it Means for UCLA
The Bruins passed their first real test of the season, but it's only the first of three consecutive games against ranked opponents. They're going to need to keep their offense playing cleanly as they take on Utah at home next week, followed by a trip to Autzen Stadium. UCLA should be ranked somewhere in the top 20 next season. 
What it Means for Washington
Kalen DeBoer and his team will have a chance to get back on track with three consecutive games against the bottom tier of the Pac-12. With a favorable schedule ahead of them, however, there's still a significant chance that this game was just a preamble to the Pac-12 title game.