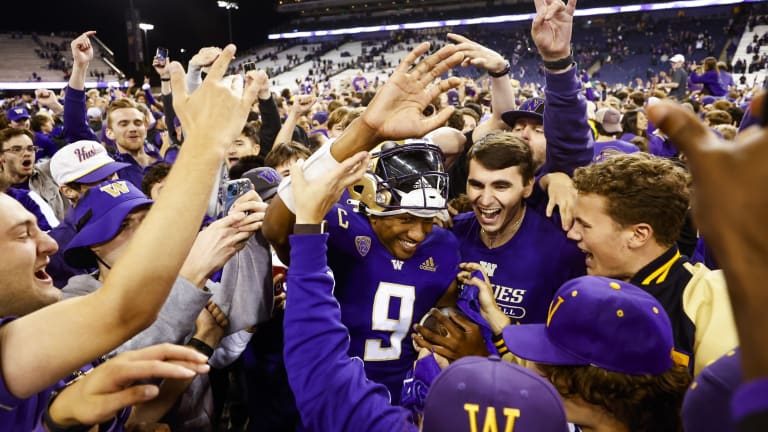 Rapid Reaction: Washington Upsets #11 Michigan State 39-28
Spartans give B1G East first loss of the season
The Washington Huskies (3-0) came in unranked, but the -3.5 point favorite against the 11th-ranked Michigan State Spartans (2-1) looked like a top-15 team themselves en route to their 39-28 victory. Former Indiana Hoosier QB and current Husky QB Michael Penix Jr. owned the day as he threw 24-40 for 397 yards and four touchdowns, hitting his clear mismatch of a WR in Ja'Lynn Polk for three of them. MSU attempted to make a late comeback, scoring 14 points in the 4th, but the deficit was too much to overcome for Payton Thorne and company, who threw 30-42 for 323 yards and three touchdowns, and one interception.
Turning Point in the Game
To me, the safety in the first quarter was the turning point. The Spartans were only down 7-0 and had just stopped Washington on 4th and goal at the 1-yard line, only for MSU RB Jarek Broussard to take a handoff, slip, and give the Huskies 2 points and the ball back. The "Spartan's Will" was shattered from then on. 
---
Washington Game Ball: QB Michael Penix Jr.
Today's game ball has to go to Penix Jr. The kid looked phenomenal from start to finish and averaged 9.9 yards a throw. It truly looked like he never left the B1G and was just dominant. 
Michigan State Game Ball: WR Keon Coleman
With the absence of WR Jayden Reed, someone had to step up for the Spartans in a huge road game like this. That person was Keon Coleman, who caught nine passes for 116 yards and two touchdowns. Although it wasn't enough, the Sophomore has a bright future for the Spartans and showed it tonight. 
---
Game Thoughts & Notes
1. Washington may be a real threat to win the Pac-12 with Penix Jr. at QB. Looks like a totally different team than we saw a year ago and they avoid playing USC in the regular season. At Oregon on November 12th will be tough, but the rest of the slate is extremely winnable and double-digit wins is likely.
2. Michigan State needs to get healthy and their defense has got to improve somehow, someway.
3. After seeing Michigan State tonight along with Penn State, Ohio State, and Michigan through three games, the Spartans are potentially in big trouble come October 8th and beyond. 
What This Means For Washington
3-0 for the first time since 2020 (if you want to count that) when they finished 3-1 that year. Prior to that, it was 2017. Not a difficult schedule overall. The Pac is division less this year for the first time ever, so making it to the title game is tougher, but with that schedule, it's doable. 
What This Means For Michigan State
This hurts for bowl positioning at the end of the season, especially when you have more big games looming that likely could be losses. They showed a lot of fight despite being down big and not having a couple of key players. Let's see if the Spartans can rebound from this.