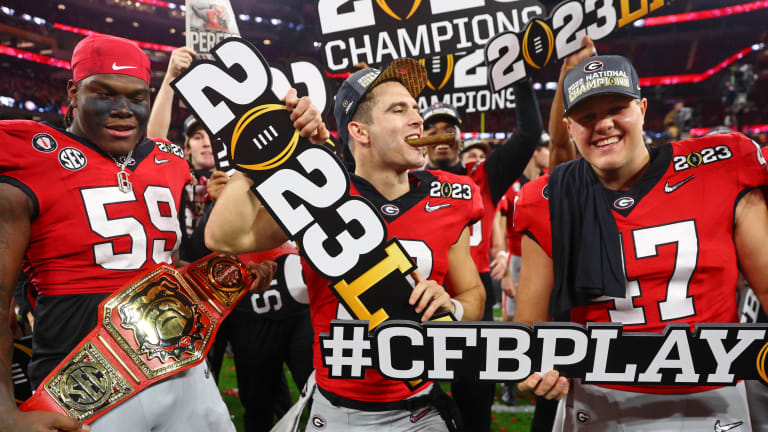 Mind of Mike: 2024 National Title Odds
Besides the Dawgs, who has the best chance to win the 2024 CFP?
Georgia is gonna win it all next year as well. Stetson Bennett is gone and so is Jalen Carter and some other key members of the team, but who cares? UGA lost a lot more a season ago and still ran through their schedule. But who are the biggest threats to a three peat? Here are my odds.
---
Michigan
7 to 1
Why Michigan? They return so much to a team that wasn't far off from getting a game with UGA for the title. Yes, they should have beaten TCU and yes UGA made Michigan look a bit dumb blowing out TCU while the Wolverines lost but with JJ McCarthy, Blake Corum, Donovan Edwards, an elite OL and a great transfer class coming in, Harbaugh could finally break through.
Alabama
8 to 1
Ty Simpson or Jalen Milroe is the question. Well there are others as well. Like who steps up at WR? And can Will Anderson be replaced? But we know Alabama will reload and be back on the playoff, so I have them at better odds than the Buckeyes.
Ohio State
10 to 1
A lot of talent returns and I think QB Kyle McCord will be next man up but can they beat Michigan? That's the big question because they can't expect to back into the playoff again.
USC
12 to 1
QB Caleb Williams keeps them in every game and if they can shore up the tackling on defense they could surprise. The play in the trenches should be better and the WR group is better than last year even without Jordan Addison.
Florida State
17 to 1
Mike Norvell has me believing. The offense should be absolutely loaded and the defense will be much improved with players returning and some key portal additions. This team has a chip on its shoulder and will be the class of the ACC.
Utah
20 to 1
I love this team but they need to be perfect and thats a tall task. Cam Rising and company are on a mission but they won't get the one-loss favoritism USC gets to they better be perfect.
LSU
20 to 1
Jayden Daniels is the X factor and if he stays healthy they can break through. The portal class is amazing especially in the secondary and the running game will be vastly improved on year two of Brian Kelly.
Clemson — 22 to 1 — Cade Klubnick didn't look like a world beater last season but the team plays harder for him than they did for DJ Uiagalelei. And Garrett Riley will improve an offense that needs help. But those defensive losses are rough.