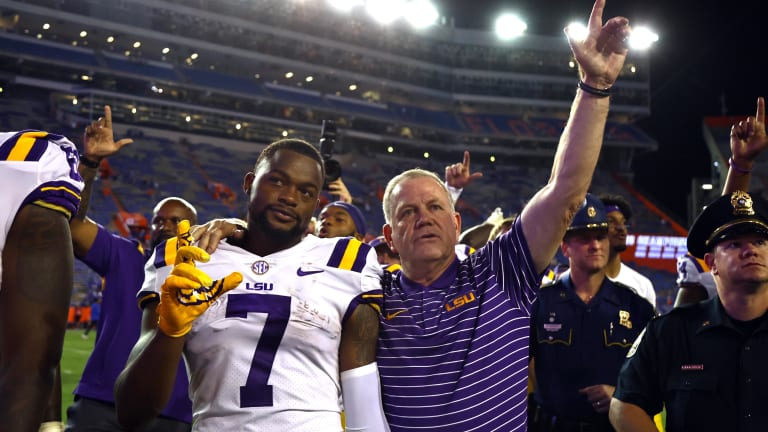 Mind of Mike: Breakthrough Wins for LSU and Notre Dame
The Mind of Mike is a crazy place. And in it, for this brief moment in time, Notre Dame and LSU fans got what they needed.
---
This won't last mind you, nothing does. But as of November 6, 2022 all is good in South Bend and Baton Rouge. Notre Dame fans would normally feel jilted with Brian Kelly winning a huge game against Nick Saban and the evil Alabama empire after leaving them for LSU, but they are all smiles. Why? New head coach Marcus Freeman has turned a corner — for this week anyhow — with a huge and absolutely dominant win at home against Clemson. The losses to Marshall and Stanford under the gaze of Touchdown Jesus are mere blips of a nightmare that seems long past as the focus is on the future at Notre Dame, a future that makes Notre Dame fans kind of giddy. They wanted better recruiting AND a coach who could win big games against teams in the Southeast. While Clemson appears to be a shade behind Georgia and some others, this was a legit playoff contender and Notre Dame whipped them. And Freeman is recruiting off the charts with the top-five recruiting class Notre Dame fans dreamed of but never saw under Kelly. Are their questions to be answered? Sure. Kelly couldn't develop (or recruit) a big-time QB at Notre Dame and this roster isn't exactly loaded with talent at the position. Drew Pyne threw for 85 yards in the 35-14 win over Clemson and that won't get the job done. And there is no QB in this 2023 class. But the portal is a beautiful thing and the right fit could be out there. What matters is that Notre Dame is 6-3 now with back-to-back wins over top 25 teams. Sure, they are overrated ACC teams but these are wins and not losses and that's what is needed for Freeman to build. This was simply huge.
As for LSU, the fans put up with the fake accent BK laid on them and the dumb recruiting dance videos until they lost the opener against Florida State in a very sloppy performance. Wins over some cupcakes and an up-and-down Mississippi State team didn't appease them much when Tennessee came into town and throated the Tigers 40-13. But if you want to please LSU fans then wins over Florida, a top-10 Ole Miss team, and especially Alabama will certainly do it. And Kelly going for two points in the first OT speaks to balls the size of planets. BK isn't here to cash out as even I suspected early on, he's here to win it all. Jayden Daniels has turned into a Heisman candidate under Kelly and recruiting is on the upwards climb as they approach the top 5 this season. With more momentum on and off the field, the Tigers could be at the UGA and Alabama level sooner rather than later.
Yes as of Nov. 6, 2022, all is well in South Bend and Baton Rouge. It won't last, we all know this but both sides can smile at each other with temporary confidence that they each have the right coach.