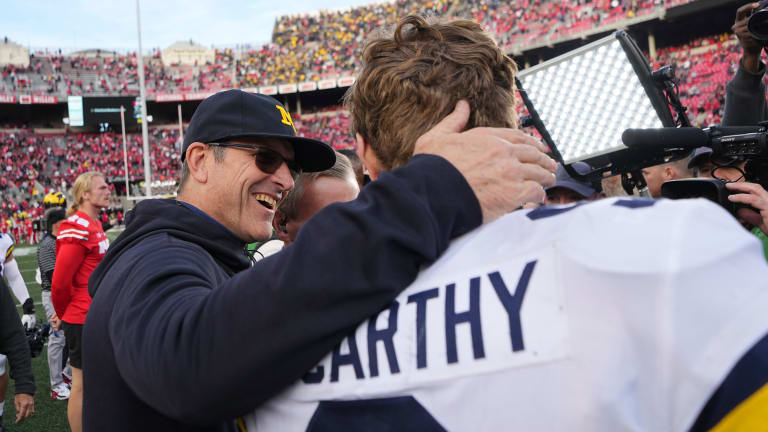 Mind of Mike: Jim Harbaugh Shuts Us All Up
F 'em all Jimmy Harbaugh. F 'em all. Including me. F me.
What the hell am I babbling about? I'm talking about the old adage that success is the sweetest revenge and how Harbaugh has shown everyone — myself included — that they don't know a heckuva lot about him or football in general. And it kinda makes me smile.
I don't know Harbaugh personally at all. I had a couple of minor run-ins with him way back during his time at San Diego and Stanford, but since then I haven't spoken to the man once. And he wouldn't throw water on me if I was on fire. But I have a voice, small though it may be, and I've been critical of the job he has done at Michigan. But all of that criticism is gone as he's 24-2 in his last 26 games and has come a long, long way from the nightmare 2020 COVID season.
In 2020 Michigan was 2-4 and Go Blue fans were ready to move on from the former star player hailed as the savior of the program when he arrived in 2015. Blowout losses to Indiana and Wisconsin and needing triple overtime to beat Rutgers were enough for many. Confidence was not high that he could develop a QB and Ohio State fans were heckling Michigan fans and telling them they were lucky The Game was cancelled due to COVID. My how times have changed.
Last year Harbaugh was 7-0 with a bunch of cupcake wins before falling at Michigan State. And the cries began again. 
"Harbaugh can't beat his rivals." 
"This team will collapse to mediocrity as we've seen in the past." 
"He can't win the big one."
Michigan remained in the AP Top 10 but confidence was low and wins over Indiana, Penn State and Maryland didn't do much to quell the fears. Mighty Ohio State and Ryan Day's offense were coming to town. But something kind of magical happened. Michigan didn't wilt and in fact they destroyed the Buckeyes 42-27 to earn a Big Ten East Divisional title. They thumped Iowa 42-3 in the Big Ten title game and went onto the playoff where they lost to eventual national title winner Georgia. Despite the 34-11 loss, Harbaugh showed he could win the Big Ten and beat his rival. All was good in Ann Arbor for a minute.
Harbaugh then did little to hide his want of the Minnesota Vikings job in the NFL and went to Minneapolis on Signing Day with every intent of taking an offer and leaving Michigan behind. But a funny thing happened along the way — Minnesota didn't offer and he came back to Michigan with his tail between his legs. And, of course, the Maize and Blue administration welcomed him back with open arms. The situation put a damper on a great season and slowed recruiting down a bit. And no one really knew what to expect on 2022.
I predicted Michigan would go 8-4 despite a ridiculously easy schedule. One of those losses would be a revenge game from Ohio State where Ryan Day's offense would take out their frustrations on Michigan and blow them out in Columbus. And yet, here we are. Michigan is undefeated and in the Big Ten title game again and assured of a playoff berth for the second year in a row. And fans in Columbus are wondering if they have the wrong coach in charge and have to endure the ridicule for another year, a ridicule they pointed at Michigan fans for ages. All is well in Ann Arbor.
Harbaugh is now 73-24 overall as Michigan coach and he could win that elusive national title this season. At worst he will head into another off season with as much job security as anyone not named Nick Saban and can quietly (or not so quietly) laugh at his doubters.
So I say this to you once again Mr. Harbaugh. F 'em all Jimmy Harbaugh. F 'em all. Including me. F me.