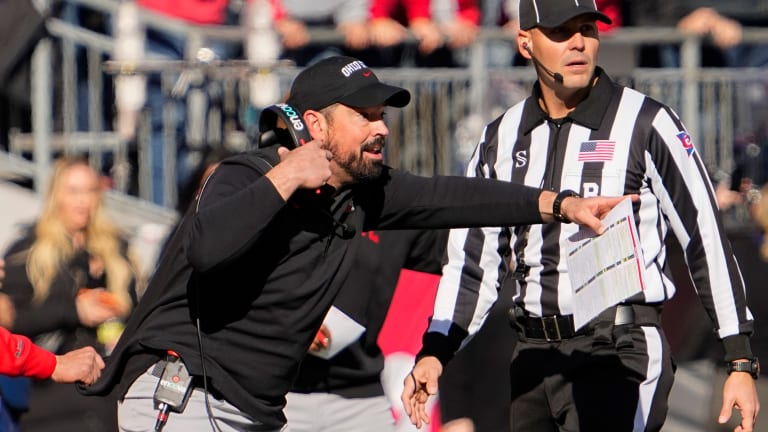 Mind of Mike: Ryan Day and Buckeye Expectations
The Mind of Mike is a scary place. So can we just shut up about all of this? 
I'm talking about firing Ryan Day at Ohio State. It's dumb and makes Buckeyes fans look at best spoiled and at worst just plain stupid.
I know, I know. Day has lost twice in a row to Michigan and that hasn't happened since 1999 and 2000. And yes he was just drubbed at home by Michigan which hasn't essentially hasn't happened since 1976. Those are insane numbers, and it's not pretty. But c'mon let's be real. Ryan Day is a successful coach and a great fit.
Why do I say this? It's not only because he's 45-5 overall and has been to the college football playoff twice in his four seasons. And it's not because he puts together great recruiting classes and send elite players to the NFL. It's because of this — if Ohio State had won the game last weekend, Buckeyes fans would be touting his greatness and be happy as any fan base in the nation. Day would be 46-4, would be in the Big Ten title game for the third time in four years and he'd be headed back to the playoff.
A coach can't suck if one game teeters the view of him so much. Even some of the greats who couldn't win the big one — Bo Schembechler, Frank Beamer, Barry Alvarez, Pat Dye to name a few — were never in a situation where if they won one game they were amazing and if they lost it they sucked. Day is 1-2 against Michigan and would have destroyed them in 2020 had that game not be cancelled. He beat Michigan 62-39 and 56-27 when Michigan was a top 15 team in the AP rankings. I know we live in a "what have you done for me lately" world but can we get real? Heck, Ohio State has a great chance to still make the playoff this season and win a national title. The call for his head on a platter is just ridiculous.
So save me the Mike Vrabel and Luke Fickell talk and the talking heads who say Ryan Day sucks. He inherited a great program under Urban Meyer and kept it rolling. Maybe that's "born on third base" and all, but Will Muschamp did the same thing at Florida and he went 28-21 and 17-15 in conference. It's an emotional sport and college football has rabid fans. But be careful what you wish for, the next guy could be Muschamp, or Justin Fuente or Gary Moeller or Terry Bowden. Some good coaches, some not but none of them as successful as fans wanted.