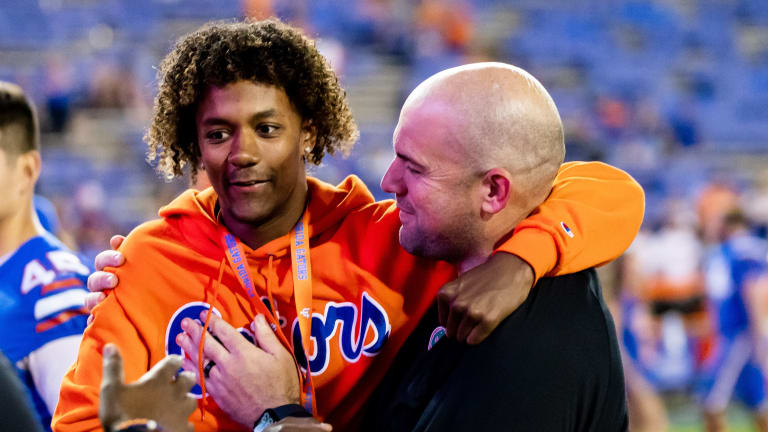 Mind of Mike: The Jaden Rashada Situation
The Mind of Mike is a scary place. The Jaden Rashada situation is getting a ton of attention mainly because of the $13 million dollar number being tossed around. Here are my thoughts.
---
A legitimate source close to the Gators Collective told me that the $13 million ask is a reality. I still don't know if I believe that or not and perhaps we will never know. But I do know this: there was no mutual $13 million deal agreed upon as is being reported. The Gators Collective wants to be competitive in a big way, especially after some criticism of it last year and this year in certain recruiting situations. But this isn't a group of morons either. They're not going to pony up $13 million for a high school recruit who hasn't thrown a pass. And the $9 million number thrown around after Rashada decommitted from Miami is out of whack as well.
I've heard as high as $2 million here for Rashada which to many feels very low compared to the ridiculous numbers being thrown out. So how does it go from $2 million to $13 million? And let's pretend for a second that $9 million is real. How does it go from $9 million to $13 million? These are questions I've asked myself and asked of many college coaches around the country. And no one has any sort of answer. If the $13 million ask is legit, how the heck does his father or agent or whoever come up with that insane number?
"None of it makes sense," one source told me with the promise of anonymity. "The NIL numbers for high end quarterbacks out of high school are all beyond inflated. The Tennessee kid (Nico Iamaleava) numbers are out of whack as well ($8 million). People I've talked to say $2 million over the course of a career is pushing it so where do these numbers come from?"
I wish I had that answer. But if one person says it then it has to be true and it will be run with. And it makes everyone look bad. Rashada already has NFL red flags from some scouts I've talked to because of that number and Billy Napier and his staff are being hammered by fans and analysts alike for not being able to deliver on a $13 million deal that I honestly never believe existed. Florida looks bad, the kid looks bad and college football looks bad.
So now what? Rashada's team has been taking to Washington and Cal who have solid NIL deals for him (again, nothing close to $13 million) while Utah and Arizona State are also consideration if money doesn't become the focus.
"Honestly what he needs to do is pick a school with no NIL at all now and earn his money through performance," another coach who didn't want to be identified said. "Sadly he needs to rehab his image already without having thrown a college pass because this situation has red flags all over him. Even if he gets some NIL money he needs to come out and say he didn't get any. The kid is a good kid but he's being lumped in with the greed narrative and I don't think that's him at all."
Stay tuned.
---
UPDATE:
Rashada will be visiting Arizona State this weekend and TCU next weekend.