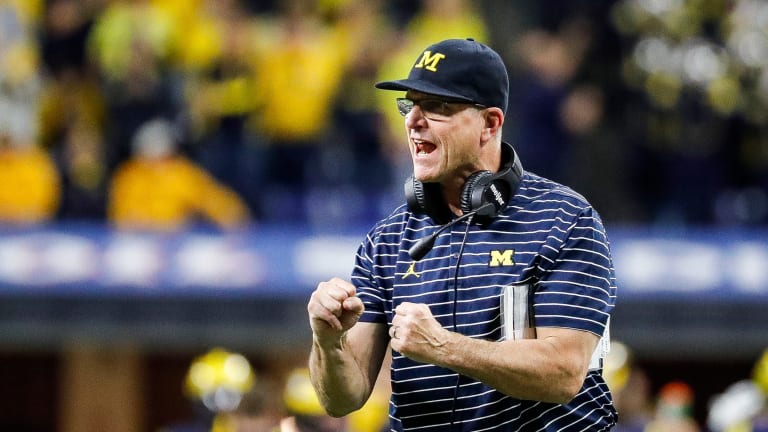 Mind of Mike: The Jim Harbaugh Drama
The Mind of Mike is a scary place. Jim Harbaugh is back at Michigan once again. This news gets my mind moving.
---
The first thought is this — c'mon man, did this have to happen? Did you have to interview with an NFL team AGAIN after last season when you thumbed your nose at the Wolverines brass and interviewed with the Minnesota Vikings on Signing Day? And after you promised it wouldn't happen again? The obvious answer is yes, it had to happen. When Athletic Director Warde Manuel cut Harbaugh's salary after the 2020 season, a fire was lit in Harbaugh's heart. He was angry and embarrassed. And it made him, quite honestly, a better coach. Two wins over Ohio State, two Big Ten titles and two trips to the playoff and suddenly he had all the leverage. And he used it.
Now, I have mixed feelings about how he did it. In business all bets are off, you play to your leverage. And Harbaugh has done so, very well. But at what price? Recruiting suffered last year when the momentum should be at an all time high after the playoff run. And with this additional flirtation with the NFL, recruiting has slowed down a bit and negative recruiting will increase.
All this being said, Michigan is in a great spot now. Harbaugh is obviously a great coach, they return a ton of talent next season and he's hit the portal very well. Those who think an early playoff exit for Michigan is as high as the bar can get are wrong. Harbaugh can absolutely win a national title at Michigan.
And one final thought. It's clear that Harbaugh and AD Warde Manuel don't get along. Manuel's silence during these pivotal weeks when President Santa Ono took things over speaks volumes. But it doesn't matter, Harbaugh won. And the one thing that is as clear as day in all of this mess is this — Harbaugh can do whatever he wants and Michigan will move heaven and earth to make him happy. This will happen again, probably after next season. That Super Bowl itch isn't going away. But to have Harbaugh, a former Michigan player and Michigan Man in charge and more powerful than ever isn't the worst thing on the world. It's a happy, happy day for Wolverines fans.