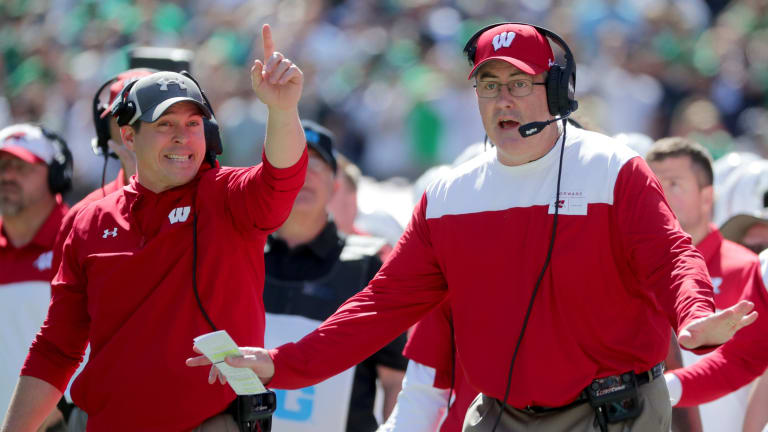 Mind of Mike: The Jobs Report
The Mind of Mike is a scary place. Here are my latest thoughts on recent firings.
---
'Welcome to the new world of college football where a Power Five coach gets fired each week. Will this be the norm? Nah, there aren't that many jobs out there. But firing coaches earlier and earlier is the trend lately and a lot of it has to do with the early signing period. Not much can be done due to tampering rules when it comes to getting a head start on the new coach unless he's from the NFL ranks or not currently coaching, but we all know agents talk for their clients and these conversations occur. In the case of Colorado, Karl Dorrell had to go and it allows the Buffs to "send feelers" to candidates like Jeff Traylor, Barry Odom, Matt Entz, and others. And Bryan Harsin could be in play as well if he doesn't survive at Auburn and things don't look good for him at all there. Harsin could also be in play for Arizona State as well. In the meantime, Nebraska and Georgia Tech will also get a "head start" on their search by firing their coaches early, and honestly, it's easier to sell the promise of a new coach to current commitments than it is to sell the old, tired "vote of confidence" for the current coach that recruits see through easily.
In the case of Wisconsin, moving on from Paul Chryst is clearly an effort to retain and promote defensive coordinator Jim Leonhard who has been mentioned for many recent openings and has likely been "tampered with" already. In this case, the young coach who is the target of many is more important than the head coach who has been disappointing the last few seasons and especially this year with a horrible 2-3 start. Leonhard will be named the new head coach and not the interim very soon it appears.
So where do these programs stand? Nebraska, as we know, has great potential but this isn't the 1990s anymore and they need a coach who can develop players more than anything. This is similar to what Wisconsin had been doing consistently until the last couple of seasons so the blueprint is there for both programs. Wisconsin is in better shape with Leonhard set to be promoted from within.
'As for Georgia Tech and Arizona State, both have upside but also some issues to solve. While Atlanta is great for Name, Image, and Likeness opportunities, the Jackets also have to recruit against UGA in state and all the other programs that raid Georgia. That's a massive issue. As for ASU, their home state has talent (Bijan Robinson and Spencer Rattler as recent examples) but they need to hit both Texas and California and win recruiting battles on the road. That's a tall task.
Finally, Colorado could be in the toughest shape of all. The PAC 12 is on life support and they are a geographical fish out of water already with no recruiting territory or recent tradition. Mel Tucker was thought to be a great hire but he bolted immediately and this is a stepping stone job right now. A great hire is needed simply to right the ship and make this job attractive to others. Again, Harsin could be in play here with his success at Boise State.
Will Harsin be the next to go next week? With Georgia on the schedule for Saturday, it could happen.