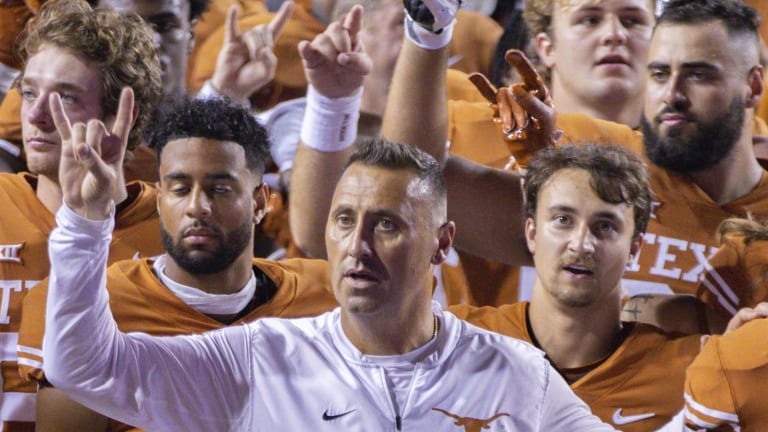 Mind of Mike: The Sark Meltdown
So I did a social media experiment on the Steve Sarkisian sideline blowup against what appears to be an officiating crew member holding the Texas coach back from leading his team on the field in the Alamo Bowl against his old team Washington on Thursday.
At first I tweeted the video, seen below, and said I kinda liked what Sark did. I didn't give any explanation at all, I just wanted to see what people would say.
Here's the tweet so you can see the comments.
The comments were predictable. People ranged from attacking Sarkisian to attacking me for defending such an outrageous action. However, some also agreed with Sark in the comments and said it was inappropriate for the crew member to put hands on him. But the majority of the responses were hatred towards the coach and myself.
Then I tweeted the video again and simply said "I hate this" to see what the reaction would be.
Here's that tweet so you can see the comments.
This one blew up much bigger that the first with the majority of comments accusing Sark of drinking again (his battle with alcoholism are well known) to suggesting anger management for the Texas coach. A few in the comments defended Sark as well saying, once again, the multiple touches from the crew member were over the line. But in agreeing with the mob mentality, the tweet got a lot more attention. And that's sad.
Why did I do this? Simply to prove to myself the angst portrayed on social media is outrageous in regards to something that otherwise isn't a big deal. Should Sark have gone from 0 to 60mph that fast? Nah. It's a ridiculous overreaction to an encroachment of common boundaries in life. Don't touch the man, it's that simple. And don't touch him multiple times. That's over the top. But also don't react like a raving lunatic either. Sark wasn't assaulted here.
But we live in a world of overreaction and a world of anger and hatred where everyone wants someone cancelled for losing their head for a moment. Yes, Sark showed anger that didn't seem to fit the situation at hand and yes he shouldn't do this as a leader of young men. It was dumb. But to assume he's drinking again or that he has serious psychological issues because of one short moment is also dumb. And this will go on for days and days over something that lasted 5 seconds and was likely resolved during or after the game.
Sark essentially lost it. It happens. I'm sure he doesn't like watching the replay and feels like an ass. But now he will have to publicly apologize, he will likely be required to attend some anger management therapy by his bosses and he will once again be linked with alcohol and mental health issues. And that's just crap.
So where do I land on this? Do I like it or hate it? Because obviously my tweets were confusing and contradicting. Here's where I land. I don't give a crap. This isn't about 5 seconds for me — it's about people and coaches, yes coaches, using this as a slight against the man and to hinder future recruiting efforts. "Look what Sark does, you want your kid to play for that kind of guy?" That already happening and it's just ridiculous.
It's my job to write about this stuff and to share these instances. That's what people want and it's how I make a living. But as someone who will always give an honest opinion on something, this is an absolute nothing burger. Let's move on.