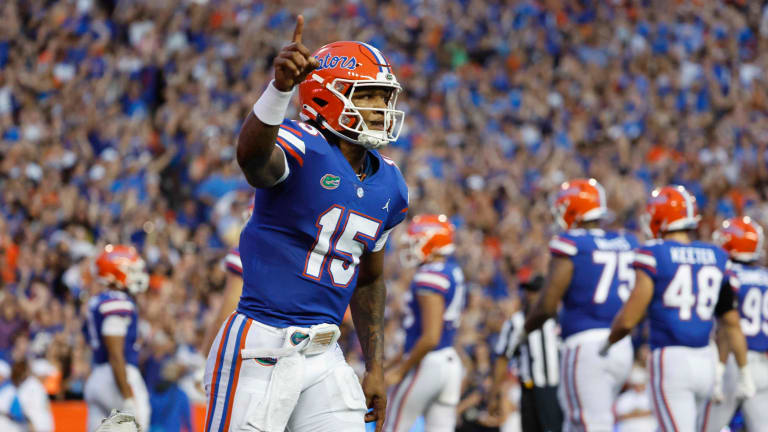 Mind of Mike: Week 1 Thoughts
The Mind of Mike is a scary place. Here are some thoughts rolling around my head recently.
---
— I legitimately wondered if LSU WR Kayshon Boutte was going to walk off the field during the game against FSU Sunday night and enter the portal. His body language was awful when he wasn't being targeted, he had two awful drops and his frustration was beyond evident. Maybe it's the Antonio Brown's of the world that have me thinking drama could ensue with some amazingly talented yet emotional players but it was no surprise to me he scrubbed his social media of all things LSU. I don't think he leaves and I believe he will be talked down, but this is going to hurt his NFL status quite a bit.

— UNC's defense is scary bad. Florida A&M went through them and they couldn't do anything against fellow FCS program Jackson State this weekend. Appalachian State would have scored 100 probably had it gone into overtime as a stop for the UNC defense wasn't happening. With so much young talent on that side of the ball things have to get better and they are 2-0 but this is worse than it was in year one of Mack Brown and that's not good.

— Any talent evaluator can tell you Anthony Richardson is special. Think Cam Newton with a bit of Terrelle Pryor in there. So when Florida fans complained I had him outside the top 25 in my preseason QB rankings I understood. I'm not a moron. But he hadn't put it together yet. Six touchdowns and 5 interceptions last season with injuries thrown in and you have to take pause. But I can tell you this — when healthy I'd take him over any QB not named Bryce Young this season. He's impossible to game plan for and he's going to be special.

— UGA is good. They are really good. And Oregon isn't as bad as they looked. So let's hit pause on the "Oregon is overrated" talk and focus on this - is UGA better than Alabama? That's all that matters. I doubt anyone in the SEC East challenges them and it will all come down to the SEC title game. And if they lose, they can still make the playoff. I was beyond impressed.

— I'm doing something new now when watching college football and I'll admit I like it. Instead of trying to remember where a player came from out of high school I instantly try to figure out what program he transferred in from. You can't swing a dead cat over your head without hitting a transfer in every game and it's kinda neat. Who caught that pass? Oh yeah the guy from Western Kentucky. Nice pass breakup, who was that? Oh yeah that's the transfer from New Mexico State. The developed player on your team has become more rare than the transfer it seems and it's going to get even crazier.

---
— A 12 team playoff is great. Here are the teams it benefits the most by far..
Michigan — Ohio State rules the Big Ten most seasons but this will allow a second place divisional team to make it here and there. Remember Ohio State made it one year without winning their division but well, that's Ohio State.
Miami — Trust me when I tell you that Miami will be for real. Mario Cristobal recruits too well for it not to happen. And two teams from the ACC will be likely even if Clemson continues to roll.
Wisconsin — They can win the Big Ten West more than anyone and then perhaps get blasted by Ohio State and still have a chance to sneak in.
Oklahoma State — When the Big 12 loses Texas and Oklahoma what team has the best chance for continued success? Mike Gundy and the Cowboys do and if the winner of the Big 12 keeps an automatic bid as it should, they will get in often.
Utah — With USC leaving the PAC 12 you look for a consistent program to take advantage and Utah is very consistent under Kyle Whittingham. Yes they lost to Florida on the road but this is a good program that will win some PAC 12 titles as long as he stays.
Texas A&M — Nick Saban will eventually retire but until he does being second in the SEC West has more value now. And Jimbo Fisher will land in the playoff a few times as it's expanded.