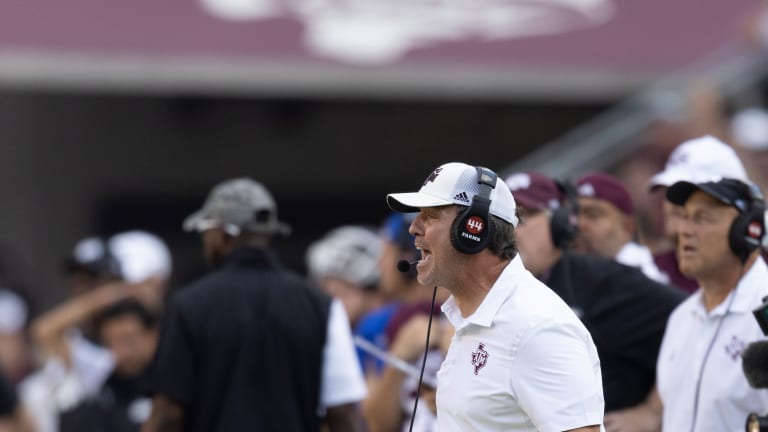 Mind of Mike: Week 2 Madness
The Mind of Mike is a scary place. Here are a few more thoughts from week two.
---
— Jimbo Fisher has about a year left. That's my guess. A&M's loss to Appalachian State is a downright embarrassment based on the talent level at A&M and the recruiting efforts. And the portal will fill following this season if things continue to fail. Remember, A&M has Miami, Arkansas, Alabama, Ole Miss and Florida left on the schedule — all ranked teams — and an 8-4 season again seems very likely. That's not what they paid Jimbo $100 million for. He will last the season but next year if they start slowly again, he could be gone. The pockets are deep at A&M and eating that money can be done. The main issue? Jimbo hasn't developed a QB yet since landing with the Aggies and it's evident he lucked into Jameis Winston.
— Quinn Ewers is for real, or at least he looked like it. It's a shame he's out 4-6 weeks now because it's clear he could make a huge difference at Texas. The Longhorns should have won that game against Alabama and an argument can easily be made they were robbed by the refs. This has been a good week for Texas with Arch Manning looking as impressive as he has in many games and this team gaining confidence with a loss to Alabama.
— Is Alabama in trouble? Yep. At least for this season. They lack speed at wide receiver (Tyler Harrell foot injury is a killer), their offensive line looks as bad as it has in ages and they just didn't look dangerous on offense at all against Texas. That's a bad sign. Oh and for the first time ever Nick Saban looked his age on the sidelines and his team played sloppy and undisciplined football. They are still Alabama and will win 10 or 11 games but Georgia is better.
— Notre Dame what in the hell? Is Marcus Freeman over his head? Does his lack of head coaching experience mean he won't recover from this start? That's a bit dramatic but this won't go over well. Notre Dame fans hate Brian Kelly for leaving, but his success spoiled them. You and I both know a big step back won't be accepted by the Golden Domers. And this team looked horrible on offense and defense against Marshall.
— Both the Vols and Pitt have bright futures I think. Josh Heupel had the offense flying but the defense has improved a bit as well and I just love the way the Pitt players fight for Pat Narduzzi. In this day and age where finding a good coach is so hard, these teams have them.
— How can Anthony Richardson look so amazing one week and so bad the next? Let's keep in mind that he's in some ways a true freshman, at least when it comes to experience and being the starter. He's far from developed or polished. I also don't agree with the offensive game plan from Billy Napier and company. While they played to his strengths against Utah, they seemed to change the entire strategy against Kentucky and I don't know why. Open up the passing game for Richardson with that zone read. Give him confidence running the ball if he's erratic passing.
— Before Sam Pittman became a great coach and did an amazing job at Arkansas, Mark Stoops did the same at Kentucky. Remember this was a hoops school struggling in football before Stoops took over and now they are a consistent threat to win 9 or even 10 games.
— USC looks better than I expected and that's kinda scary. Rice and Stanford are teams that like to play slow tempo and it hasn't slowed down that offense. As they get better in the trenches and the numerous transfers become more familiar with each other this could be a team that legitimately wins the PAC 12.
— UNC stinks on defense but Drake Maye looks like one of the top three or so quarterbacks in the country already. I heard some Trevor Lawrence comparisons out of the spring but didn't believe them at all. But his physical attributes and willingness to run are on point with the former No. 1 overall pick.
— How bad is the Iowa offense and Brian Ferentz? Purdue wide receiver Charlie Jones must thank the heavens he's out of Iowa, as he has as many receptions through two games at Purdue as he did all season last year with the Hawkeyes.
— The best player you've never heard of? Michigan State LB Jacoby Windmon. He's a transfer from UNLV and showing once again that Mel Tucker is the king of the transfer portal. He has 12 tackles, five sacks, and an amazing four forced fumbles in two games.