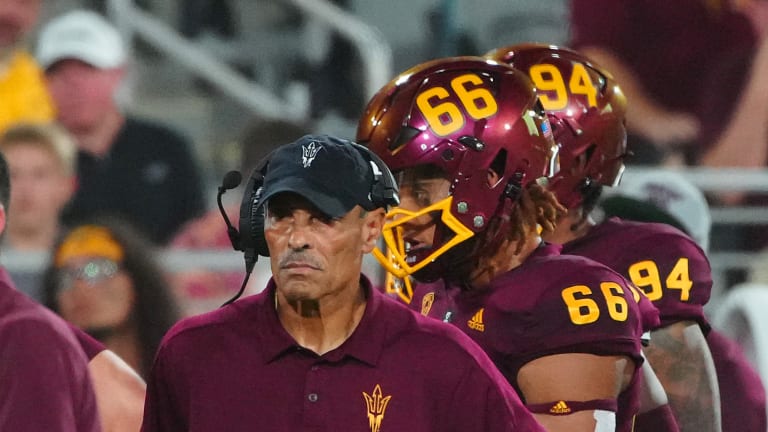 Mind of Mike: What Happened to Herm?
The fascinating Herm Edwards era is over at Arizona State with the long time NFL head coach jumping back into college in an odd hire and going 26-20 before being fired after this weekend's loss to Eastern Michigan.
Edwards was a very odd choice in 2018 by ASU after being away from coaching for a decade and never having been a head coach in college. Part of the justification? He worked with Under Armour All Americans once a year at that bowl game in Orlando. It was baffling. But for awhile it looked like it was working.
Edwards went 7-6 and 8-5 his first two years but then COVID hit. ASU played only four games in 2020 and he went 2-2 but followed that with a 8-5 record in 2021. But recruiting violations uncovered during that COVID year including illegal player visits during shutdown started his crawl to the unemployment line. He lost most of his staff including ace recruiter Antonio Pierce and as recruiting dried up so did player interest in staying. Key players like QB Jayden Daniels departed and ASU also lost elite players like WR Ricky Pearsall, LB Eric Gentry and DT Jermayne Lole. With six commitments in the 2023 recruiting class ASU is dead last in the Pac-12 after finishing last in 2022 and 9th in 2021.
The roster was depleted, there was no momentum on the road and hopes of luring elite talent from California were gone with Pierce out. As coach after coach was let go it was only a matter of time before Edwards fell and a bad loss on Saturday finally did it.
So who's next? UTSA head coach Jeff Traylor would be a great fit and Colorado State head coach Jay Norvell might want to leave that mess and head back to ASU. Arkansas DC Barry Odom is also a great candidate on the defensive side of the ball. Other names to consider include Cal head coach Jeff Wilcox, Baylor OC Jeff Grimes, Oklahoma OC Jeff Lebby, former Dolphins head coach Brian Flores and others.