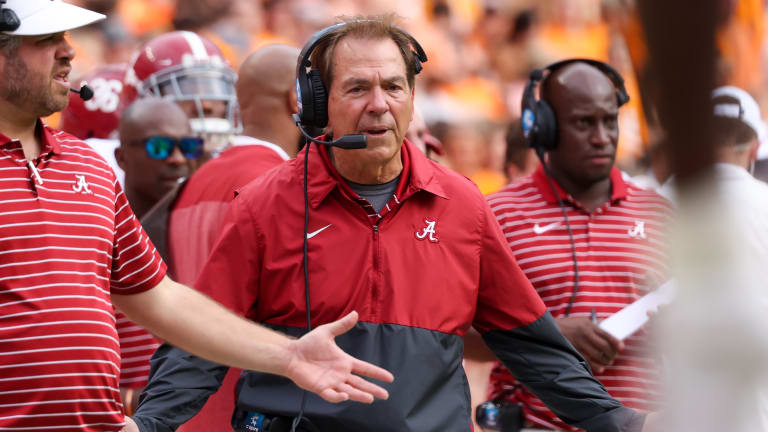 Mind of Mike: Will the Tide Stop Rolling?
The Mind of Mike is a crazy place. Here's why my mind says Alabama fans might want to worry.
---
Why should we be worried about Alabama? I usually never say we should be as when Alabama loses they always rebound and make everyone pay. But this loss and the recent Alabama trends should cause fans to worry a bit.
1. Discipline
— First off, this is not the disciplined team we are used to seeing at Alabama. That's first and foremost. We saw it in the near loss to Texas as Alabama had 15 penalties for 100 yards and continued to shoot themselves in the foot. Then on the road against Tennessee they have 17 for 130 yards? That's simply not what we are used to and it doesn't seem to be getting better.
2. Wide receiver speed
— This is a big issue. Henry Ruggs, Devonta Smith, Jaylen Waddle and others aren't walking through that door this season and the leading receivers on this team — Jacorey Brooks, Kobe Prentice, Jermaine Burton and Traeshon Holden — are not burners and this team is severely lacking in outside speed. That's okay when Derrick Henry is carrying the team but when your running back, Jahmyr Gibbs, is your best receiver as well you're in trouble.
3. The defensive backfield is awful 
— Saban is the defensive backs guru but this team looked horribly unorganized against Tennessee and made Quinn Ewers look like a seasoned veteran. There is talent back there, a ton of four and five stars but where are the big plays? This defense had no interceptions in a near loss to Texas and one pick against the Vols. We expect more.
4. Anxiety? 
— What the heck? Saban said the team was tight and star DE Will Anderson said there was anxiety heading into Neyland. I've never heard this of a Saban team. Never.
5. Special teams 
— We saw Saban lose his mind about a muffed punt and there seems to be a special teams gaffe each game which is unusual. And let's remember they could have won this game on a field goal but kicker Will Reichard has regressed. Alabama has holes in all three phases of football this season.
6. Bryce Young savior status 
— What the hell would Alabama do without Young? He saved the day against Texas and he was the only reason Alabama had a chance in this game. We saw how Jalen Milroe struggled and how this team just doesn't have a "next man up" as a passer ready to step in as we had from Jalen Hurts to Tua Tagovailoa to Mac Jones to Young. Milroe will develop as a passer but right now without Young this would be a two loss team.
7. Two losses in eight games 
— UGA and Tennessee have now forced their will on Alabama in their last two losses and have done so in surprising fashion? How? When Alabama pulled to within one point in the fourth quarter against Georgia in the title game I fully expected them to steal the momentum from a team that hasn't won a natty since 1980. They didn't. And when that scoop and score put Alabama up by a score in the fourth quarter against Tennessee, a team that hadn't beaten Alabama in 15 tries, I expected the Vols to fold. They didn't. Alabama doesn't impose their will on teams lately and that's scary.
8. Coaching 
— Saban is Saban and he's great. There is no question there. But what about Bill O'Brien throwing the ball down the stretch and leaving time on the clock for the Vols to win the game? And Pete Golding's defense of five stars gave up more than 50 points for the first time in the program since the early 1900s. These guys aren't the answer.