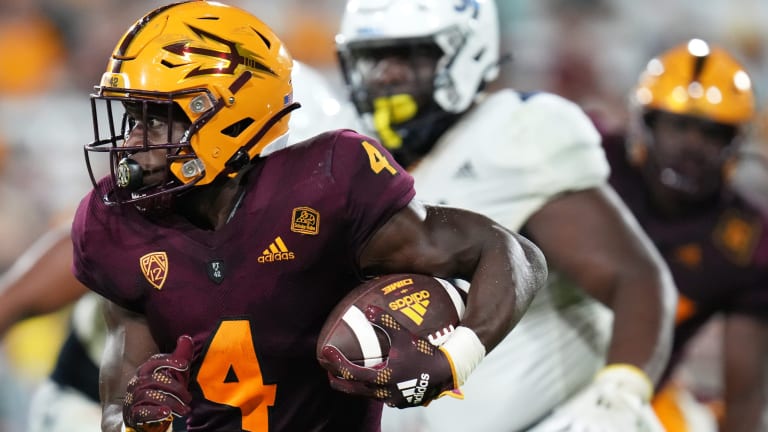 5 Potential Arizona State Transfers
Who could look to move on with Herm Edwards now gone?
DL Joe Moore
The skinny: Moore has gradually seen increased playing time during his stay in Tempe, which includes being a starter this season. Through three games, he has totaled ten tackles and 1.5 tackles for a loss. With defensive linemen always being a hot commodity in the portal, a move for the Missouri native would likely gain him a serious interest from numerous FBS programs.
DL Gharin Stansbury
The skinny: After seeing the field in two games during his redshirt freshman season, Stansbury has yet to play in 2022. While a hamstring injury has limited him recently, this coaching change at Arizona State could offer him a clean start somewhere closer to his Louisiana home.
QB Finn Collins
The skinny: The roster of quarterbacks at Arizona State has created a logjam without too many answers. Collins is part of this logjam who currently does not have a clear route to get out. Only a redshirt freshman, he may stick around to see if a new coach gives him a better opportunity, or he may look for greener pastures elsewhere.
OL Armon Bethea
The skinny: Bethea saw time in two games during his redshirt season last fall. Since then, he has produced some buzz about his future potential while being move up to second team at right guard. However, he has yet to see the field in 2022. He is obviously young so he may have a future in Tempe, but he is also from New York City, which is 2,500 miles from home.
RB Daniyel Ngata
The skinny: He has shown flashes of what made him an important recruiting win for the Sun Devils when he committed on National Signing Day in 2020. However, he has yet to put it all together. And now he has been supplanted by transfer running back Xazavian Valladay as the starter, while he only received three touches during the loss to Eastern Michigan. He remains a big-play threat who has the potential to make a major impact at the college level.