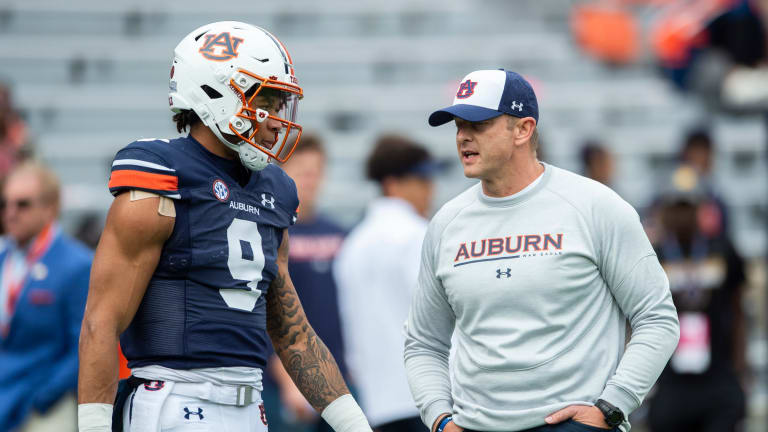 5 Potential Auburn Transfers
Who else might enter the transfer portal with Bryan Harsin now gone?
Recently, wide receiver Tar'varish Dawson, tight end Landon King, defensive lineman Zykeivous Walker and defensive back Armani Diamond all expressed their intentions to enter the portal in December when it re-opens. However, now that Coach Harsin was fired, they will likely enter during the 30-day window offered by the NCAA. So aside from these four, who else might enter the portal?
DE Dylan Brooks
Auburn signed four four-star recruits in the Class of 2022 and Brooks is the only remaining one on the roster. But that can quickly change, especially since Brooks has yet to make a significant impact with the Tigers. After finishing with only one tackle in 2021 during a redshirt season, he has now totaled only two tackles in six games this fall. Brooks is an Alabama native so that might keep him in state, but he was also committed to Tennessee for almost a year before flipping to the Tigers, so the draw to get a fresh start away from home is also possible.
WR Malcolm Johnson
Johnson was a big recruiting win for the Tigers during the summer of 2020, but the track star's time in Auburn has been rather disappointing. He redshirted as a true freshman and then has totaled eight receptions for 110 yards during his limited time on the field. The speed is obviously still there, but the rest of his skillset has taken time to develop while he has also had to deal with lackluster quarterback play. Will the native of Virginia look for a school closer to home to revitalize his collegiate career?
LB Wesley Steiner
While Steiner has gradually become more productive during his time in Auburn, he is another transfer candidate. He totaled three tackles during a redshirt freshman season, then had 21 tackles in 2021 and now already has 41 tackles this fall through eight games. He was also one of the few players who publicly supported Steiner in recent weeks, so with the coach now officially gone, he may also look to make his move.
QB T.J. Finley
Finley signed with LSU in 2020, but then transferred to Auburn during the summer of 2021. So, could another transfer be in the cards? While playing in 13 games at Auburn he has passed for 1,258 yards, seven touchdowns and five interceptions, but now he has lost the starting job to Robby Ashford. A new coach may give him an opportunity to regain the starting job, but he may also bring in new quarterbacks which may further muddle his future.
WR Koy Moore
Just like Finley, Moore transferred to Auburn from LSU. However, as a new transfer he has only had eight games to make an impact, which has been minimal with 14 receptions for 243 yards. His production has also diminished in recent weeks with only four receptions during the last three games. Not knowing what kind of offense the new coach will install, finding a more passing friendly environment may be beneficial.