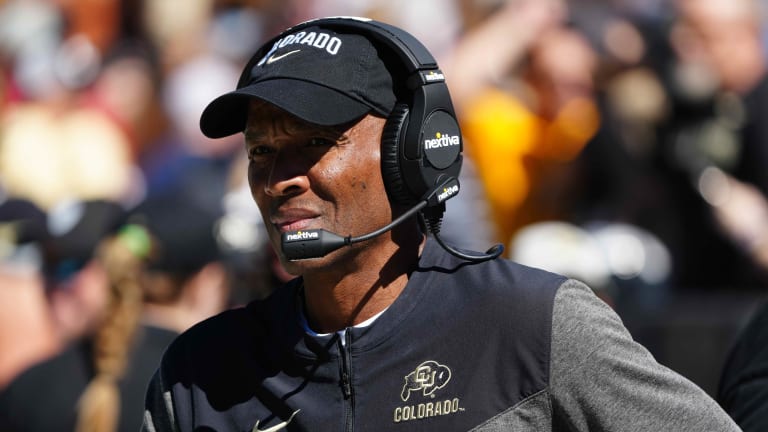 5 Potential Colorado Transfers
Who could look to move on with Karl Dorrell now gone?
QB JT Shrout
Shrout already used the transfer portal once, so using it again wouldn't be out of his nature. The 2018 signee at Tennessee spent three seasons with the Vols before transferring to Boulder prior to the 2021 season. However, a knee injury during summer camp ended that season prematurely. This fall he has played in three games but has struggled which resulted in him being passed over by true freshman Owen McCown. Now may be time to for Shrout to re-ignite his career at a new school.
DL Tyas Martin
Martin redshirted as a true freshman in 2021 after playing in only one game with the Buffaloes. This fall he has played in five games, totaling eight tackles. While he has made progress during his time in Boulder, this potential would also make him an intriguing transfer recruit, especially as a defensive tackle. Also, it's important to know that he is from Arkansas, with no ties to the Rocky Mountains who could likely find a new home closer to his family.
LB Devin Grant
A majority of the highest rated recruits that the Buffaloes brought in with the Class of 2020 have already transferred, so why not Grant? To this point he has only played in 10 games while in Boulder, with five of those games coming this fall. During his time on the field, he has totaled 19 tackles and two tackles for a loss. The Texas native would likely have plenty of options to continue his career at Lone State Group of Five schools if he makes himself available.
QB Brendon Lewis
Just as with Shrout, Lewis has also been passed over by true freshman quarterback Owen McCown. But the difference is that he has experienced some success at Colorado, with 1,727 career passing yards and 304 career rushing yards. A dual-threat quarterback with some experience will always garner interest as a transfer.
LB Aubrey Smith
In what was a very disappointing Class of 2022 at Colorado, one of the major signees was Smith, a linebacker from Georgia. Smith has seen limited action in four games this fall, totaling only one tackle and one sack. It will be interesting to see if Colorado plays him in a fifth game or hopes to preserve his redshirt, but either way, he will be one to keep an eye on in the coming months.