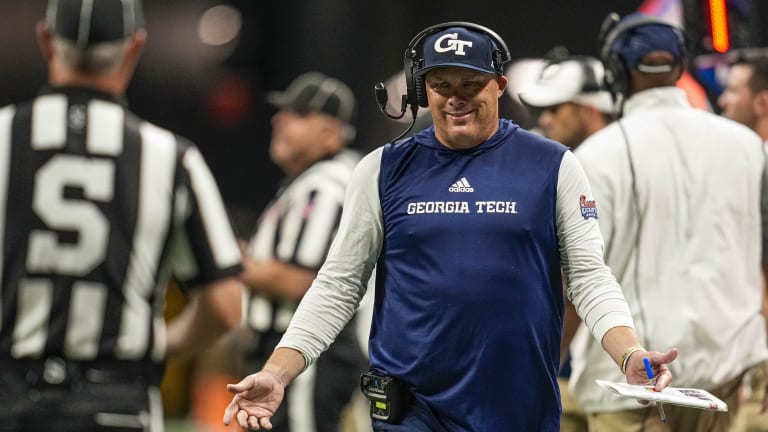 5 Potential Georgia Tech Transfers
Who could look to move on with Geoff Collins now gone?
QB Zach Pyron
The true freshman was always going to be redshirted this season, but then a funny thing happened when Georgia Tech added two quarterbacks from the transfer portal. The Zach Gibson (Akron) signing was less surprising as he added depth to a rather thin positional group, but the post-spring addition of Taisun Phommachanh (Clemson) raised a few eyebrows. Both transfer additions are listed as redshirt sophomores while starter Jeff Sims is only a sophomore, so will Pyron want to deal with this suddenly muddled group? There is also a chance that one of the transfers decides to move on again.
TE Dylan Leonard
The tight end position, especially as a pass catching threat, was far from a priority at Georgia Tech for many years. Prior to the 2021 season it was said that more effort would be made to change this. That change produced 11 receptions for 112 yards during the 2021 season for Leonard. Obviously, while not eye-popping numbers, it was a step in a the right direction. However, this fall the junior only has two receptions for 28 yards and again seems to be a forgotten man. He has flashed potential that would likely be more productive in a new environment.
WR James Blackstrain
Blackstrain, who had plenty of options coming out of high school, committed to Georgia Tech in May of 2020. He then redshirted in 2021, without seeing the field, and has yet to receive any playing time in 2022. Also notable is that he was not listed on the depth chart that was released earlier this week. Considering Collins never released a depth chart during his time in Atlanta, actually seeing one further gives insight on where players stand.
WR Leo Blackburn
Blackburn's situation is similar to Blackstrain's in some ways, except that the 2021 signee missed his entire true freshman season with an injury. There was plenty of buzz regarding his potential and expectations were high heading into the 2022 season, however the injury bug lingers, and Blackburn has yet to see the field this fall. There is potential that he does play this season, which could also turn into an audition for other schools if he decides that he needs a new start.
DL Josh Robinson
As a true freshman in 2021, Robinson saw limited time in ten games. While he only totaled four tackles and one tackle for a loss, his size (6-foot-6, 260-pounds) and potential, made him an intriguing player for the future. However, this season has not started very positively for Robinson as he is currently third-string and has only totaled one tackle in four games. The next few games may very well determine if he decides to look for greener pastures and more playing time.