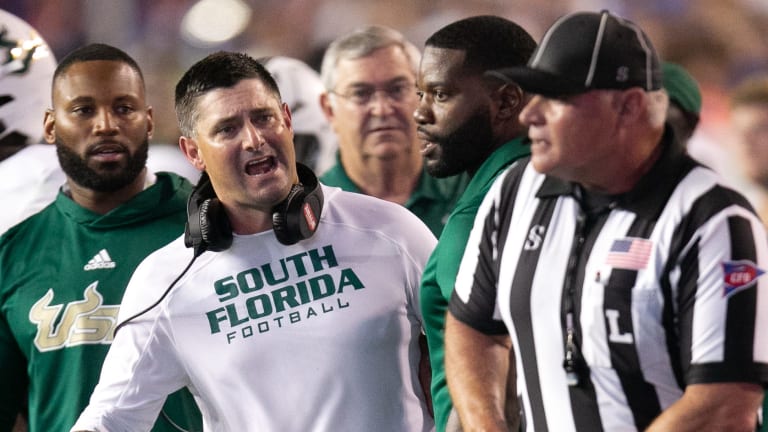 5 Potential USF Transfers
With USF firing head coach Jeff Scott, which players might enter the transfer portal?
With USF firing head coach Jeff Scott, players have a 30-day window to enter the transfer portal. Who are some of the players that might make a move?
WR Jimmy Horn
Horn showcased his potential during his true freshman season and has continued to improve his game this fall as a sophomore. Having totaled 53 receptions for 807 yards and four touchdowns during this time, while also being used in the rushing game with 13 carries and on special teams as a kickoff returner, Horn is a playmaker who can make any team better.
DB Matthew Hill
Hill spent his first three seasons at Auburn before transferring to USF. He was recruited as a wide receiver out of high school and spent his first two seasons with the Tigers at the position, but then made the move to safety. After his transfer he stayed on the defensive side of the ball and has continued to improve his game while totaling 82 tackles and two interceptions in 18 games with the Bulls.
WR Xavier Weaver
While Jimmy Horn may get more publicity at times, it is Weaver who has proven himself to be the more consistent receiving threat with 90 receptions, 1,373 yards and seven touchdowns in his last 18 games at USF. This is the type of production and consistency that would quickly make him a priority in the portal if he decided to enter.
RB Brian Battie
Coming into the 2022 season, Battie was regarded as one of the top kickoff returners in the country after returning three for touchdowns in 2021. This fall he has also established himself as a reliable threat out of the backfield despite his 5-foot-8, 165-pound status. After totaling 104 carries in his first two seasons, this fall he has 112 carries for 728 yards and six touchdowns. Now that he has proven himself to be a threat on special teams and on offense, it only makes him even more valuable to other schools.
DE Jason Vaughn
The junior has shown glimpses of putting his game together and becoming a real defensive playmaker but has yet to do so. However, he is also enjoying his most productive collegiate season-to-date this fall with 19 tackles, seven tackles for a loss and five sacks. At 6-foot-5, 250-pounds, and with the talent to get to the quarterback, a change of scenery may be what he needs to take his game to the next level.