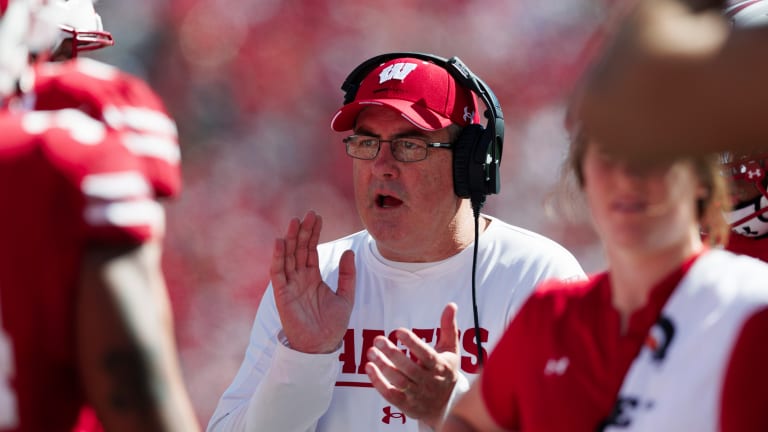 5 Potential Wisconsin Transfers
Who could look to move on with Paul Chryst now gone?
OL Logan Brown
The former five-star recruit has never come close to hitting the levels that many expected when he arrived in Madison. But while this is true, he has accumulated a good amount of experience and has shown versatility while playing both guard and tackle. With his size, experience and versatility it would make Brown sought after in the portal, so a change of scenery for the fourth-year junior very well could be the best thing for him.
QB Graham Mertz
If Brown did not have the highest expectations in recent years, then Mertz did. But unlike Brown, Mertz's play during the beginning of his collegiate career with the Badgers was extremely impressive and that made expectations grow even higher. However, since that point, not much has gone to script as he has struggled and because of that, the Badgers' offense has also often struggled. While Mertz will likely stay in Madison, the thought of seeing him in a different style of offense is intriguing.
DB Ricardo Hallman
The Badgers' highly ranked Class of 2021 had onl two Florida recruits, with Hallman being the bigger prize. The former four-star redshirted as a true freshman after playing in three games and this season had been thrown into the starting lineup due to Alexander Smith's injury. He was able to showcase his potential during the first four games of the season before Smith's return against Illinois, but as most first-time starters, he also experienced some growing pains. One would think that if Jim Leonhard, a former very successful defensive back, becomes the fulltime Wisconsin coach, Hallman would stay since he would be hard-pressed to find a better coaching situation. However, if the Badgers decide to look elsewhere, Hallman may also do the same.
LB Kaden Johnson
One of the top recruits in the Badgers' Class of 2020, Johnson has yet to put it all together on the field. He redshirted as a true freshman after playing in three games, totaled two tackles in six games last season and so far, has eight tackles in five games this fall. Currently listed as a second-team outside linebacker, behind pre-season All-American Nate Herbig, serious playing time has been understandably hard to come by. With Herbig possibly returning in 2023, along with the other starting outside linebacker C.J. Goetz, would Johnson continue to wait his turn or decide to find more guaranteed playing time?
QB Deacon Hill
While Mertz is more of a longshot to leave Madison, Hill may be the quarterback to keep a closer eye on. The native of California has battled for the back-up job since his arrival on campus, but for now it looks like he is third-string behind true freshman Myles Burkett. Mertz staying could very likely push Hill to find a new home.