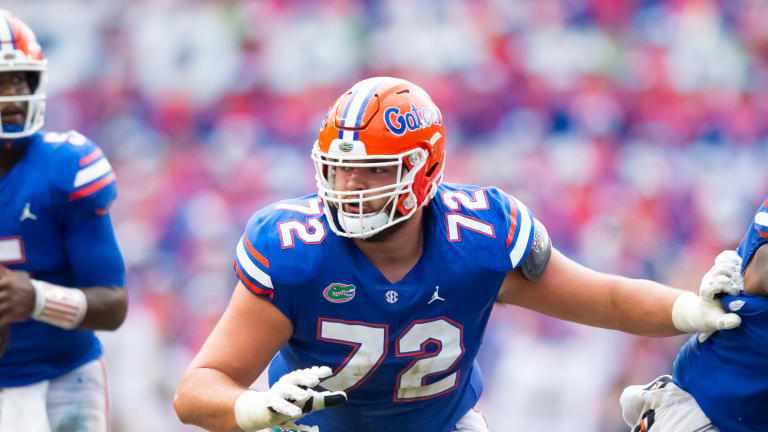 Gator and Cane enter list of Top 10 Available Transfer Portal Players
Who are the top 10 players currently available in the transfer portal?
1. DL Jacob Lacey – Notre Dame
Lacey totaled 35 tackles, 6.5 tackles for a loss and 2.5 sacks during his time in South Bend. He played in four games this season, including an impressive performance against Cal when he had five tackles, two tackles for a loss and two sacks.
Lacey has been busy during the last month. He took an unofficial visit to Kentucky and then an official visit to Oklahoma. What followed was his first surprise when he took an official visit to Wake Forest over the weekend. Wake hadn't been mentioned before so this visit caught many off-guard. Up next was supposed to be a return to Kentucky for an official visit this weekend, however that won't happen now as Lacey will be taking an official to LSU instead. The Wildcats were considered the leader at the start, but now seem to be fighting an uphill battle.
2. OL Joshua Braun – Florida
Braun played in 26 games with the Gators, including seven starts during the 2021 season. He preserved his redshirt season by appearing in just two games this season. Braun will be a fourth-year redshirt sophomore next season.
While he has only been in the portal for a week, Braun has already picked up offers from Penn State, UCF, Duke, Texas Tech, UNLV and Western Michigan, and taken an unofficial visit on Tuesday to check out a Florida State practice. Other schools that are already seriously involved includes Pittsburgh, Kansas and Miami-Florida.
3. QB Hank Bachmeier – Boise State
Bachmeier had a successful career at Boise State, which immediately makes him an intriguing addition to any school. Having passed for 6,605 yards and 41 touchdowns, while leading the Broncos to a 19-9 record as a starter, he will provide invaluable experience to his new school.
Bachmeier continues to quietly deal with his recruiting process while interest continues to roll in. BYU is one of the newer schools to keep an eye on, while Virginia, Buffalo, Houston, UConn, Hawaii, Pittsburgh, James Madison, Bowling Green, Marshall, Georgia Southern, Nevada and New Mexico State all remain in the chase too.
4. DB Tywan Francis – Colorado State
Early signs point to a great deal of roster turnover at Colorado State during the next six to nine months. The most intriguing player to enter the portal to this point has been Francis, who had a big 2021 season with 88 tackles, two tackles for a loss and three pass breakups and was off to an impressive start this fall with 32 tackles, 2.5 tackles for a loss and two pass breakups in the first four games.
Offers from Georgia Southern, Jacksonville State and Southern University were the three most recent and joined previous ones from Virginia, Marshall, Arkansas State, Troy and Charlotte. A visit to Charlottesville had been in the works, but it is unknown how the tragedy that took place earlier this week may delay that. Aside from the schools who have offered, interest is also coming in from Boston College, Iowa, Texas Tech, Virginia Tech, Duke, Wisconsin, Utah, UTSA, Buffalo and New Mexico State.
5. DL Devin Phillips – Colorado State
Phillips has quickly become a hot name in the portal since officially entering the portal a few days ago. The grad-transfer provided consistent production during his time with the Rams, finishing with 101 tackles, 13 tackles for a loss and 7.5 sacks. He did see time in four games this fall, totaling seven tackles and 1.5 tackles for a loss.
Since entering the transfer portal in early November, Phillips has been one of the hotter available players with offers from Oklahoma State, Kansas, Tulane, Florida Atlantic, Marshall, Western Kentucky, Arkansas State, Old Dominion and Sam Houston. A few others to keep an eye on include Louisiana Tech, UNLV, Memphis, Utah State, Jacksonville State, Temple, San Diego State, James Madison, Nevada and Troy, while P5 interest continues to come in from Duke, Virginia Tech, Syracuse, Rutgers, Baylor and Oregon State.
6. WR Markus Allen – Wisconsin
The redshirt freshman showed plenty of potential in 2021 despite playing in only three games. While he struggled to get on the field this fall, he scored his first touchdown and finished with seven receptions for 91 yards.
Allen took his first official visit to Minnesota over the weekend and then announced an offer from the Gophers a couple of days later. He was scheduled to visit Kansas this weekend, but the tragic death of his former Wisconsin teammate Devin Chandler, who had transferred to Virginia, has put that on hold. Virginia Tech, Boston College, Houston, Marshall, West Virginia, Louisville and Iowa are also involved.
7. OL/DL Tyler Manoa – UCLA
Manoa spent most of his UCLA career on the defensive line but moved to the offensive side prior to the 2022 season. As a defensive lineman he totaled 53 tackles, 1.5 tackles for a loss and one sack in 41 games, while on the offensive line he played in each of UCLA's first four games this season.
Everything has gone rather quiet with Manoa since he received an offer from Oregon State earlier this month. The Beavers joined UNLV, Akron, UConn and San Jose State in the offer column, while Utah State, New Mexico State, Tulane, Washington State, Hawaii and others continue to monitor the situation.
8. WR Melquan Stovall – Colorado State
Stovall, who transferred from Nevada to Colorado State after the 2021 season, was off to a quick start this fall during his first season with the Rams before deciding to re-enter the portal. Overall, he has accumulated 121 receptions for 1,170 yards during his collegiate career.
Stovall's latest two offers came in from Southern University and Nevada, which is interesting considering he transferred to Colorado State from the Wolfpack earlier this year. These two join previous offers from Ball State, New Mexico State, Utah Tech, Alabama A&M, San Diego State, Hawaii, James Madison, Jacksonville State, Northern Colorado, Jackson State, Florida A&M, Abilene Christian, Missouri State, Incarnate Word and Samford. Other schools still in the picture who haven't offered yet include Western Michigan, Louisville, Georgia State and Boise State.
9. DB/LB Gilbert Frierson – Miami-Florida
Frierson totaled 113 tackles, 14.5 tackles for loss, three sacks, eight pass breakups and two interceptions, one of which was returned for a touchdown, during his time with the Canes. He was a starter in 2020 and 2021 but struggled to find a home at a position under new defensive coordinator Kevin Steele.
While he couldn't find the right position in Coral Gables, he should have no problem finding one at his next destination. Many schools agree with this, as he quickly received interest from numerous schools despite only entering the portal officially on Wednesday. Some of the early chasers include Missouri, Duke, Maryland, Ole Miss, Boston College, Louisiana Tech and SMU.
10. DB Nicario Harper – Louisville
Harper initially signed with Southern Miss out of high school, where he spent two seasons before transferring to Jacksonville State. He exploded with the Gamecocks during the 2020 and 2021 seasons when he earned All-American honors while totaling 146 tackles, five tackles for a loss, five interceptions and nine pass breakups in 22 games. He then transferred to Louisville prior to the 2022 season where he finished with seven tackles before re-entering the portal.
Despite his somewhat uneventful stop at Louisville, recruiting has still been busy for Harper with Oklahoma, Arkansas, Michigan State, Washington, Florida, SMU, East Carolina, Maryland, Houston, James Madison and Troy being a few of the schools that continue to stay involved.