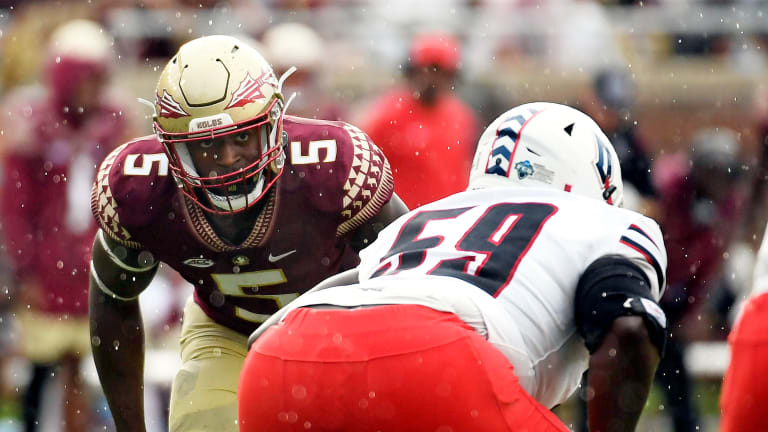 Getting Ready for the FCS Transfer Portal
Prepare for the FCS transfer portal with a look at the top transfers this season
December 5th has long been known in the college football world as the day that the FBS transfer portal would re-open. And while that is true, Monday, November 21st is also a pivotal date as it is the day that the FCS transfer portal reopens. With plenty of game-changing talent at the FCS level, many will make the move to the FBS during this upcoming off-season. While we wait to see who officially enters, here are some of the top 2021/2022 FCS transfers who have made an important impact during their first season at the FBS level.
Offense
At quarterback, Cameron Ward (Incarnate Word) has stabilized the Washington State offense while leading the Cougars to another bowl-eligible season. He has passed for 2,579 yards, 20 touchdowns and eight interceptions, and completed almost 64% of his attempts through 10 games.
One of Ward's top targets has been his former FCS teammate, Robert Ferrel, who has reeled in 39 receptions for 442 yards and three touchdowns. Tyler Hudson (Central Arkansas) has been Louisville's top receiver this season with 57 receptions for 866 yards and one touchdown, while South Carolina's Antwane Wells (James Madison) with 43 receptions, 590 yards and three touchdowns, Bowling Green's Odieu Hiliare (Alabama A&M) with 52 receptions, 712 yards and six touchdowns and Northern Illinois' Kacper Rutkiewicz (Illinois State) with 24 receptions for 405 yards and six touchdowns have all sparked their new offenses.
Along the offensive line, four of the more successful transfers have been LSU's Tre'mond Shorts (East Tennessee State), UCF's Tylan Grable (Jacksonville State), Rutgers' J.D. Direnzo (Sacred Heart) and Appalachian State's Bucky Williams (Austin Peay). All have established themselves as valuable starters.
Defense
Jared Verse (Albany), who was one of the most publicized available portal players during the 2021/2022 cycle, has not disappointed at Florida State with 34 tackles, 13 tackles for a loss and 6.5 sacks. He is also considered one of the top available defensive ends in the upcoming 2023 NFL Draft. On the interior of the defensive line, Wake Forest's Kobie Turner (Richmond) quickly established himself as a dominant force with 27 tackles, 7.5 tackles for a loss, one sack and two forced fumbles this season.
Just a few other defensive linemen who have shined this season include Missouri's defensive end DJ Coleman (Jacksonville State) with 29 tackles, 7.5 tackles for a loss, 4.5 sacks and two forced fumbles, Minnesota's defensive tackle Kyler Baugh (Houston Christian) with 29 tackles and one tackle for a loss, Rice's defensive tackle Quent Titre (Abilene Christian) with 27 tackles, three tackles for a loss and one sack and Coastal Carolina's defensive tackle Adrian Hope (Furman) with 26 tackles, 7.5 tackles for a loss and 4.5 sacks. Also, Boise State's George Tarlas (Weber State) had 31 tackles, six tackles for a loss and four sacks in seven games before sustaining a season-ending injury.
Leading the way at linebacker has been Jason Johnson (Eastern Illinois), who with 92 tackles, 3.5 tackles for a loss, one sack and one forced fumble has been the best defensive player this season for UCF. Also making big impacts this fall include Donovan Manuel (East Tennessee State) at Florida International with 78 tackles, seven tackles for a loss and one sack, Jalen Mackie (Dartmouth) at UMass with 71 tackles, 11.5 tackles for a loss, 2.5 sacks and one interception, Colby Reeder (Delaware) at Iowa State with 38 tackles, 4.5 tackles for a loss, 1.5 sacks and two interceptions and Cam Dillon (Columbia) at Duke with 36 tackles, three tackles for a loss, one sack and two forced fumbles. And also of note, Jasir Cox (North Dakota State) plays more of a linebacker/safety hybrid position at West Virginia and has totaled 44 tackles, 3.5 tackles for a loss and two fumble recoveries.
The defensive back position is the deepest position of all, with numerous FCS players making major contributions. At the top has been Darius Joiner (Western Illinois) of Duke, who has a team leading 76 tackles, to go along with seven tackles for a loss, three sacks and one interception. At the Power 5 level, others who have shined include Chris Edmonds (Samford) of Arizona State with 43 tackles and three interceptions, Drake Cheatum (Prairie View A&M) of Kansas State with 40 tackles and one interception and Marcis Floyd (Murray State) of West Virginia with 44 tackles and three pass breakups.
Group of 5 schools are loaded with talented defensive backs, including Andre Sam (McNeese State) at Marshall with 45 tackles and seven pass breakups, Zack Sanders (Missouri State) at Ohio with 48 tackles, two interceptions and five pass breakups, Jarius Monroe (Nicholls State) at Tulane with 33 tackles, two interceptions and six pass breakups, Davion Ross (Mercer) at Memphis with 37 tackles, 2.5 tackles for a loss and four pass breakups, Yahsyn McKee (Mercer) at Miami-Ohio with 35 tackles, two interceptions and six pass breakups, Jordan White (Youngstown State) at Northern Illinois with 37 tackles, two tackles for loss and one interception, Kobe Singleton (Southern Utah) at Liberty with two interceptions and six pass breakups and the Louisiana Tech combination of Myles Brooks and Willie Roberts, who both arrived from Stephen F. Austin and have combined for 52 tackles, six interceptions and 12 pass breakups.
Special Teams
Ryan Coe (Delaware) has been a huge asset for Cincinnati this fall by making 15 of 19 field goals and all 39 of his extra point attempts. His biggest game of the season came against SMU when he made 5 of 6 attempts, including his season long of 52 yards. He has also handled 66 kickoffs, with 42 of them being touchbacks. Another kick of note is Timmy Bleekrode (Furman) of Nebraska, who has made 8 of 10 field goals and 29 of 30 extra point attempts this season for the Huskers.
Nebraska also has a punter of note, as Brian Buschini (Montana) has 56 punts this season with an average of 44.6 yards per attempt, which places him sixth in the Big Ten. Also, Jon Sot (Harvard) of Notre Dame has 43 punts this season, with a 43.4-yard average and 21 punts inside the 20-yard line.