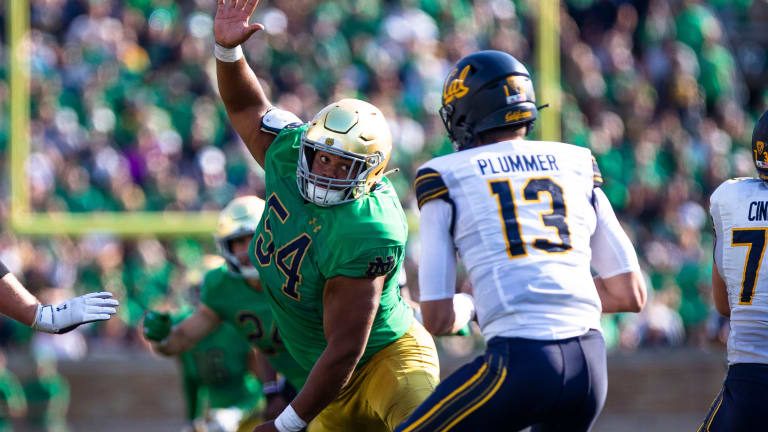 Notre Dame DL tops list of Top 10 Available Transfer Portal Players
Who are the top 10 players currently available in the transfer portal?
1. DL Jacob Lacey – Notre Dame
While he never dominated during his time at Notre Dame, it is somewhat rare to find an interior defensive lineman who has the experience that Lacey possesses become available via the portal. Totaling 35 tackles, 6.5 tackles for a loss and 2.5 sacks during his time in South Bend, he has quickly become a priority for several teams.
2. OL Logan Brown – Wisconsin
Similar to Lacey, when an experienced Wisconsin offensive lineman becomes available in the portal, other schools will quickly take notice. And that is what happened with Brown, who had played 30 games with the Badgers while also showing flexibility by playing different positions along the line. News of his dismissal may slow down his process a bit, but he will remain an important target for multiple schools.
3. QB Hank Bachmeier – Boise State
Bachmeier had a successful career at Boise State, which immediately makes him an intriguing addition to any school. Having passed for 6,605 yards and 41 touchdowns, while leading the Broncos to a 19-9 record as a starter, Bachmeier will have several schools to choose from when it comes time to make a decision.
4. DB Tywan Francis – Colorado State
Early signs point to a great deal of roster turnover at Colorado State during the next six to nine months. The most intriguing player to enter the portal to this point has been Francis, who had a big 2021 season with 88 tackles, two tackles for a loss and three pass breakups and was off to an impressive start this fall with 32 tackles, 2.5 tackles for a loss and two pass breakups in the first four games. Group Five offers have already come in with more options likely on the way.
5. DB R.J. Roderick – South Carolina
A fifth-year senior who has been a four-year starter with the Gamecocks, Roderick should be a priority for several programs. During his time at South Carolina he totaled 206 tackles, 6.5 tackles for a loss, four forced fumbles and two interceptions, and while injuries greatly slowed his production in 2022, he has proven to be a consistent contributor in the SEC.
6. OL/DL Tyler Manoa – UCLA
Manoa spent most of his UCLA career on the defensive line but moved to the offensive side prior to the 2022 season. As a defensive lineman he totaled 53 tackles, 1.5 tackles for a loss and one sack in 41 games, while on the offensive line he played in each of UCLA's first four games this season. Already has announced offers from Akron, UConn and San Jose State.
7. WR Melquan Stovall – Colorado State
Stovall consistently improved his level of play and production during his three seasons at Nevada and was off to a quick start this fall during his first season with the Rams before deciding to re-enter the portal. Overall, he has accumulated 121 receptions for 1,170 yards, which immediately makes him someone who will garner serious interest from programs.
8. QB Brendon Lewis – Colorado
Lewis burst onto the scene during an impressive performance at the 2020 Alamo Bowl and then became the full-time starter in Boulder in 2021 before losing his job this fall. During his season as the starter, he passed for 1,540 yards, 10 touchdowns and only three interceptions, while also rushing for 188 yards and two touchdowns.
9. WR Markus Allen – Wisconsin
The redshirt freshman showed plenty of potential in 2021 despite playing in only three games. While he struggled to get on the field this fall, he did score his first touchdown and finished with seven receptions for 91 yards. Allen, who was a big recruiting victory for the Badgers in 2021, still has plenty of relationships with coaching staffs from other schools who recruited him out of high school so that will help him with his process in the portal.
10. ATH Josh Fleeks – Baylor
Seeing time at wide receiver, running back and kickoff returner while at Baylor, Fleeks' flexibility makes him a valuable asset in the portal as he may be able to fill multiple roles at his next school.