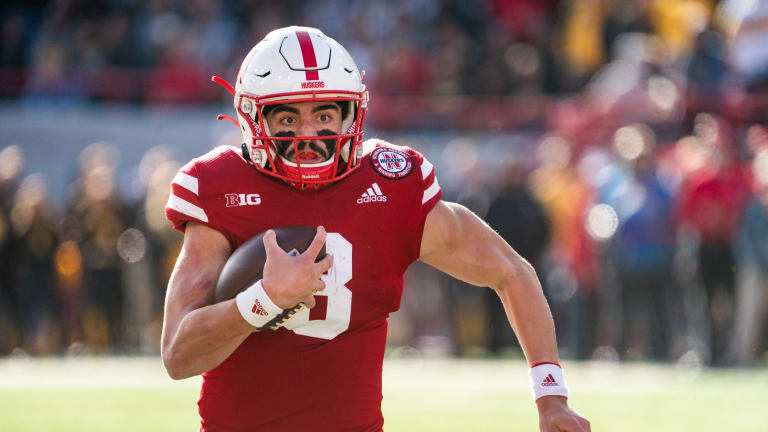 Potential Nebraska Transfers
Most college football players will have to wait until December to enter the transfer portal this year, but a few will have the option of entering early due to a head coaching change. The first group to have this option is Nebraska, with Scott Frost being fired on Sunday. So with a 30-day window to enter currently open, who might be some of the players who decide that they need a fresh start elsewhere?
---
QB Logan Smothers
The skinny: With the way quarterbacks move around the portal, this one has made sense for a few weeks. Adrian Martinez transferred out after the 2021 season and Smothers looked poised to be a major part of the Huskers offense. While it was known that a quarterback would be added, Nebraska then added two with Casey Thompson and Chubba Purdy. Smothers fought valiantly in pre-season camp, this was a war he was never going to win. Now after three games he has nothing more than two rushing attempts, while Thompson has been the least of the problems in Lincoln. Can he wait until next season? Possibly, but the new coach will also very likely bring in another transfer quarterback as that is what new coaches do nowadays, so Smothers is likely already thinking about a better situation.
RBs Rahmir Johnson & Gabe Ervin
The skinny: Johnson led all Nebraska running backs in 2021 with 495 yards and four touchdowns on the ground, while also adding 16 receptions for 197 yards and two touchdowns. These numbers may not be at an All-American level, but he still looked poised for a possible breakout season this fall. That all abruptly ended when JUCO Anthony Grant arrived in Lincoln during the off-season. Grant has played like the Huskers best offensive player through three games, while Johnson has yet to receive a carry. For Ervin the story is similar as he was a consistent part of the 2021 Nebraska offense through four games, until a knee injury led to a redshirt. Fully healthy now, he has received two carries through the first three games. If would be surprising if the New Jersey (Johnson) and Georgia (Ervin) natives were on the roster in 2023.
WR Shawn Hardy/WR Kamonte Grimes
The skinny: Both Hardy and Grimes are 2021 wide receivers who have yet to see the field while the Huskers added several players at the position through the portal since the end of last season. The Huskers have also seen a flood of Southeast signees leave through the portal in the last two years so considering that Hardy is from Georgia and Grimes is from Florida, the logic is there that these two will also look for greener pastures.
LB Mikai Gbayor
The skinny: Gbayor was hindered during his true freshman season with a high school injury so he fought an uphill battle throughout 2021. When fully healthy, he impressed during the spring game with seven tackles which made him a player for playing time coming into the 2022 season. However, that has yet to happen as he in no-mans-land on the depth chart and has watched true freshman Ernest Hausmann quickly become an integral part of the defensive unit.
DLs Jailen Weaver & Marquis Black
The skinny: As with other players on this list, both Weaver and Black were passed by several defensive linemen who were brought in through the portal. Weaver and his 6-foot-8, 345-pound frame looked the more ready to make an impact this season, but through three games he has yet to see the field, while Black is stuck in depth-chart purgatory. Considering the Huskers' defense has been a disaster in 2022, "Why am I not on the field?" is a question that very well could be running through both of these player's minds. 
Potential Nebraska Transfers