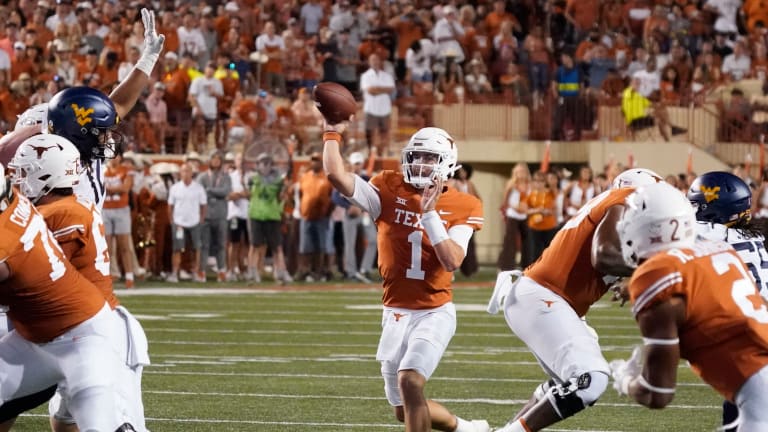 Scouting the Portal: Hudson Card, Fentrell Cyprus, and More
Keep checking back for more scouting reports as more portal prospects find new homes.
---
Dasan McCullough - Edge
2022 Team: Indiana
2023 Team: Oklahoma
Lean frame with good arm length and good muscle definition throughout. Will align as both an edge rusher and a backer walked up to blitz between the tackles. Displays good initial quickness at the snap and maintains a solid pad level before engaging with the offensive lineman. Utilizes his good foot quickness to move laterally down the LOS when squeezing the opening created off the edge of down blocks. When pass rushing, he uses a variety of moves which are derived from his athleticism, such as a speed rush off the outside shoulder of the tackle and a spin move off the OL right as they are shooting their hands at him. Through his good acceleration he can close on the QB fast enough to disrupt the play.
Nonfactor when blockers can get hands on him and slow him down. When engaging with offensive lineman at the POA he displays adequate use of hands and adequate leverage which prevents him from doing anything more than existing on plays. When he allows offensive lineman to gain control of his chest he is unable to hold his ground and is easily moved off his spot. Once the play begins to develop his pad level gradually gets higher which leads to a full display of his marginal COD when attempting to make a play on the ball carrier. When suddenly attempting to change direction, he also displays adequate body control as he begins to lose balance and even ends up on the ground. His adequate change of direction also limits him in his effectiveness when asked to be in coverage. He is a one-dimensional speed rusher. When on the field for plays other than a 3rd down pass rush, he seems to be more of a mismatch that offenses can take advantage of. Recently committed to Oklahoma which seems to be a big jump from Indiana being the type of player he is, but Oklahoma may understand his strengths vs limitations in order to help him reach his full potential.
Steven's Projection:
His size is great and he's shown flashes as a pass rusher. His film needs a bit of context between going against the division known for its massive and skilled lineman and being a rawer prospect that got significant snaps as a freshman. He was always going to be a project player at the next level but the pedigree is there with his family and the significant number of snaps give him a jumpstart on development that most freshmen don't experience. Think he'll have a weird career path where he's relegated to a rotational guy when he moves to Oklahoma while the coaches get him ready and then he'll take a huge jump developmentally and be a force on the defense.
---
Javion Cohen - IOL
2022 Team: Alabama
2023 Team: Miami
Good height and arm length with a slightly sloppy midsection. Good size throughout his lower half that he carries well. Displays good knee bend and ankle flexion while also showing very good initial quickness out of both a 2 and 3-point stance. When run blocking he shows a good understanding of playing with positioning to create an easier block for himself. Shows good hand timing, placement, and strength alongside good leverage to stall defender's rush and move them off their spot when they fight against the angle he takes. Uses good mental processing when combo blocking before elevating to the second level defender by helping his teammate secure the initial block and then moving to the second level by taking a good angle to prevent the defender from getting over the top of him. Often asked to pull and when pulling shows very good initial quickness out of his stance along with being light on his feet and uses good acceleration to beat his blocking assignment to the spot. When in Pass Protection he displays a good ability to stall any defenders initial pass rush through his ability to stay square with the defender by using good foot quickness, lateral agility, and use of hands. Also displays a solid ability to anchor when he can maintain good leverage against bull rushing defenders by setting his feet and hopping backwards to reset his feet if his anchor is breaking down.
When reaching the second level defender after pulling he displays an adequate ability to sustain/finish these blocks and will even over run a defender that will slide underneath his block. Lets his pad level get too high and shows little patience in these scenarios. Foot movement slows down once engaged in contact, which allows defenders to work around him and causes him to lean and become off-balance. When in Pass Protection if a defender with good play strength can gain control of his chest with good leverage, he is unable to sustain his anchor block and will be pushed into his QB's lap. The mix of his athleticism and play strength make him a force and immediate impact player wherever he goes. No surprise he committed to University of Miami who will be thrilled at the production they will get out of him. If he can improve upon his feet when engaged and show patience when attempting to engage with defenders in space and at the second level, he will reach an elite level of production.
Steven's Projection:
You don't get named a starter at Alabama without good reason. His film speaks for itself and given he went to Miami his transfer was likely about money more than anything that suggests character concerns. Hard to find someone in the portal without baggage that plays at the level he does. I expect him to continue to develop and turn into a solid NFL prospect. Will certainly help Miami's offense on all types of plays.
---
Hudson Card - QB
2022 Team: Texas
2023: Purdue
Solid height with a good frame and arm length. Displays a good drop along with good footwork in a clean pocket as the play begins to develop. Uses good mental processing to go through his progression before identifying a target and using his one-piece release. When making throws at the short and intermediate areas he shows good velocity along with good ball placement. When throwing the deep ball, he displays good arm strength and solid ball placement. Displays poise in the pocket and trusts his blockers to keep eyes down field and feet moving as he works around the pocket. Even when forced out of the pocket he maintains his eyes downfield to create something when the play breaks down. Able to throw off platform by squaring his shoulders.
When throwing the deep ball, he displays adequate timing on his throws with results in inconsistent ball placement. Displays a lot of good traits to be an effective starter at just about any school at the Power 5 level. Will need to continue to refine his deep ball which will improve through repetition and building chemistry with his new teammates. Recently committed to Purdue where he will be the expected starter heading into next year and hoping to bring them back to the Big 10 championship game next year.
Steven's Projection:
Hard not to love this. Card is a better QB than his career would suggest and is certainly ready to step into the starting role at Purdue. He'll give the team a spark and threaten on the ground just as much as he'll pick apart defenses through the air. You can see how much he's developed as a QB since high school in his Texas film and he's my top QB to hit the portal this year. Card gives Purdue a fighting chance to be the Big 10 West champions in 2023 and should put up respectable numbers.
---
Fentrell Cypress - CB
2022 Team: Virginia
2023 Team: Florida State
Has a good frame and arm length. Will align in both press and off-coverage while being utilized in both Man and Zone coverage. Displays good foot quickness when getting into his back pedal and when mirroring the receiver off the LOS with good lateral agility. Also using his good foot quickness to contribute to his ability to break down hill on the ball, which is mixed with good route recognition and solid acceleration when coming out of his back pedal. When receivers take him on a deep route, he shows a solid ability to open his hips and use his solid top end speed stay in phase with the receiver while also displaying the ability to get his head around and find the ball. Also shows he can play through the hands if he doesn't have confidence in the timing of getting his head around.
If a receiver gets him to open his hips one way and then proceeds to cross his face, he shows adequate hip flexibility which allows for the receiver to gain a step on him. While he is a willing tackler, he is very inconsistent in his ability to finish tackles. While being an overall productive corner for UVA, he did not create any interceptions which indicates he is not putting himself in the best position to create a turnover. He is a reliable corner that understands his limitations a plays to his strengths. The main concern is about the mismatches teams may be able to create in one-on-one situations with a better athlete since he does not use his hands to be physical with receivers. Recently committed to Florida State where it seems they are looking to fill some holes in their secondary. Will most likely be the expected starter heading into camp and will have to prove he deserves it.
Steven's Projection:
I've mentioned before that I'm a big fan of Cyprus. He's not the flashiest player in the world but his level of consistency is hard to find anywhere and he'll never be worse than the #2 corner for FSU. I like the base he has and the entire point of his portal entry is preparing for success in the NFL so he's already in the right mindset to take a big leap this off-season. His impact won't always show up in the stat sheet but he's the type of player that makes everyone around him better and will never be the source of headache on the defense.