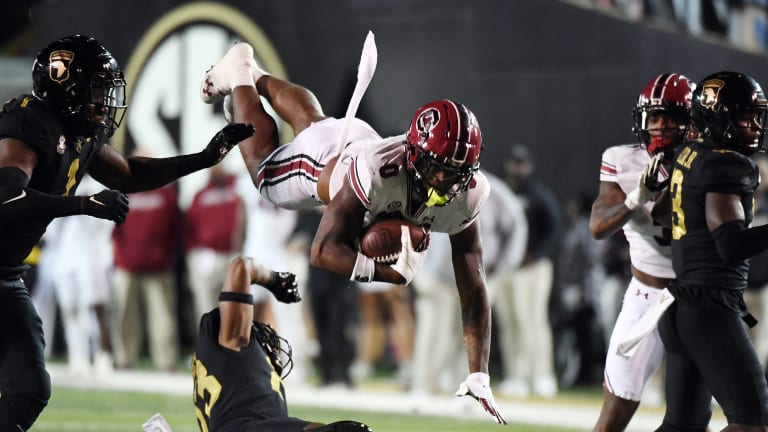 Scouting the Portal: Jaheim Bell, Devin Carter, and More
Keep checking back for more scouting reports as more portal prospects find new homes.
---
Jaheim Bell - TE
2022 Team: South Carolina
2023 Team: Florida State
Solid size at 6'3, 232 lbs with a narrow frame. Elite athleticism and versatility – a TE who also lined up as RB and WR throughout last season with the Gamecocks. Bell is fast off the line as a receiver with quick first steps. Has good straight-line speed which allows him to create separation in the stem of his routes, especially when a linebacker is covering him. Has good body control, able to adjust to the throw and give himself a positioning advantage against the man covering him. Good, strong hands to track and secure the ball when heavily contested. Bell is dangerous with the ball in his hands, having great cutting abilities. He is light on his feet and can stop on a dime, allowing him to generate big yards after the catch. Also a strong downhill runner, lowering his shoulder and leveraging his strength to truck through smaller defenders. Often requires multiple guys to take him to the ground.
Overall, Bell is one of the top guys in the transfer portal due to his unique, elite athleticism at the tight end position. Built like a receiver with the strength of a tight end, Bell is a guy you always want to have the ball because he can create big plays through his twitchiness, speed, and gritty running. His main weakness is his blocking abilities – he doesn't get into his legs and explode his hips while blocking. He struggles to secure blocks in one on one situations as he doesn't get his hands inside and use good leverage at the point of attack. The strength Bell displays in creating yards after contact, however, shows that Bell has the natural ability to be a dominant blocker if he can improve his technique. As such, Bell drew a lot of attention from Power 5 schools immediately after entering the portal. He has already committed to Florida State for next year and has the talent and skills to make a big impact and be an immediate starter for the Seminoles.
Steven's Projection:
Bell has to be in the conversation for most important portal signing thus far. Tight ends who can move all around the field are becoming more and more important in the game of football every year and Bell is the type of weapon you build an offense around. His draft stock will continue to push higher and higher as FSU's high-powered offense gets him plenty of targets. The Mackey award is his to lose next year.
---
Tyneil Hopper - TE
2022 Team: Boise State
2023 Team: Michigan State
Adequate size at 6'2, 248 lbs. Solid frame with strong legs. Hopper was used mostly as a blocker rather than a receiver and rarely lined up wide. In the passing game, Hopper has solid quickness off of the line. Has solid speed laterally and downhill. Unable to create separation in his routes solely because of speed and isn't much of a vertical threat. He uses good field awareness to find shallow soft spots in the defense as a safety valve for the QB. Is a reliable target with soft hands and few drops. Has good body control after the catch, keeping on his feet after being tripped up and being aware enough to stay in bounds when close to the sideline. He doesn't shy away from contact, instead lowering his shoulder and getting into his legs to pick up extra yards. Hopper is a solid and willing blocker. He stays low with good bend in his knees, giving him good leverage in his blocks. Keeps his feet churning to stay with blocks, and is able to slide laterally to sustain blocks on the edge. He is gritty and determined in his blocking, always looking to secure additional blocks and wanting to drive his defender backward in one on one matchups.
Overall, Hopper is a solid prospect all around who has the potential to be a good and even great blocker. He has the determined, willing mindset that is necessary to be a successful blocker, and his lower half mechanics are good. He needs to improve his upper-half technique in terms of getting his hands inside the defender's pads, extending, and using more violent hand strikes to drive defenders back. If he can better incorporate his upper body into his blocks, he will be dominant at both sustaining blocks and creating displacement. Hopper is also a good target in short-yardage situations as he has good hands and the strength and body control to pick up a few extra yards after contact to get to the line to gain. He is committed to Michigan State and will look to work his way into the starting rotation as a graduate transfer. If Michigan State can polish Hopper's blocking mechanics up, expect to see him making an impact for the Spartans in the trenches.
Steven's Projection:
Not the flashiest player in the world but a TE who's both willing to block and CAN block at the level he does is becoming rarer and rarer. He will probably find himself as the second option at tight end due to his skillset but he'll definitely get work in plenty of offensive packages. He will help improve a blocking unit that took a step back this year and add value in Zone schemes with his reach blocking and mobility while being a possible pull blocker for Gap concepts. Great pickup that will probably fly under the radar but his impact for the team will definitely be seen come the 2023 season.
Devin Carter - WR
2022 Team: NC State
2023 Team: Undecided
Very good size at 6'3, 215 lbs with a thick, built frame. Very good release from the line of scrimmage, moves with suddenness and very fast feet in short area situations. Gets into his long strides quickly, attacking and gaining leverage in the stem of his routes. Route running improved throughout the season as his cuts became sharper and twitchier, allowing him to create more separation in routes. Once he has the ball, Carter is hard to bring down – he will beat you with straight-line speed and he uses his size/strength to truck through one-on-one tacklers. Carter is also a solid, willing blocker who is always looking for the next block to give his running teammate more yardage. His size enables him to dominate blocks against the smaller defensive backs.
Overall, Carter has the build and raw speed to be a real threat in the passing game. He is shifty off the line of scrimmage and can beat his defender in downhill routes to create home-run opportunities. He is also a tremendous red zone threat, creating separation in short-yardage situations and offering a big target for his QB. If Carter can avoid some of the drops he had last season by softening his hands and coming back to the ball, he has the makings to be an elite receiver. Carter will look to be the big-play guy at his next program, winning 50-50 balls with his tall frame and finding himself open downfield with his fast strides. A graduate transfer with years of experience and success, Carter can be an immediate starter and impact player for a Power 5 team.
Steven's Projection:
Carter's recruitment has been relatively quiet so far but he's announced offers from Penn State, West Virginia, Old Dominion, and Georgia State. Wide receivers are a dime a dozen both in the portal and as high school prospects so his recruitment may take some time to develop as teams figure out their boards and self-scout after the bowl season. He's certainly a Power 5 talent but he may look to move to a G5 team to ensure he gets snaps as he looks to enter the draft when his college journey is over. I'd consider his recruitment anyone's game at this point and wouldn't be surprised if the team he ends up with hasn't even offered him yet.
---
Yulkeith Brown - WR
2022 Team: Texas A&M
2023 Team: Undecided
Smaller, adequate size at 5'10, 175 lbs. Did not see much action at Texas A&M, only playing in six games last season and bringing in six receptions. However, Brown made an impact regardless, bringing in a 66-yard touchdown pass for his first career reception. Brown has an elite release off the line of scrimmage with quick feet, making him a true deep threat as he burns his one-on-one defender. He has very good tracking abilities to haul in the deep ball over the shoulder and adjust to the throw as needed. He also is a threat in the quick passing game with tremendous twitch and light feet. He can make defenders miss with his sudden and elusive cuts, picking up good chunks of yardage after the catch.
Brown overall holds great upside for a Power 5 program that gives him a chance because of his elite speed and twitch. He can make guys miss in open space and burn you for home-run balls. These attributes also could enable Brown to be a very good kick and punt returner. He has filled out, putting on some more muscle since high school which will likely allow him to gain more yards after contact and avoid potential injury from hard hitters. Indefinitely his limited film makes it difficult for programs to recruit, but Brown showed tremendous bright flashes and potential last season. His athleticism could make a big impact for whichever Power 5 school picks him up.
Steven's Projection:
Same deal as before- receivers just simply aren't at a premium for most programs. Brown is an interesting slot receiver prospect that definitely has the talent to earn a roster spot somewhere else.  He's received interest from Pitt and Colorado but the only official offer he's publicly announced is Tulane. He comes from a fairly well-connected high school program and should continue to garner some interest across the FBS as more programs look for names in the portal. It's likely he's looking for playing time so I wouldn't be surprised if he landed at a Power 5 school who's WR room is lacking. I think he'd be a great fit with Tulane as the program looks to build on their momentum from this year and they would likely give him a fair shot to earn a starting position.