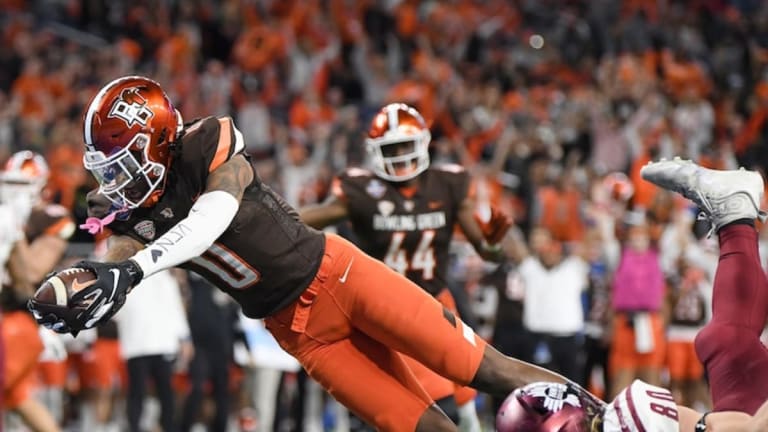 Scouting the Portal: Willis Patrick, Tyrone Broden, and More
Keep checking back for more scouting reports as more portal prospects find new homes.
---
Blake Smith - TE 
2022 Team: Texas A&M
2023 Team: Oklahoma
Good size at 6'4, 255 lbs with a wide body and long arms. Good bend in his stance, able to get low into his legs rather than bending at his waist. Moves athletically with solid speed. Uses hands well in blocking, and has a very good, violent initial hand strike to force back his defender in one on one situations. Keeps feet churning on blocks, able to move his man and maintain his block to create running lanes around the edge. Very good in pass-blocking situations as he moves well laterally and is athletic enough to handle defensive ends on his own. Has good body control to find and secure blocks in the second level out in front of the ball carrier. Provides a large target as a receiver. Strong enough to push through contact for extra yards.
Smith saw limited action with Texas A&M last season, playing 107 snaps total (with a large portion of those snaps being on special teams). He caught only two passes last season while dropping another target. He lacks soft hands that are able to secure contested catches and track the ball effectively. He is not a tight end you would expect to make big-time vertical plays downfield in 50-50 situations, but he is a sure target to gain yards after contact and get the first down in short-yardage situations. He provides the most upside in his blocking abilities as he demonstrates very good effort, violence, and mobility in his blocks. Committed to Oklahoma, Smith will have to fight to get more playing time. His time at Texas A&M gives the Sooners more experienced players at the TE position, and they will likely expect him to mentor/lead younger tight ends.
Steven's Projection:
Not the most exciting transfer addition Oklahoma has gotten but he underlines the Sooner's aggressiveness in the off-season to improve the product put on the field last year. He might not see much action outside of packages using a second tight end but it's still a notable get given his blocking ability. With how the modern offense is evolving it's never a bad thing to add more tight ends and after reuniting with TE coach Joe Jon Finley who led his recruitment out of high school he may have the motivation to really round out his game this off-season. Expectations stat-wise are low but could always end up being a nice surprise.
---
Willis Patrick - OL 
2022 Team: Jackson State
2023 Team: TCU
Good size at the guard position at 6'4, 347 lbs with adequate arm length. Very strong legs, low in his stance. Adequate foot speed when the ball is snapped, good get back into pass protection. Plays very physically, finishing his defender to the ground or violently popping his hands when engaging defenders. Anchors well, staying in his legs to avoid getting pushed back into the pocket or into running lanes. Moves well laterally so he can maintain his block around the edge and protect the QB in the pocket. Has overpowering strength to move people and impose his will on the defense to create displacement.
Patrick was a key player in the trenches for Jackson State last year, starting in all 13 games. His physicality and ability to employ both aggression and strength to overpower opponents make him invaluable on the offensive line. He doesn't have the quickest feet, but he uses his hands and slides laterally well enough to maintain his blocks. He will bring a lot of experience and success with him to the Horned Frogs of TCU next season. He has the potential to immediately start, or at least provide tremendous depth for Texas Christian.
Steven's Projection:
Power guard that adds a lot of experience to the TCU line. He was a hot name in the portal with OL continuing to be at a premium. Never going to be the guy that handles speed rushers well but he's unlikely to find any of those types of players on the inside sans a well-designed blitz. Everyone knows how important a good line is to the success and health of your team and Patrick will help keep TCU near the level of play they experienced this season.
---
Andre Carter - DE 
2022 Team: Western Michigan
2023 Team: Indiana
Very good size at 6'5, 245 lbs. Very athletic player with great body control. Plays from a low power base, staying in his legs with good bend and flexibility through his hips, knees, and ankles. Good football IQ as he is able to read blocks and react accordingly to give himself a better chance at impacting plays. Good point strength and shed ability as he uses his hands well to disengage himself from blockers to make plays on the ball. Solid playing speed with very good effort as he strains to the ball and explodes through seams to get into the backfield. Very good tackling technique that allows him to finish plays and bring down the ball carrier in one on one situations. Has a good, effective speed rush and has the body control to bend around the edge and get to the QB.
Carter was a tremendous defensive edge for Western Michigan last season, putting up career numbers in nearly every category – total tackles, sacks, interceptions, tackles for loss, pass deflections and forced fumbles. His great combination of explosiveness, athleticism, and strain makes him difficult to block around the edge. He knows how to use his hands to prevent offensive tackles from stopping his power rush, and his good speed and bend around the edge can beat most offensive tackles dropping into pass protection. With one year of eligibility left, Carter will look to continue his success as he joins the Indiana Hoosiers in the Big 10 next season.
Steven's Projection:
Andre Carter had a breakout season and will be rewarded with the chance to play Power 5 football to showcase his talents against better competition to entice NFL scouts. His size is hard to ignore but the main draw of Carter is how polished his technique has gotten since he's entered college. He'll have a year with Indiana to make a splash and I expect it to be a big one- a 10 sack season isn't out of the question here.
---
Tyrone Broden - WR 
2022 Team: Bowling Green
2023 Team: Arkansas
Elite size at 6'6, 210 lbs. Very good athleticism and speed in the stem of his routes. He runs very well with long strides. Light on his feet, able to move with twitch and suddenness, making sharp cuts to create separation in routes. Excels with very good burst out of breaks. Able to leverage his straight-line speed to burn defenders on deep routes. Uses his height and length to go up and win vertical 50-50 balls. Good hands, able to extend and pluck the ball out of the air. Can gain extra yards with elusive moves after the catch. Very good body control to keep himself in bounds on plays toward the boundary.
Broden is one of the tallest receivers in the nation, and he consistently uses it to his advantage. He was a huge scoring threat for Bowling Green last season. Able to use his speed/legs to create downfield deep-ball openings and his height to win over the defender's head in the red zone. He is a huge, reliable target for any quarterback who has the hands and strength to bring down heavily contested balls in crowds. Broden was highly sought after with offers from Penn State, Texas A&M, Oklahoma State, Colorado, and others. Ultimately, he committed to Arkansas and will look to make an immediate impact as a starting receiver next season. 
Steven's Projection:
Most offenses like two things out of their top receivers: one who's fast that can stretch the field on any play and one huge receiver that can bring in any contested catch. Broden gives a safe target for Arkansas to trust in the Red Zone, 3rd downs, or any other important scenario. He's got some extra athleticism to boot and isn't slow by any means plus he understands how to leverage his height and length, something plenty of big guys struggle with. He may not have the same stats purely due to less volume out of a more balanced offense like Arkansas but his impact will definitely be made known. If he puts together a 500-yard season with 5 TDs he'll be achieving exactly what Arkansas needs from him.