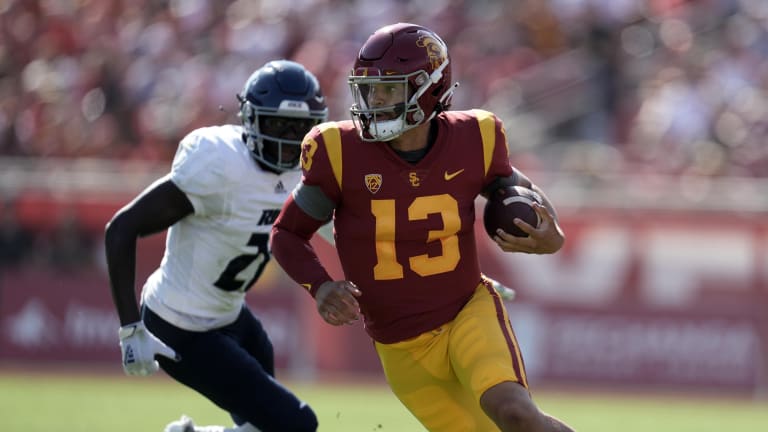 Transfer Portal Power Rankings: Week 1
Which new faces have shown up and shown out for their teams?
The transfer portal chatter is already heating up, but for now, we'll take a look at the top ten transfers of the season so far from this past cycle.
---
1. DE Jared Verse (Florida State/Albany)
Through two games Verse has been as impressive as advertised with seven tackles, four tackles for a loss and three sacks.
2. WR Jacob Cowing (Arizona/UTEP)
The Wildcats were hoping that Cowing would add a spark to the offense, which is exactly what he did with eight receptions for 152 yards and three touchdowns.
3. OL O'Cyrus Torrence (Florida/Louisiana)
There were a few doubters regarding the hype that Torrence was receiving in the preseason, but his dominant performance in the season opener should silence most of those.
4. LB Jacoby Windmon (Michigan State/UNLV)
Windmon hit the ground running during his first game of the season with seven tackles, four tackles for a loss and four sacks.
5. WR Charlie Jones (Purdue/Iowa)
Despite the loss to Penn State, Jones dominated with 12 receptions for 153 yards and one touchdown. He also returned punts and kicks for the Boilermakers.
6. Khari Coleman (Ole Miss/TCU)
On a team full of top transfers, Coleman shined the most with eight tackles, five tackles for a loss and two sacks.
7. QB Michael Penix (Washington/Indiana)
Huskies' fans couldn't have imagined a better debut for Penix as he completed 26 of 39 passes for 345 yards and four touchdowns in a win over Kent State.
8. QB John Rhys Plumlee (UCF/Ole Miss)
Plumlee did a little bit of everything for the Knights in his first game, passing for 308 yards and four touchdowns, while also rushing for 100 yards and another score.
9. LB Daiyan Henley (Washington State/Nevada)
Cameron Ward received more press before the season, but it was Henley who was the eye opener last weekend with eight tackles, three tackles for a loss, one sack and one interception.
10. QB Caleb Williams (USC/Oklahoma)
Williams was methodically impressive in his Trojans' debut, completing 19 of 22 passes for 249 yards and two touchdowns.

Honorable Mentions:
DE Lonnie Phelps (Kansas/Miami-Ohio), LB Shane Lee (USC/Alabama), WR Jermaine Burton (Alabama/Georgia), RB Henry Parrish (Miami-Florida/Ole Miss), QB Henry Colombi (Marshall/Texas Tech), QB Todd Centeio (James Madison/Colorado State), WR Nikko Remigio (Fresno State/Cal), WR Mitchell Tinsley (Penn State/Western Kentucky)
Transfer Portal Power Rankings