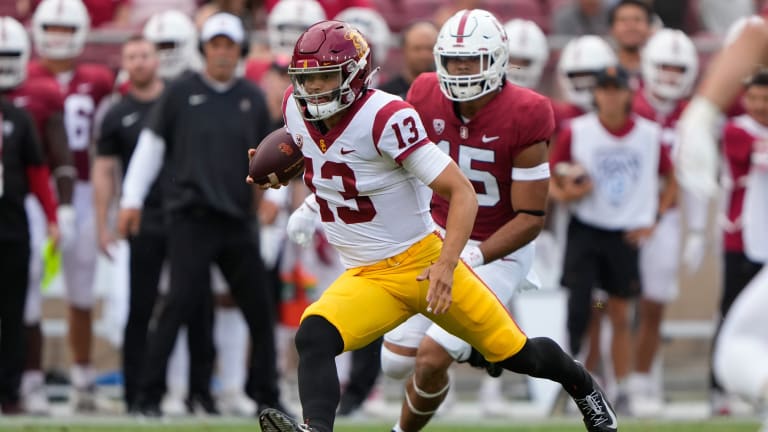 Transfer Portal Power Rankings: Week 2
What transfers are having the biggest impact?
(Last week's rankings in parentheses)
1. QB Caleb Williams (USC/Oklahoma) (10)
Williams has been clinical in his first two games, and this time it was against a PAC 12 opponent. Now having completed almost 80% of his attempts for 590 yards, six touchdowns and zero interceptions, he has been as good as advertised for the Trojans thus far.
2. LB Jacoby Windmon (Michigan State/UNLV) (4)
Through two games, Windmon has been one of the more dominant defensive players in the country overall. Totaling 12 tackles, 6.5 tackles for a loss, 5.5 sacks (FBS leading), four forced fumbles (FBS leading) and one fumble recovery, he faces his biggest challenge of the young season on Saturday at Washington.
3. DE Jared Verse (Florida State/Albany) (1)
Verse, who enjoyed a bye week, will next bring his seven tackles, four tackles for a loss and three sacks to Louisville for a Friday night game.
4. WR Charlie Jones (Purdue/Iowa) (5)
How would Jones follow up his 12 reception, 153-yard, 1 TD performance against Penn State? How about nine receptions for 133 yards and three touchdowns? Already with as many receptions this season as he had in 14 games at Iowa in 2021, Jones is off to an amazing start.
5. LB Daiyan Henley (Washington State/Nevada) (9)
Through two games, Henley has been one of the top linebackers in the country. He proved that on Saturday during a huge win at Wisconsin when he totaled nine tackles and 1.5 tackles for a loss. The Cougars are a surprising 2-0 and Henley is one big reason why.
6. OL O'Cyrus Torrence (Florida/Louisiana) (3)
While the Gators suffered a tough home loss to Kentucky, Torrence continued to dominate the interior trenches.
7. WR Jacob Cowing (Arizona/UTEP) (2)
Cowing's second week performance was a bit lower key compared to his season opening explosion, but his two game total of 15 receptions for 190 yards and four touchdowns is still very impressive.
8. Khari Coleman (Ole Miss/TCU) (6)
Considering the Rebels won 59-3 on Saturday, Coleman's time on the field did not allow him to produce the gawdy stats he did in the opener. Still, with a combined 10 tackles, 6.5 tackles for a loss and 2.5 sacks, he will be one to watch.
9. QB Michael Penix (Washington/Indiana) (7)
Two games and two easy wins for the Huskies, partially thanks to Penix. Now having passed for 682 yards and six touchdowns while completing 70% of his passes, he will be facing his biggest test of the season against Michigan State on Saturday.
10. QB Dillon Gabriel (Oklahoma/UCF) (NR)
Gabriel has stepped into the Sooners' offense seamlessly through the first two games. Having completed 71% of his passes for 529 yards and five touchdowns, Gabriel will next face a spiraling Nebraska team before returning home to play a likely unbeaten Kansas State.
Honorable Mentions
RB Henry Parrish Jr. (Miami-Florida/Ole Miss), DE Lonnie Phelps (Kansas/Miami-Ohio), LB Shane Lee (USC/Alabama), QB Henry Colombi (Marshall/Texas Tech), QB Todd Centeio (James Madison/Colorado State), WR Nikko Remigio (Fresno State/Cal), WR Antwane Wells (South Carolina), DL Levi Bell (Texas State), DL Ivan Pace (Cincinnati), LB Eric Gentry (USC), RB Jahmyr Gibbs (Alabama/Georgia Tech), RB Xazavian Valladay (Arizona State/Wyoming), RB Jalen Berger (Michigan State/Wisconsin), WR Tory Horton (Colorado State/Nevada), WR Champ Flemings (Arkansas State/Oregon State), DB Jay Shaw (UCLA/Wisconsin)