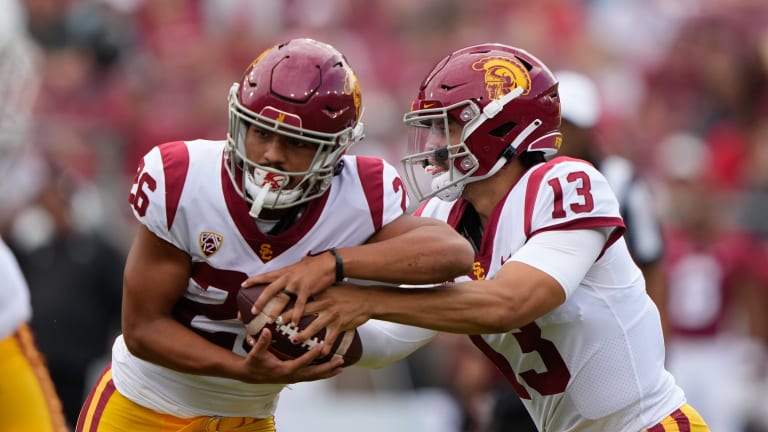 Transfer Portal Power Rankings: Week 3
Which transfers have contributed most to their teams so far this season?
1. QB Caleb Williams (USC/Oklahoma) (1)
Williams continued his dissection of defenses on Saturday against Fresno State by completing 25 of 37 passes for 284 yards and two touchdowns. Having completed almost 75% of his attempts through the first three games, he has totaled 874 yards, eight touchdowns and no interceptions for the undefeated Trojans.
2. LB Daiyan Henley (Washington State/Nevada) (5)
Henley has been dominant in all three games thus far, but had his best performance on Saturday against Colorado State with 13 tackles, three tackles for a loss, three sacks and two forced fumbles. The undefeated Cougars have a huge game this Saturday at home against Oregon.
3. WR Charlie Jones (Purdue/Iowa) (4)
After an amazing first two games, would Syracuse be able to slow down Jones? Definitely not. Jones grabbed 11 passes for 188 yards and one touchdown, which now gives him 32 receptions for 474 yards and five touchdowns in only three games.
4. QB Michael Penix (Washington/Indiana) (9)
Penix was once again in 2020 form after completing 24 of 40 passes for 397 yards and four touchdowns during a convincing victory against Michigan State. Already with 1,079 yards and ten touchdowns on the season, he is a major reason that Washington is suddenly seen as a team-to-watch.
5. QB Dillon Gabriel (Oklahoma/UCF) (10)
Gabriel methodically led the Oklahoma offense up-and-down the field against Nebraska during the Sooners 49-14 victory. Now having thrown for 759 yards, seven touchdowns and no interceptions through three games, he leads Oklahoma against Kansas State on Saturday.
6. LB Jacoby Windmon (Michigan State/UNLV) (2)
Through two games, Windmon was playing like the top defensive player in the country, however at Washington on Saturday the Huskies did an impressive job controlling his big play ability. Despite the drop-off in production, it is impossible to ignore that he has still totaled 15 tackles, 6.5 tackles for a loss, 5.5 sacks and four forced fumbles in the first three games of the season.
7. DE Jared Verse (Florida State/Albany) (3)
After being dominant during his first two games, Verse suffered a knee injury during the second quarter of the Friday night game at Louisville. It is unknown how long he will be out, but for now he remains on this list.
8. LB Drew Sanders (Arkansas/Alabama) (NR)
There was a good amount of buzz coming into this season regarding Sanders and over the last two weeks it is easy to see why. Now having totaled 28 tackles, 6.5 tackles for a loss, 5.5 sacks and two forced fumbles, he has quickly became a force in the SEC.
9. WR Jacob Cowing (Arizona/UTEP) (7)
Cowing didn't have his most dominant game during a home win against North Dakota State on Saturday night, but he did score the winning touchdown in the fourth quarter to give the Wildcats the win.
10. Jordan Addison (USC/Pittsburgh) NR
Addison has connected with Caleb Williams as if they have been playing together for a decade. Now with 18 receptions for 295 yards and five touchdowns, the Trojans open up PAC 12 play this Saturday night at Oregon State.
---
Others to watch:
O'Cyrus Torrence (Florida/Louisiana), Khari Coleman (Ole Miss/TCU), RB Henry Parrish Jr. (Miami-Florida/Ole Miss), DE Lonnie Phelps (Kansas/Miami-Ohio), QB Henry Colombi (Marshall/Texas Tech), QB Todd Centeio (James Madison/Colorado State), WR Nikko Remigio (Fresno State/Cal), WR Antwane Wells (South Carolina), DL Levi Bell (Texas State), DL Ivan Pace (Cincinnati), Eric Gentry (USC/Arizona State), Jahmyr Gibbs (Alabama/Georgia Tech), RB Xazavian Valladay (Arizona State/Wyoming), WR Tory Horton (Colorado State/Nevada); WR Champ Flemings (Arkansas State/Oregon State), LB Colby Reeder (Iowa State/Delaware), QB Cameron Ward (Washington State/Incarnate Word), WR Trey Palmer (Nebraska/LSU), RB Aidan Robbins (UNLV/Louisville), Jackson Sirmon (Cal/Washington), RB Zach Evans (Ole Miss/TCU), QB John Rhys Plumlee (UCF/Ole Miss)