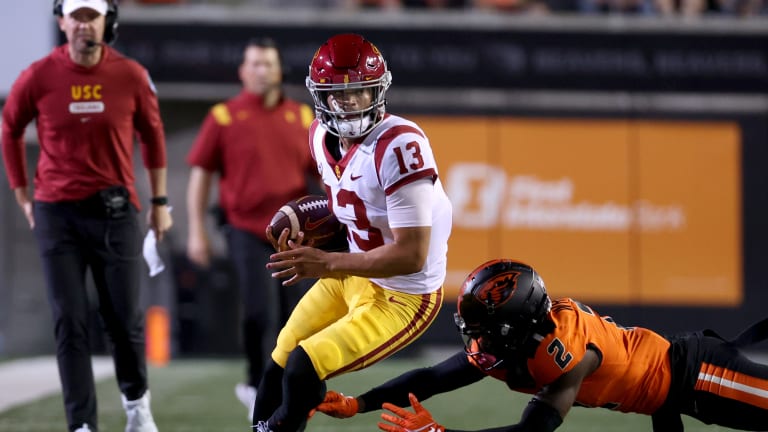 Transfer Portal Power Rankings: Week 4
Which players have had the most impact on their new teams so far in 2022?
While Williams had his most pedestrian game of the season at Oregon State, he still led the Trojans to a hard-fought victory on the road. He has helped USC to an undefeated start to the season and has yet to through and interception after 122 attempts. Next is a home game against Arizona State, when he will be expected to put up big numbers.
2. Michael Penix (Washington/Indiana) (4)
Penix only completed 60% of his passes during a win against Stanford, but once again passed for over 300 yards without throwing an interception. Currently leading FBS in passing yards, 1,388, he will lead the Huskies into their first road game of the season at UCLA on Friday night.
3. WR Charlie Jones (Purdue/Iowa) (3)
Florida Atlantic held Jones to only 59 yards, but he did have nine receptions and two touchdowns. These totals have him as the top FBS player in receptions (41) and touchdown receptions (7). Purdue next plays at a very formidable Minnesota defense on Saturday so it will be interesting to see if the Gophers can slow down his production.
4. LB Daiyan Henley (Washington State/Nevada) (2)
Washington State suffered their first loss of the season as the defense was exposed for the first time by Oregon. Despite the team giving up 44 points to the Ducks, Henley did still finish with eight tackles and one tackle for a loss as he continued his eye-opening season.
5. QB Dillon Gabriel (Oklahoma/UCF) (5)
While the Sooners suffered a surprising loss at home to Kansas State, Gabriel continued to shine with 330 yards, four touchdowns and no interceptions through the air. He also had a season-high of 61 yards on the ground.
6. LB Ivan Pace Jr. (Cincinnati/Miami-Ohio) (NR)
Pace had excelled through his first three games with the Bearcats, but really took his game to another level on Saturday during a win versus Indiana. Finishing with 15 tackles, 4.5 tackles for a loss and 2.5 sacks, he now leads the FBS with tackles for a loss with 11.5.
7. WR Jacob Cowing (Arizona/UTEP) (9)
Despite the loss to Cal, Cowing continued to shine with seven receptions for 133 yards and one touchdown. Already with six touchdown receptions on the season, second only to Purdue's Charlie Jones, he has proven himself a consistent threat in the Wildcats' offense.
8. LB Jacoby Windmon (Michigan State/UNLV) (6)
The Michigan State defense has been overrun the last two weeks, but Windmon did have somewhat of a bounce back performance against Minnesota with five tackles, 1.5 tackles for a loss and one forced fumble. He needs to quickly help the Spartans' defensive unit right the ship with the next two games being against an explosive Maryland offense and then Ohio State.
9. Jordan Addison (USC/Pittsburgh) (10)
Just as Caleb Williams had a pedestrian game, so did Addison with only three receptions for 42 yards. However, one of those receptions went for a touchdown which now gives him six on the season.
10. LB Drew Sanders (Arkansas/Alabama) (8)
While Sanders has been dominant since his transfer from Alabama, he was effectively neutralized by Texas A&M while totaling four tackles and half a sack. Next up is a home game against his former team which is sure to have him extremely motivated.
Others to watch:
Jared Verse (Florida State/Albany), O'Cyrus Torrence (Florida/Louisiana), Khari Coleman (Ole Miss/TCU), RB Henry Parrish Jr. (Miami-Florida/Ole Miss), DE Lonnie Phelps (Kansas/Miami-Ohio), QB Todd Centeio (James Madison/Colorado State), WR Nikko Remigio (Fresno State/Cal), WR Antwane Wells (South Carolina), DL Levi Bell (Texas State), Eric Gentry (USC/Arizona State), Jahmyr Gibbs (Alabama/Georgia Tech), RB Xazavian Valladay (Arizona State/Wyoming), WR Tory Horton (Colorado State/Nevada); WR Champ Flemings (Arkansas State/Oregon State), LB Colby Reeder (Iowa State/Delaware), QB Cameron Ward (Washington State/Incarnate Word), WR Trey Palmer (Nebraska/LSU), RB Aidan Robbins (UNLV/Louisville), Jackson Sirmon (Cal/Washington), RB Zach Evans (Ole Miss/TCU), QB John Rhys Plumlee (UCF/Ole Miss), QB Adrian Martinez (Kansas State/Nebraska), Bo Nix (Oregon/Auburn), LB Ty'Ron Hopper (Missouri/Florida), QB Austin Reed (Western Kentucky/D2 West Florida)