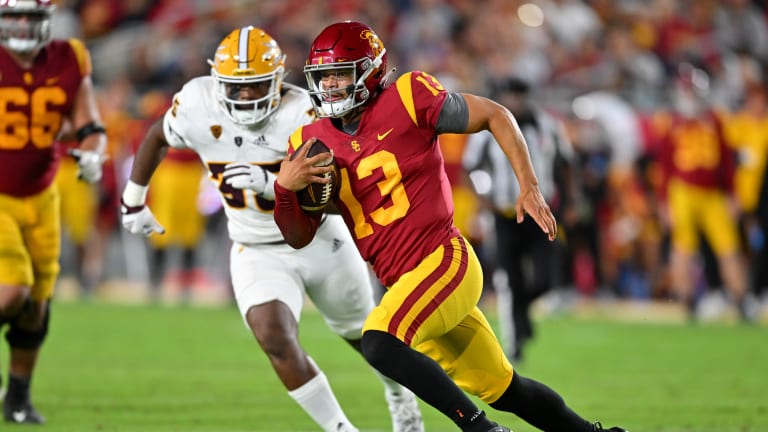 Transfer Portal Power Rankings: Week 5
Which transfers from the 2021/2022 transfer portal cycle have had the most successful season through Week Five?
Which transfers from the 2021/2022 transfer portal cycle have had the most successful season through Week Five? Here are the answers:
Williams passed for 348 yards, a season-high, along with three touchdowns while completing 27 of 37 passes during a victory over Arizona State. The undefeated Trojans have an interesting home game against Washington State this weekend before traveling to #11 Utah on October 15th.
2. LB Ivan Pace Jr. (Cincinnati/Miami-Ohio) (6)
Pace continued his excellent level of play during Cincinnati's victory over Tulsa with nine tackles, 1.5 tackles for a loss, one sack and one pass breakup. He currently leads the nation in tackles for a loss (13.0) and also leads the AAC in total tackles (55) and sacks (5).
3. QB Michael Penix (Washington/Indiana) (4)
Despite suffering their first loss of the season last Friday night at UCLA, Penix continued to shine with 345 yards and four touchdowns through the air. He has thrown for at least 309 yards in every game this season, while completing 65% of his attempts and only has three interceptions.
4. WR Charlie Jones (Purdue/Iowa) (3)
For the second straight game, Jones was held to under 60 yards receiving and for the first time he did not have a touchdown reception during Purdue's victory at Minnesota. Defenses have obviously made it a priority to try and contain him, so how will he respond? The good news for him is that the next two games are against Maryland and Nebraska, two defensive units that he should be able to exploit.
5. QB Adrian Martinez (Kansas State/Nebraska) (NR)
Martinez makes his first appearance in the Top 10 this season after passing for a combined 350 yards and two touchdowns and rushing for 319 yards and seven touchdowns during the last two games against Oklahoma and Texas Tech.
6. WR Jacob Cowing (Arizona/UTEP) (7)
Cowing enjoyed his best statistical game of the season with 12 receptions for 180 yards and one touchdown during a victory over Colorado. With this performance, he currently leads the PAC-12 in receptions (40), receiving yards (566) and receiving touchdowns (7).
7. LB Daiyan Henley (Washington State/Nevada) (4)
After the defensive unit faltered for the first time against Oregon two weeks ago, they responded nicely during a 28-9 victory over Cal. Henley contributed six tackles and one tackle for a loss during the victory, as he has established himself a leader on the defensive unit. A huge test is coming up this weekend as the Cougars travel to #6 USC to face their dynamic offense.
8. Jordan Addison (USC/Pittsburgh) (9)
Addison continued to dissect defenses with eight receptions for 105 yards during a victory over Arizona State. However, it was his first game this season without a receiving touchdown. He has developed an impressive chemistry with fellow-transfer quarterback Caleb Williams which should continue to lead to big things for the Trojans.
9. LB Drew Sanders (Arkansas/Alabama) (10)
While Arkansas's defense did struggle against Alabama at home, Sanders still excelled with a team-leading 12 tackles, one tackle for a loss and one sack. That one sack put his total at seven, which currently leads the FBS nationally.
10. LB Jacoby Windmon (Michigan State/UNLV) (8)
Windmon's overall statistics through five games are still impressive with 23 tackles, eight tackles for a loss, 5.5 sacks and five forced fumbles, but most of that success came in the first two games of the season against Western Michigan and Akron. Against the three Power 5 schools that followed he has totaled 11 tackles, 1.5 tackles for a loss and one forced fumble. And next up on the calendar? A home game against #3 Ohio State.
Others to watch:
QB Dillon Gabriel (Oklahoma/UCF), RB Jahmyr Gibbs (Alabama/Georgia Tech), DE Jared Verse (Florida State/Albany), OL O'Cyrus Torrence (Florida/Louisiana), DE Khari Coleman (Ole Miss/TCU), RB Henry Parrish Jr. (Miami-Florida/Ole Miss), DE Lonnie Phelps (Kansas/Miami-Ohio), QB Todd Centeio (James Madison/Colorado State), WR Nikko Remigio (Fresno State/Cal), LB Shane Lee (USC/Alabama), DL Levi Bell (Texas State), LB Eric Gentry (USC/Arizona State), RB Xazavian Valladay (Arizona State/Wyoming), WR Tory Horton (Colorado State/Nevada); QB Cameron Ward (Washington State/Incarnate Word), WR Trey Palmer (Nebraska/LSU), RB Aidan Robbins (UNLV/Louisville), LB Jackson Sirmon (Cal/Washington), RB Zach Evans (Ole Miss/TCU), QB John Rhys Plumlee (UCF/Ole Miss), QB Bo Nix (Oregon/Auburn), LB Ty'Ron Hopper (Missouri/Florida), QB Austin Reed (Western Kentucky/D2 West Florida), QB Tommy Devito (Illinois/Syracuse), WR Johnny Wilson (Florida State/Arizona State)