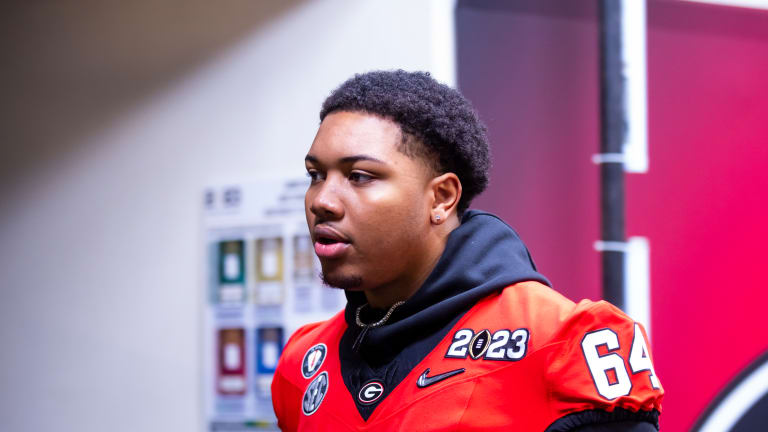 Transfer Portal: Top 5 Available Offensive Linemen (1/19)
Plenty of movement has occurred, but who are the top five offensive linemen that still remain in the transfer portal?
Jacob Hood – Georgia
The skinny: While he has yet to see the field at Georgia, the Class of 2021 signee possesses a great deal of potential to go along with his 6-foot-8, 350-pound frame.
Recruiting: While many schools have expressed interest this week, Ohio State is the one to watch at this point. Others that are in the picture include Kentucky, North Carolina, Oklahoma and Nebraska.
Kiyaunta Goodwin – Kentucky
The skinny: The Class of 2022 five-star recruit redshirted this season, but similar to Hood, has a 6-foot-8, 350-pound frame that makes him highly valuable in the portal.
Recruiting: Louisville and Florida are considered the leaders, with a visit lined up to Gainesville this weekend. North Carolina, LSU, Auburn and Wisconsin are also involved.
Drake Metcalf – Stanford
The skinny: Metcalf was a back-up during his time with the Cardinal and saw time at both center and guard.
Recruiting: It is somewhat surprising that Metcalf is still available, since he entered in early December, but the interest continues to come. Some of the schools that are still involved include LSU, SMU, Northwestern, UCF, Florida and Cal.
William Parker – Tennessee
The skinny: The Class of 2021 recruit redshirted as a true freshman and played in two games this fall.
Recruiting: Interest has continued to roll in for Parker since he entered the portal. Some of the schools that continue to be involved include Coastal Carolina, Memphis, Toledo, Buffalo, BYU, Georgia Tech, Troy and Hawaii.
Lloyd Willis – Florida State
The skinny: Willis redshirted in 2020, before playing in 12 games in 2021, mostly on special teams, and then playing in five games this fall.
Recruiting: Since entering the portal in early December, Willis has been busy, with interest coming in from schools like SMU, LSU, Marshall, Coastal Carolina, Florida International and UAB. The Herd have been the most aggressive in their pursuit.