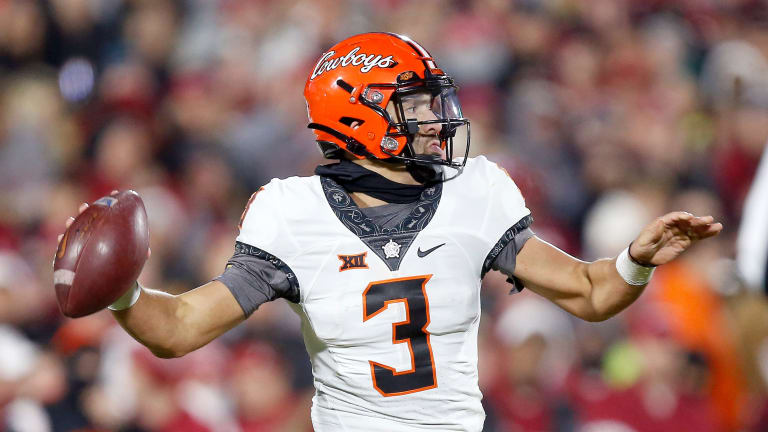 Transfer Portal: Top 5 Available Quarterbacks (1/10)
Plenty of movement has occurred, but who are the top five quarterbacks who still remain in the transfer portal?
Spencer Sanders – Oklahoma State
The skinny: Sanders passed for 9,533 yards and 67 touchdowns, while rushing for 1,956 yards and 18 touchdowns, during his time in Stillwater. He started 41 games since the beginning of the 2019 season.
Recruiting: Auburn and Ole Miss have been in the forefront since he entered the portal, with the Tigers now being his likely destination. Auburn had prioritized Devin Leary, who then signed with Kentucky, and Grayson McCall, who withdrew from the portal, before turning all of their quarterback attention to Sanders.
Mike Wright – Vanderbilt
The skinny: Wright played in a total of 26 games over the course of his three seasons with the Commodores. This season he played in 10 games, with six starts, while serving as a team captain. Overall, he passed for 2,067 yards and 21 touchdowns, while also rushing for 905 yards and seven touchdowns.
Recruiting: The top pursuer at this point is Ole Miss, which hosted him for an official visit over the weekend. The Rebels also hosted transfer quarterback Brady Allen (Purdue) who then withdrew his name from the portal, so will their pursuit of Wright now intensify? Other schools to keep an eye on include Indiana, Northwestern, Boston College and FAU.
Connor Bazelak - Indiana
The skinny: Bazelak began his collegiate career with Missouri before transferring to Indiana last January. During his collegiate career he has passed for 7,370 yards and 36 touchdowns, while in his one season with the Hoosiers he passed for 2,312 yards and 13 touchdowns.
Recruiting: Unlike the top three on this list, Bazelak's process has been a bit quieter to this point. A few of the schools to keep an eye on include UConn, North Texas and Ball State.
Chandler Rogers – Louisiana-Monroe
The skinny: Rogers began his collegiate career at Southern Miss, before making his way to Blinn College (JUCO) and then Louisiana-Monroe. During his two seasons with the Warhawks, Rogers passed for 3,714 yards and 24 touchdowns. He has also rushed for 720 yards and six touchdowns during this time. He saw marked improvement during the 2022 season with 2,403 yards and 15 touchdowns.
Recruiting: Rogers has picked up offers from Cal, Indiana, Liberty, Arkansas State, Georgia State, Texas State, Sam Houston and Jacksonville State since entering the portal in late November as a grad transfer.
Chance Nolan – Oregon State
The skinny: Nolan started 17 consecutive games from last season through the first five games of this season before and injury ended his campaign. During his time with the Beavers he passed for 4,153 yards and 32 touchdowns, while also rushing for 508 yards and five touchdowns.
Recruiting: Nolan's process was relatively quiet at the beginning, but now Indiana has trended as the heavy favorite. The Hoosiers are still looking to add a quarterback through the portal, and Nolan fits many of their needs. While Indiana is considered the clear leader at this time, one other school to keep an eye on here is Baylor.