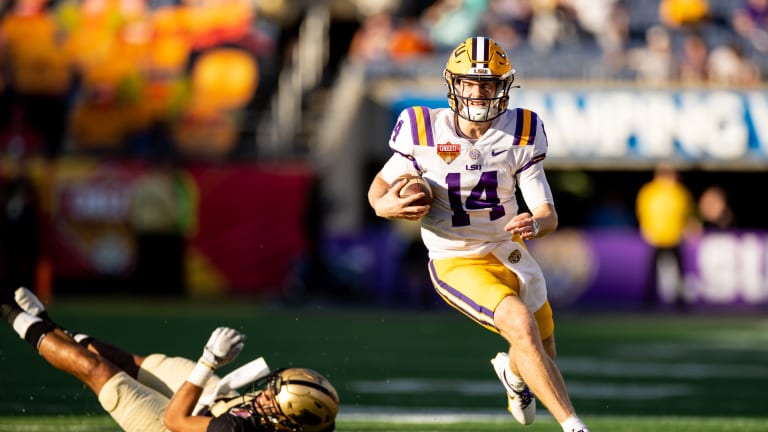 Transfer Portal: Top 5 Available Quarterbacks (1/17)
Plenty of movement has occurred, but who are the top five quarterbacks who still remain in the transfer portal?
Walker Howard – LSU
The skinny: The true freshman saw time in two games during his only season in Baton Rouge, including the Citrus Bowl victory over Purdue. He only attempted four passes during these two games, completing two.
Recruiting: TCU was thought to be a contender, but then the Horned Frog's saw their offensive coordinator make a move to Clemson. That opened the door for Ole Miss, which quickly hosted him for an official visit and is currently in the driver's seat for his services. Howard did also visit TCU but this one is the Rebels' to lose.
Spencer Sanders – Oklahoma State
The skinny: Sanders passed for 9,533 yards and 67 touchdowns, while rushing for 1,956 yards and 18 touchdowns, during his time in Stillwater. He started 41 games since the beginning of the 2019 season.
Recruiting: Auburn and Ole Miss have been in the forefront since he entered the portal, with the Tigers now being his likely destination. Auburn had prioritized Devin Leary, who then signed with Kentucky, and Grayson McCall, who withdrew from the portal, before turning all of their quarterback attention to Sanders. It is a bit surprising that he remains available.
Mike Wright – Vanderbilt
The skinny: Wright played in a total of 26 games over the course of his three seasons with the Commodores. This season he played in 10 games, with six starts, while serving as a team captain. Overall, he passed for 2,067 yards and 21 touchdowns, while also rushing for 905 yards and seven touchdowns.
Recruiting: The top pursuer continues to be Ole Miss, which hosted him for an official visit last weekend. The Rebels had also been recruiting Brady Allen (Purdue), who then withdrew his name from the portal, as well as Spencer Sanders and Walker Howard. So, will the Rebels take more than one quarterback from the portal and will one be Wright?
Chance Nolan – Oregon State
The skinny: Nolan started 17 consecutive games from last season through the first five games of this season before and injury ended his campaign. During his time with the Beavers he passed for 4,153 yards and 32 touchdowns, while also rushing for 508 yards and five touchdowns.
Recruiting: Indiana was seen as the clear leader for Nolan, but then the Hoosiers recently added transfer quarterback Tayven Jackson (Tennessee) soon after he entered the portal. Despite this addition, Indiana continues to recruit Nolan, so him joining Jackson in Bloomington is quite possible.
Sam Huard – Washington
The skinny: As a true freshman in 2021, Huard was named the backup to Dylan Morris, but only appeared in one game. After the addition of Michael Penix prior to the 2022 season, he only attempted three passes during the fall.
Recruiting: Despite making minimal impact on the field during his time with the Huskies, the former five-star recruit quickly garnered plenty of early interest. Having just entered into the portal a week ago, a few schools to keep an eye on include Northwestern, North Carolina, Auburn, San Diego State and UAB.