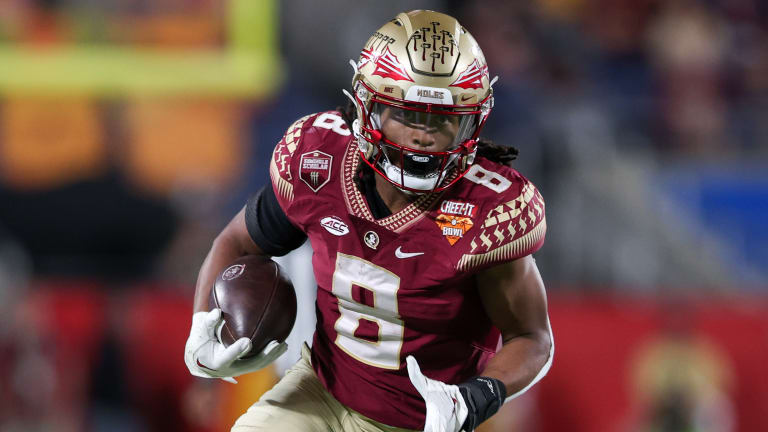 Transfer Portal: Top 5 Available Running Backs
Plenty of movement has occurred, but who are the top five running backs who still remain in the transfer portal?
Treshaun Ward – Florida State
The skinny: Ward initially walked on at Florida State before earning a scholarship. He rushed for 1,143 yards and 11 touchdowns over the last two seasons with the Seminoles. He also had 28 receptions for 186 yards and one touchdown during this time.
Recruiting: Ward just took his first official visit to Kansas State, while he had also received steady interest from Georgia Tech, Texas, South Carolina, Arizona State, Colorado, Auburn and others.
Kavosiey Smoke – Kentucky
The skinny: An SEC veteran, Smoke rushed for 1,583 yards and 13 touchdowns in five seasons with the Wildcats. He has averaged 5.4 yards per carry.
Recruiting: Smoke took his first official visit to Troy, before following that with a visit to Colorado. The Buffaloes have made him a recruiting priority and are now seen as the heavy favorite.
Dae Dae Hunter – Liberty
The skinny: After rushing for 651 yards and three touchdowns during the 2021 season with Hawaii, Hunter transferred to Liberty and finished his one season as a Flame with 854 yards and eight touchdowns. He also added 17 receptions for 147 yards and one touchdown, in a season that was shortened to nine games due to an injury.
Recruiting: A number of schools expressed immediate interest in Hunter. One of these is Auburn, which makes plenty of sense since ex-Liberty head coach Hugh Freeze is now in charge of the Tigers. Also making a run at Hunter includes Kansas, Oklahoma State, Louisville, Kansas State, Colorado State and Middle Tennessee State.
Brian Battie – USF
The skinny: While small in stature, the All-American kickoff returner proved himself as a reliable running back this season with 1,186 yards and eight touchdowns on the ground. For his collegiate career, he has rushed for 1,842 yards and 10 touchdowns, while also returning three kickoffs for a touchdown.
Recruiting: Battie took his first official visit since recently entering the portal to Auburn, but the Tigers have plenty of competition. Other schools that are currently involved include Texas, Utah, Arizona State, Colorado, UCF and Tulane.
Micah Bernard – Utah
The skinny: Over his last two seasons with the Utes, Bernard rushed for 1,056 yards and six touchdowns. He also proved himself as a consistent receiving threat out of the backfield with 60 receptions for 565 yards and three touchdowns during that time.
Recruiting: Bernard, a recent portal entry, has already taken an official visit to South Carolina. The Gamecocks have put the full-court press on Bernard in the hopes that he does not take any additional official visits, but that is still up in the air. So who is also trying to get him in for a visit? Colorado, Minnesota, Missouri, Louisville, Illinois and Texas are a few of the schools to keep an eye on.