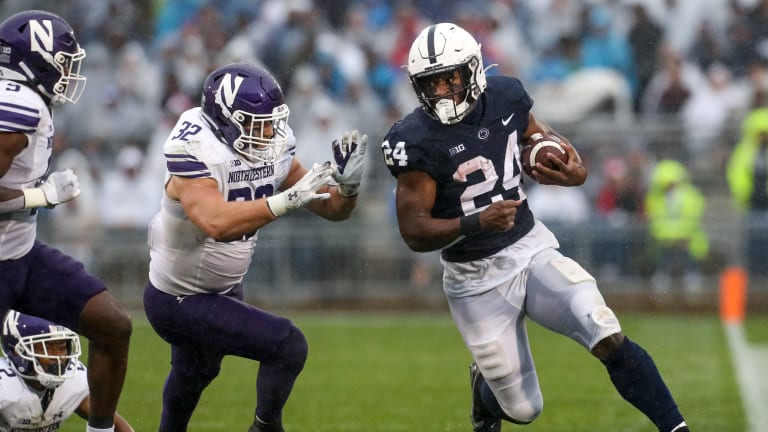 Transfer Portal: Top 5 Available Running Backs (1/17)
Plenty of movement has occurred, but who are the top five running backs who still remain in the transfer portal?
Keyvone Lee – Penn State
The skinny: Lee rushed for 968 yards and six touchdowns during his first two seasons with the Nittany Lions, but an injury and the emergence of two impressive true freshmen diminished his production in 2022. He also had 30 receptions for 219 yards and one touchdown during his time at Penn State.
Recruiting: Only in the portal for a few days, some of the schools to keep an eye on include Boston College, Toledo, UAB, Louisville and South Carolina.
Micah Bernard – Utah
The skinny: Over his last two seasons with the Utes, Bernard rushed for 1,056 yards and six touchdowns. He also proved himself as a consistent receiving threat out of the backfield with 60 receptions for 565 yards and three touchdowns during that time.
Recruiting: Bernard took his first official visit to South Carolina, with the Gamecocks then putting on the full-court press in the hopes that he would not take any additional official visits. However, that did not work as he then took a visit to Colorado over the weekend. The Buffs have already added transfer running back Kavosiey Smoke (Kentucky) but have also made Bernard a priority. Minnesota, Missouri, Louisville, Illinois and Texas are a few other schools to keep an eye on.
Tre Siggers – SMU
The skinny: Siggers began his collegiate career at North Texas before transferring to SMU, where he played for two seasons. Overall, during his collegiate career he has rushed for 2,267 yards and 20 touchdowns, 13 of which came with the Mustangs.
Recruiting: Now in the portal for more than a week, several schools have continued to show serious interest in Siggers. Troy, James Madison, Texas, Kansas, Cal and Arizona State are a few to watch, as well as North Texas, which is where Siggers played his first three seasons before transferring to the Mustangs.
Ky Thomas – Kansas
The skinny: Despite a somewhat disappointing 2022 season with Kansas, Thomas showcased his potential during his 2021 season at Minnesota. Before his transfer to the Jayhawks, he rushed for 824 yards and six touchdowns during his last season with the Gophers.
Recruiting: Thomas has received a great deal of interest since he entered the portal, with Virginia Tech, Marshall, UCF, Tulsa, Kent State, Texas State, Kansas State and New Mexico State currently leading the charge.
Asa Martin – Memphis
The skinny: Martin began his collegiate career at Auburn before transferring to Memphis. Overall, he has rushed for 833 yards and 10 touchdowns, while also adding 62 receptions for 603 yards and three touchdowns. His best statistical season came in 2022 with 435 yards and seven touchdowns on the ground and 36 receptions for 312 yards and one touchdown through the air.
Recruiting: Florida became the hot name almost immediately and remains the favorite for Martin. A few other schools that remain in the picture include Troy, Middle Tennessee State, SMU, James Madison and Boston College.