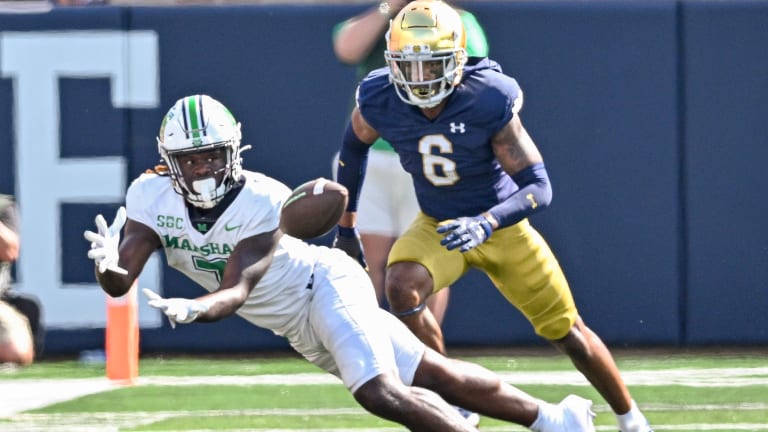 Transfer Portal: Top 5 Available Wide Receivers (1/19)
Plenty of movement has occurred, but who are the top five wide receivers who still remain in the transfer portal?
Xavier Weaver – USF
The skinny: Weaver totaled 116 receptions for 1,735 yards and eight touchdowns during his time with the Bulls. He was especially productive during the last two seasons when he combined for 94 receptions for 1,433 yards and all eight of his touchdowns. He also returned 13 punts during the last two seasons.
Recruiting: Weaver has taken official visits to Arkansas and most recently Colorado. While he also has offers from Oklahoma and West Virginia, at this time it is still expected that it will come down to the Razorbacks or Buffaloes. 
Gary Bryant – USC
The skinny: Bryant totaled 53 receptions for 645 yards and seven touchdowns during his time with the Trojans. The majority of his success came during the 2021 season when he finished with 44 receptions for 579 yards and all seven of his touchdowns.
Recruiting: Bryant has taken official visits to Miami-Florida and most recently UCLA. He was also planning on visiting Texas A&M, but that did not happen. Other schools that are currently involved include Utah, Arizona, North Carolina, Nebraska, Oregon State and Colorado. While the Bruins added his USC teammate Kyle Ford earlier this week, UCLA is currently trending to also add Bryant. 
Freddie Roberson – Eastern Washington
The skinny: Roberson finished his time at Eastern Washington with 141 receptions for 2,266 yards and 17 touchdowns. He was most productive during his final two seasons when he totaled 94 receptions for 1,576 yards and 13 touchdowns.
Recruiting: Roberson announced a top four of Mississippi State, BYU, Fresno State and Washington State on December 23rd, with a commitment date of January 13th, but additional offers changed those plans. West Virginia is the most recent offer that has caught his attention and a visit on January 20th is currently planned.
Tyrin Smith – UTEP
The skinny: The JUCO signee had a big 2022 season with 71 receptions for 1,039 yards and seven touchdowns. During his two seasons with the Miners he totaled 104 receptions for 1,609 yards and 11 touchdowns.
Recruiting: New to the portal, Smith quickly received interest from numerous programs, including Iowa, Utah, West Virginia, Syracuse, Cal, Texas State, Texas A&M, Rutgers, Arizona, Fresno State, Miami-Florida, Missouri and Washington State.
Corey Gammage – Marshall
The skinny: Gammage had a fantastic career with Marshall, finishing with 178 receptions for 2,239 yards and 13 touchdowns.
Recruiting: Considering his success on the field, it should come as no surprise that Gammage quickly picked up serious interest from coast-to-coast. A few schools to keep an eye on include Colorado, Memphis, NC State, South Carolina, West Virginia, Miami-Florida, UCF and Syracuse.