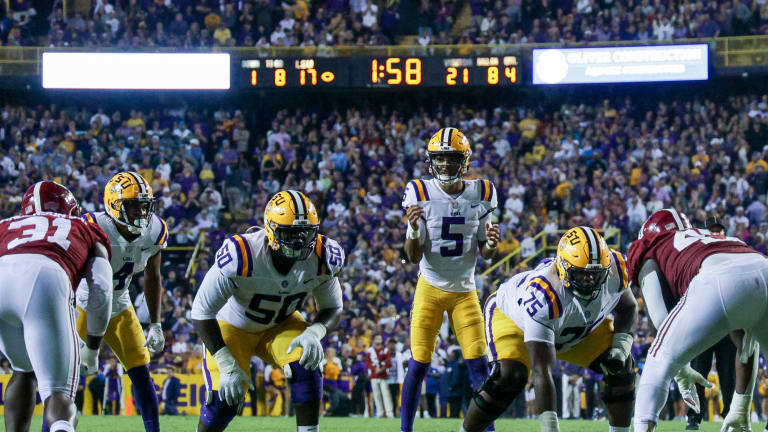 Week 10 Transfer Power Rankings: Jayden Daniels makes a move
Which transfers from the 2021/2022 transfer portal cycle have had the most successful season through Week 10?
Which transfers from the 2021/2022 transfer portal cycle have had the most successful season through Week 10? Here are the answers:
Just another 360-yard, four touchdown, no interception game for Williams, as he led the Trojans to a high scoring victory over Cal. He has been especially impressive during the last three games, when he has totaled 1,152 yards, 14 touchdown passes and no interceptions. Up next is another big opportunity to pad the stats with a home game against Colorado, before the Trojans head cross-town to take on UCLA and then host Notre Dame.
2. QB Bo Nix (Oregon/Auburn) (2)
Just like Williams, Nix continued his dominant play by totaling five touchdowns during a victory at Colorado. He passed for two, rushed for two and even had a touchdown reception as the Ducks continued to roll as they now head back home for a big game on Saturday against #24 Washington.
3. LB Ivan Pace Jr. (Cincinnati/Miami-Ohio) (3)
A game against Navy's option attack will always give a linebacker an opportunity for some impressive statistical numbers. Pace responded with 14 tackles, two tackles for a loss and one sack, as he now has 96 tackles, 18 tackles for a loss and eight sacks on the season. Up next is a Friday night game at home against East Carolina.
4. QB Jayden Daniels (LSU/Arizona State) (NR)
Daniels has impressed the last few weeks, but by leading the Tigers to an overtime victory over Alabama he makes a jump all the way to #4. Daniels passed for 182 yards and two touchdowns, rushed for 95 yards and one touchdown and three the game winning two-point conversion in overtime to seal the victory.
5. LB Daiyan Henley (Washington State/Nevada) (5)
After losing several hard-fought games, the Cougars finally put it together against Stanford with the help of Henley's five tackles and two fumble recoveries. Becoming the defensive leader and a consistent playmaker, Washington State will look to win consecutive games when they host Arizona State on Saturday afternoon.
6. QB Michael Penix (Washington/Indiana) (4)
While it wasn't his best game of the season, Penix still passed for 298 yards and one touchdown during a nice home victory over a ranked Oregon State team. He will need to regain his form from the majority of this season on Saturday if he hopes to lead the Huskies to a victory at Oregon.
7. RB Jahmyr Gibbs (Alabama/Georgia Tech) (6)
Gibbs did not necessarily dominate against LSU, but he still managed to finish with 99 yards rushing and 64 yards receiving during the loss. Now with a surprising two conference losses, the Gibbs and the Tide have another huge game this Saturday when they travel to #11 Ole Miss.
8. WR Charlie Jones (Purdue/Iowa) (8)
While the outcome did not go the way Jones had wanted and the Boilermakers did not score a touchdown, his performance against his former team was still impressive. Finishing with 11 receptions for 104 yards, this was the fifth time in 2022 that Jones had at least 10 receptions in a game and put him only 56 yards away from 1,000 for the season.
9. OL O'Cyrus Torrence (Florida/Louisiana (9)
Torrence continued his elite play during a victory at Texas A&M and next will take on the defensive line of South Carolina. His play this fall continues to further solidify his position as one of the top available interior offensive linemen in the 2023 NFL Draft.
10. DE Jared Verse (Florida State/Albany) (10)
Verse continued to be an elite playmaker during a 45-3 route at Miami-Florida on Saturday night with two tackles, one tackle for a loss, one sack and one fumble recovery, which he returned for 10 yards. Despite missing some time this season with an injury, he has still totaled 12 tackles for a loss and five sacks as the Seminoles next head up to New York to take on Syracuse.