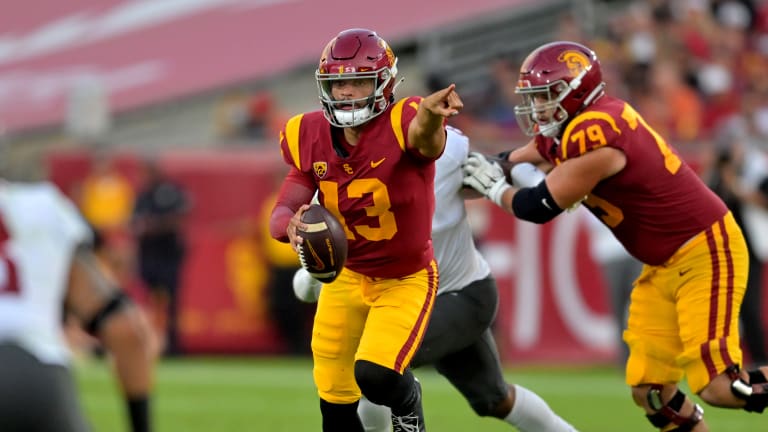 Week 6 Transfer Power Rankings
Which transfers from the 2021/2022 transfer portal cycle have had the most successful season through Week Six?
Which transfers from the 2021/2022 transfer portal cycle have had the most successful season through Week Six? Here are the answers:
The USC running game and specifically transfer Travis Dye (Oregon) took center stage during the victory over Washington State, but Williams still managed to pass for 188 yards, two touchdowns and no interceptions. While this performance was far from overwhelming, it is difficult to overlook that he has completed 65% of his attempts this season for 1,590 yards, 14 touchdowns and only one interception for the undefeated Trojans.
2. LB Ivan Pace Jr. (Cincinnati/Miami-Ohio) (2)
For the first time this season, Pace was held without a sack or tackle for a loss, but he still totaled seven tackles during a victory over USF. His performance as a whole has been extremely impressive and with games coming up at SMU and UCF after this weekend's bye, he will be in the spotlight once again.
3. QB Adrian Martinez (Kansas State/Nebraska) (5)
Martinez has been the hottest transfer in the country, which has also made Kansas State one of the bigger surprises of the season. In a defensive slugfest against Iowa State, he still managed to pass for 246 yards and one touchdown and rush for 77 yards. Up next is a three-game stretch against #13 TCU, #8 Oklahoma State and #22 Texas, so will Martinez be able to continue his high level of play?
4. QB Michael Penix (Washington/Indiana) (3)
The loss to UCLA two weeks ago was somewhat understandable, but the loss at Arizona State on Saturday came as a surprise to most. Penix still managed to pass for 311 yards but was held without a touchdown pass for the first time this season. The Huskies have a chance to regroup with games coming up against Arizona, Cal and Oregon State, before they travel to Oregon.
5. WR Jacob Cowing (Arizona/UTEP) (6)
Cowing was held without a touchdown reception for the first time this season during a loss to Oregon, but he still managed six receptions for 77 yards. Despite the somewhat disappointing performance, he still leads the PAC-12 in receptions (46), receiving yards (643) and receiving touchdowns (7).
6. LB Daiyan Henley (Washington State/Nevada) (7)
The Cougars proved to be a difficult win for USC and one big reason why was the play of Henley who finished with 11 tackles and one tackle for a loss. He has been consistent all season long and will need to maintain that level of play if Washington State hopes to continue their surprise season.
7. LB Drew Sanders (Arkansas/Alabama) (8)
The Arkansas defense has gone off the rails during the last two games, but it isn't because of Sanders who had his fourth double-digit tackle game of the season with as season-high of 16. With upcoming games against BYU, Auburn and Liberty, Sanders and the Razorbacks have a bit of a reprieve before they play LSU and Ole Miss.
8. RB Jahmyr Gibbs (Alabama/Georgia Tech) (NR)
Gibbs had his second straight huge performance, so with that he makes his season debut into the top ten. During that two-game stretch he has 360 yards and two touchdowns, while also being a threat in the passing game and on special teams. Expectations are that his is the level of play that everyone will see for the remainder of the season.
9. WR Charlie Jones (Purdue/Iowa) (4)
While his overall statistics are still impressive, Jones takes a tumble in the rankings after totaling 18 receptions for 129 yards in his last three games. Defenses seem to have figured out a way to slow down his production so now it is up to him to respond.
10. Jordan Addison (USC/Pittsburgh) (8)
As with Caleb Williams, the passing game took the backseat to the running game during USC's victory over Washington State, so Addison's production was minimal with only three receptions for 37 yards. Next up is a game at #20 Utah, where he will likely be given the opportunity to shine.
Others to watch:
QB Bo Nix (Oregon/Auburn, LB Jacoby Windmon (Michigan State/UNLV), QB Dillon Gabriel (Oklahoma/UCF), DE Jared Verse (Florida State/Albany), OL O'Cyrus Torrence (Florida/Louisiana), RB Henry Parrish Jr. (Miami-Florida/Ole Miss), DE Lonnie Phelps (Kansas/Miami-Ohio), QB Todd Centeio (James Madison/Colorado State), WR Nikko Remigio (Fresno State/Cal), WR Antwane Wells (South Carolina), DL Levi Bell (Texas State), LB Eric Gentry (USC/Arizona State), RB Xazavian Valladay (Arizona State/Wyoming), WR Tory Horton (Colorado State/Nevada); QB Cameron Ward (Washington State/Incarnate Word), WR Trey Palmer (Nebraska/LSU), RB Aidan Robbins (UNLV/Louisville), LB Jackson Sirmon (Cal/Washington), RB Zach Evans (Ole Miss/TCU), QB John Rhys Plumlee (UCF/Ole Miss), LB Ty'Ron Hopper (Missouri/Florida), QB Austin Reed (Western Kentucky/D2 West Florida), WR Johnny Wilson (Florida State/Arizona State), RB Travis Dye (USC/Oregon), WR Isaiah Winstead (East Carolina/Toledo), LB Dallas Gant (Toledo/Ohio State)