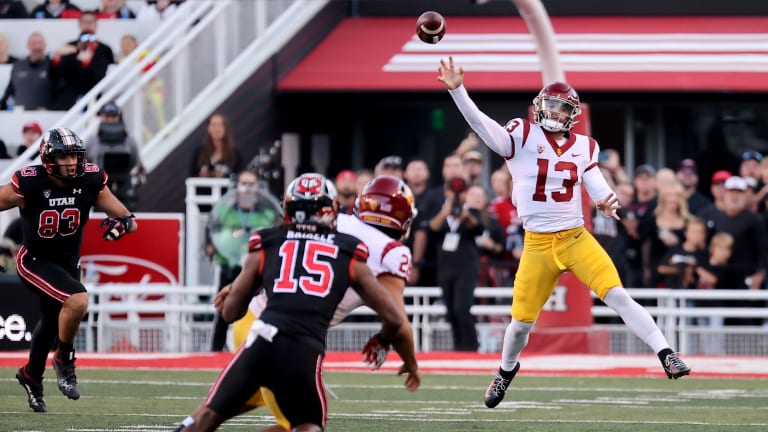 Week 7 Transfer Power Rankings: Caleb Williams remains on top
Which transfers from the 2021/2022 transfer portal cycle have had the most successful season through Week Seven?
Week 7 Transfer Power Rankings (Players from 2021/2022 Cycle)
Which transfers from the 2021/2022 transfer portal cycle have had the most successful season through Week Seven? Here are the answers:
While USC suffered their first loss of the season at Utah, Williams continued to perform at an extremely high level with 381 yards, five touchdowns and no interceptions through the air and 57 yards on the ground. The Trojans have a bye this weekend, then three straight winnable games against Arizona, Cal and Colorado, so expect to see Williams' production to continue to flourish.
2. LB Ivan Pace Jr. (Cincinnati/Miami-Ohio) (2)
Even after a bye week, Pace continues to lead FBS with 13 tackles for a loss. Along with his 62 tackles, five sacks, and one forced fumble, he continues to be one of the more productive linebackers in the country this season.
3. QB Adrian Martinez (Kansas State/Nebraska) (3)
Coming off a bye week, Martinez and the Wildcats have a brutal three-game stretch starting this weekend against #8 TCU, #11 Oklahoma State, and #20 Texas. Can Martinez continue his extremely high level of play and keep Kansas State in the Big 12 title picture?
4. QB Michael Penix (Washington/Indiana) (4)
After consecutive losses, Penix and the Huskies regrouped during a 49-39 victory over Arizona. During the victory, Penix, who leads FBS with 2,560 yards passing, completed 36 of 44 passes for 516 yards, four touchdowns, and no interceptions, and also rushed for a touchdown.
5. LB Daiyan Henley (Washington State/Nevada) (6)
The Cougars have lost three of their last four games after a hard-fought 24-10 loss to Oregon State. While the team has stumbled, Henley has maintained his high level of play with 13 tackles and one tackle for a loss against the Beavers. A difficult game looms this weekend against Utah before Henley and Washington State should have some better opportunities for wins against Stanford, Arizona State, and Arizona.
6. RB Jahmyr Gibbs (Alabama/Georgia Tech) (8)
Despite Alabama's first loss of the season, Gibbs continued to excel with 155 total yards and three touchdowns. He has been especially dominant over his last three games where he has totaled 460 yards and five touchdowns on the ground and ten receptions for 81 yards through the air.
7. WR Jacob Cowing (Arizona/UTEP) (5)
Cowing had seven receptions for 94 yards during a loss at Washington but was held without a touchdown for the second straight game. With two other big-play receivers on the roster (Dorian Singer and Tetairoa McMillan) Cowing has seen Arizona distribute the ball a bit more recently, but he has still managed to be very productive.
8. WR Charlie Jones (Purdue/Iowa) (9)
After three straight mediocre games, Jones had a big performance against Nebraska with 12 receptions for 132 yards and two touchdowns. His big weekend keeps him at the top of the Big Ten in receptions (62) and receiving touchdowns (9).
9. LB Drew Sanders (Arkansas/Alabama) (7)
After two fantastic individual performances in losses, Sanders had a somewhat average showing with four tackles and one forced fumble during Arkansas' victory at BYU. The current bye week will be followed by games against Auburn and Liberty, so the Razorbacks' defense should have the opportunity to shine after a few rough weeks.
10. WR Jordan Addison (USC/Pittsburgh) (10)
Addison was off to a quick start at Utah, but a leg injury prematurely ended his night. While he did not finish the game, he still totaled seven receptions for 105 yards and one touchdown. The injury looked potentially serious but was labeled as "day-to-day" on Tuesday, and with a bye week in progress, he may have enough time to return to the field on the 29th at Arizona.
Others to watch:
QB Quinn Ewers (Texas/Ohio State), QB Bo Nix (Oregon/Auburn), LB Jacoby Windmon (Michigan State/UNLV), QB Dillon Gabriel (Oklahoma/UCF), DE Jared Verse (Florida State/Albany), OL O'Cyrus Torrence (Florida/Louisiana), DE Lonnie Phelps (Kansas/Miami-Ohio), QB Todd Centeio (James Madison/Colorado State), WR Nikko Remigio (Fresno State/Cal), DL Levi Bell (Texas State/LA Tech), LB Eric Gentry (USC/Arizona State), RB Xazavian Valladay (Arizona State/Wyoming), WR Tory Horton (Colorado State/Nevada), QB Cameron Ward (Washington State/Incarnate Word), WR Trey Palmer (Nebraska/LSU), RB Aidan Robbins (UNLV/Louisville), LB Jackson Sirmon (Cal/Washington), RB Zach Evans (Ole Miss/TCU), QB John Rhys Plumlee (UCF/Ole Miss), LB Ty'Ron Hopper (Missouri/Florida), QB Austin Reed (Western Kentucky/D2 West Florida), QB Tommy Devito (Illinois/Syracuse), WR Johnny Wilson (Florida State/Arizona State), RB Travis Dye (USC/Oregon), WR Isaiah Winstead (East Carolina/Toledo), LB Dallas Gant (Toledo/Ohio State), WR Bru McCoy (Tennessee/USC), DL Kobie Turner (Wake Forest/Richmond), LB Johnny Hodges (TCU/Navy)