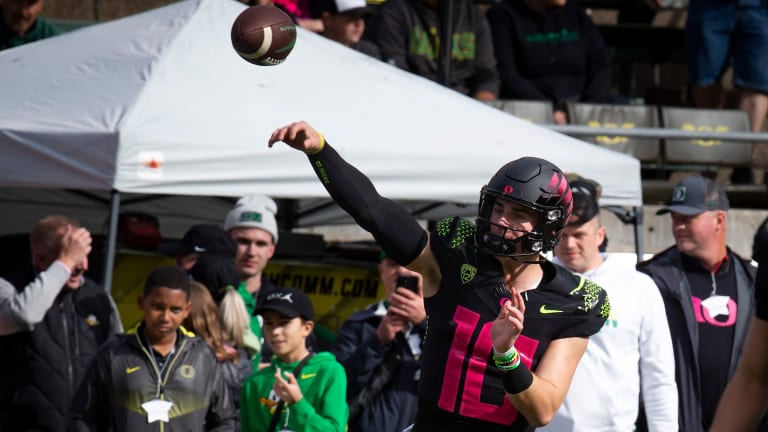 Week 8 Transfer Power Rankings: Bo Nix makes a move
Which transfers from the 2021/2022 transfer portal cycle have had the most successful season through Week Eight?
Which transfers from the 2021/2022 transfer portal cycle have had the most successful season through Week Eight? Here are the answers:
Coming off their first loss of the season, the Trojans and Williams have had a bye week to stew over their defeat. Up next are three straight winnable games against Arizona, Cal and Colorado, so don't expect Williams' production to take a dip anytime soon.
2. LB Ivan Pace Jr. (Cincinnati/Miami-Ohio) (2)
After a bye week to nurse any aches and pains, Pace returned to the field with nine tackles, two tackles for a loss, two sacks and one pass breakup during a victory over SMU. Up next is a huge game at UCF where he will have the opportunity to shine on the road against a conference rival.
3. QB Michael Penix (Washington/Indiana) (4)
After consecutive losses, Penix responded by completing 72 of 95 passes for 890 yards, six touchdowns and no interceptions in two straight wins. Up next are two challenging games, with 6-2 Oregon State coming into town on Friday night and then a trip to Eugene to take on Oregon.
4. QB Bo Nix (Oregon/Auburn) (NR)
There were more than a few question marks about Nix when he transferred to Oregon, but through seven games he has answered all of them in a positive fashion. Coming off of his best game of the season against previously unbeaten UCLA, when he passed for 283 yards and five touchdowns, Nix has now passed for 1,809 yards, 17 touchdowns and three interceptions, while also rushing for 382 yards and eight touchdowns for the 6-1 Ducks.
5. LB Daiyan Henley (Washington State/Nevada) (5)
While the Cougars have lost three of their last four games, Henley has maintained his high-level of play throughout the season. Coming off a bye week, Henley and the Cougars have a tough game on Thursday night against #14 Utah before a few better opportunities will come for wins against Stanford, Arizona State and Arizona.
6. RB Jahmyr Gibbs (Alabama/Georgia Tech) (6)
Gibbs only totaled 70 yards on 14 offensive touches from the line of scrimmage during an easy victory over Mississippi State on Saturday. Following the current bye week, the Tide will have two challenging games at LSU and Ole Miss where it is likely that Gibbs' workload will once again increase.
7. QB Adrian Martinez (Kansas State/Nebraska) (3)
Martinez and the Wildcats had momentum coming into the game against TCU, but that quickly derailed when he went down with an injury in the first quarter. Updates regarding his status leading up to a game against #9 Oklahoma State have been non-existent since Saturday, so many eyes will be on Manhattan to see if he is able to play against the Cowboys.
8. WR Charlie Jones (Purdue/Iowa) (8)
After three straight mediocre games, Jones responded by totaling 22 receptions for 237 yards and two touchdowns during his last two. Purdue enjoys a bye week before Jones will have a chance to take on Iowa, his former team.
9. WR Jacob Cowing (Arizona/UTEP) (7)
Coming off a bye week, Cowing and the Wildcats have a huge task in front of them when #10 USC comes into Tucson on Saturday. With the game likely being a shootout, a big showing can be expected from Cowing and the Arizona passing game.
10. LB Drew Sanders (Arkansas/Alabama) (9)
Coming off a bye week, Arkansas has their next two games against Auburn and Liberty before playing host to LSU and Ole Miss. Currently at 4-3, the Razorbacks will be looking at Sanders to lead the defensive unit as they hope to finish the 2022 season strongly.
Others to watch:
WR Jordan Addison (USC/Pittsburgh), LB Jacoby Windmon (Michigan State/UNLV), QB Dillon Gabriel (Oklahoma/UCF), DE Jared Verse (Florida State/Albany), OL O'Cyrus Torrence (Florida/Louisiana), DE Lonnie Phelps (Kansas/Miami-Ohio), QB Todd Centeio (James Madison/Colorado State), WR Nikko Remigio (Fresno State/Cal), DL Levi Bell (Texas State), LB Eric Gentry (USC/Arizona State), RB Xazavian Valladay (Arizona State/Wyoming), QB Cameron Ward (Washington State/Incarnate Word), OL Victor Oluwatimi (Michigan/Virginia), WR Trey Palmer (Nebraska/LSU), RB Aidan Robbins (UNLV/Louisville), LB Jackson Sirmon (Cal/Washington), RB Zach Evans (Ole Miss/TCU), QB John Rhys Plumlee (UCF/Ole Miss), LB Ty'Ron Hopper (Missouri/Florida), QB Austin Reed (Western Kentucky/D2 West Florida), QB Tommy Devito (Illinois/Syracuse), WR Johnny Wilson (Florida State/Arizona State), RB Travis Dye (USC/Oregon), WR Isaiah Winstead (East Carolina/Toledo), LB Dallas Gant (Toledo/Ohio State), WR Bru McCoy (Tennessee/USC), DL Kobie Turner (Wake Forest/Richmond), LB Johnny Hodges (TCU/Navy), OL Tyler Steen (Alabama/Vanderbilt), LB Laiatu Latu (UCLA/Washington), RB Dae Dae Hunter (Liberty/Hawaii), DL Akheem Mesidor (Miami-Florida/West Virginia), QB Jayden Daniels (LSU/Arizona State), LB Jason Johnson (UCF/Eastern Illinois)